Through it all, Lois and his children — Shelley, Steve, Scott and Sue Ann — were always his first priority
Article content
Douglas Mitchell will be remembered for his devotion to people and Calgary.
The titan of sport and community died at the age of 83 on July 20, and on Thursday, Calgary had the opportunity to pay proper tribute to one of its icons.
Article content
"The passing of any life is a moment of sadness, especially for the loved ones it is hard, but today I think that sadness is tempered by energy and is overwhelmed by the legacy of a long life, well lived and full of accomplishment," former prime minister Stephen Harper said in a ceremony at the Jack Singer Concert Hall, complete with an appearance by the Grey Cup.
Article content
The Calgary native attended Colorado College on a hockey scholarship and graduated with a business degree. He went on to study law at the University of British Columbia, played football for the UBC Thunderbirds, and met his wife, Lois, who served as Alberta's lieutenant-governor from 2015 to 2020.
He played briefly with the Canadian Football League's B.C. Lions and Hamilton Tiger-Cats before moving home to raise his four children with Lois and pursue a legal career that spanned six decades.
Through it all, Lois and his children — Shelley, Steve, Scott and Sue Ann — were always his first priority.
"I can tell you the role that he was proudest of was the role of a family man, of a husband, of a father and of a grandfather," said Shelley. "A more dedicated, committed, caring husband and father you could never find. He deeply and unconditionally loves his children and his wife, and we all know it."
While his playing career had wrapped up, he was just beginning to impact the sports community.
'Impossible to replace': Calgary sports and philanthropy icon Doug Mitchell dies

Doug Mitchell's impact on Canadian football was unrivalled

Football the 'pinnacle change' for Doug Mitchell's hall-of-fame life
He served as CFL commissioner from 1984 to 1988, was awarded the Order of Canada in 2004 and has been inducted into both the Alberta and Canada Sports Hall of Fames, as well as the Canadian Football Hall of Fame last month. U Sports, the national governing body for university sports in Canada, also renamed its athlete of the year awards in honour of Doug and Lois, while one of its football semifinals is named the Mitchell Bowl in his honour.
Article content
He is also credited with helping mentor many in the business and sports communities, helping to breathe new life into the Calgary Stampeders in the 2000s and later help revitalize his hometown's spirit in the midst of a recession and a failed push to mount a 2018 Olympic bid.
The tribute was hosted by Dave Kelly and Gary Mar, and remarks came in from the who's-who of Alberta and Canadian sport, including Harper, Premier Jason Kenney, Hayley Wickenheiser, former Manitoba premier Gary Filmon, John Murphy — the national managing partner and CEO at Borden Ladner Gervais LLP — CFL commissioner Randy Ambrosie, Keeper of the Grey Cup Jeff McWhinney, and Scott Thon — president of operations at Berkshire Hathaway Energy Canada.
Harper met Mitchell in the 1980s when Doug was already a pillar of the community in Calgary.
He pointed to Mitchell's motto of "learn how to be a team player, be unselfish and put others' needs ahead of your own."
"Doug succeeded in so many things because those who were with him also succeeded," Harper said.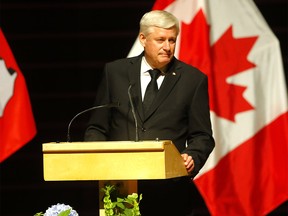 Kenney pointed to the partnership Mitchell had with his wife, to the point where Lois requested a picture of Doug be incorporated into her official portrait at the legislature.
Article content
"Let it be said that in our 117-year history as a province . . . no viceregal representatives have worked harder or took on the role with more gusto as individuals, and Doug was there every step of the way — or should I say three steps behind," said Kenney.
Wickenheiser considers him a mentor for her career, which includes winning five Olympic gold medals, recently being named assistant general manager of the Toronto Maple Leafs and a residency in palliative care.
"When I think about Doug, I think about a man that has lived his life with incredible kindness, with courage to do the right thing and say the right thing when it was often not popular," she said. "We honour the way that he carried himself as a father and as a grandfather, as a community leader and as a mentor."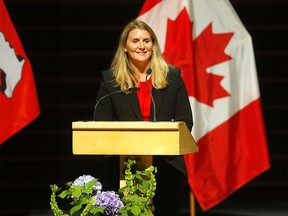 Filmon and his wife, Manitoba Lt.-Gov. Janice Filmon, have been longtime friends of the Mitchells.
"I would have given my eye teeth to have Doug Mitchell on my team in Manitoba," he said.
Ambrosie credited Mitchell's efforts in saving the CFL in the '90s and helping to build the Stampeders into one of the league's best franchises.
Article content
He first met him in 1985 as a rookie playing tackle for Calgary at the Shriner's and Stampeders Golf Classic. He will miss sitting at games with Mitchell with their common bond of being commissioner.
"The thing I loved the most about it is when we were talking about the league, I knew that Doug knew what it's like, and that's that feeling of empathy, that connectedness that Doug and I had, because we shared this job in this league that we both loved so much," he said. "It was a very special part of doing this job and I will miss those days very much."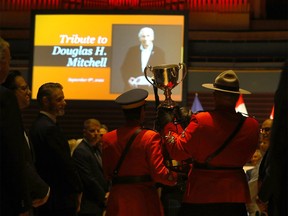 Murphy said Mitchell's leadership inspired generations of lawyers in Calgary and across Canada and noted he was instrumental in forming the BLG law firm and was its founding national chair.
"He was a visionary leader in the legal industry," said Murphy.
Thon said there were times when Mitchell would get frustrated, but it was always for good reason.
"The times that I was with grumpy Doug was when he was upset that someone couldn't see the potential they had," he said. "They couldn't see what was possible for our community. That's what I love."
Twitter: @JoshAldrich03