Parks, playgrounds, pathways and specialized sports facilities all help provide quality of life for Calgarians.
Reviews and recommendations are unbiased and products are independently selected. Postmedia may earn an affiliate commission from purchases made through links on this page.
Article content
One of the reasons Calgary is the most liveable city in North America must be the diversity of recreational activities available. I remember when I moved to Calgary in the mid-1980s I was impressed by city's amazing recreation centres with their wave pools and the then new futuristic looking Lindsay Park Aquatic Centre now the MNP Community and Sport Centre. I was also impressed by Calgary's extensive pathway system that has since grown to more than 1,000 kilometres.
Calgary has continued to build more mega recreation centres over the past 40 years: including the two largest YMCAs in the world — Brookfield Residential YMCA at Seton and Shane Homes YMCA at Rocky Ridge. But it isn't the big recreation centres that impress these days but the many niche neighbourhood recreation opportunities the city offers for free. Something like 95 per cent of Calgarians live near a local park or green space.
Article content
Living across the street from Grand Trunk Park for 30 years and I am always amazed at how many different activities happen in this half-block inner-city park on a nice day — kids throwing a lacrosse ball, families playing basketball, young couples playing Frisbee, parents teaching kids how to throw and catch a baseball or how to fly a kite, teenage girls practicing volleyball, a nearby church teen program playing badminton, young men throwing and kicking a football, young boys playing soccer, couples enjoying bocce ball and some games I don't even know the name. Once there was even a guy practising his fly fishing casting. And, yes, there is also the playground.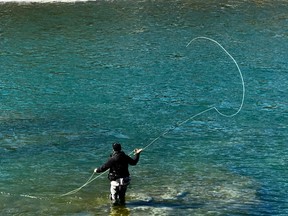 Diversity
Overall, Calgary is home to an amazing diversity of recreational opportunities — from sailing and rowing on Glenmore Reservoir to skiing, snowboarding and biking at Canada Olympic Park. Millennium Park has one of the world's largest public skate parks, with numerous neighbourhood skate parks across the city. There is speed skating at the Olympic Oval, cricket at Riley Park and even polo grounds in De Winton. The Calgary Soccer Centre offers four indoor artificial turf fields. In addition, the city has 13 outdoor major athletic fields with multiple soccer and baseball fields across the city.
Article content
Calgary has a world-class water skiing facility and club — Predator Bay Water Ski Club. The Calgary BMX Park, offers Calgarians of all ages an opportunity to learn to ride their track. They have a loaner shed full of bikes and have partnered with KidSport so all kids can participate. Calgary is also blessed with some great climbing wall facilities, in addition to real rock climbing nearby in the Rockies.
Calgary's Bow River is considered to be one of the world's best fly fishing rivers.
Family Fun
One of the newest trends in recreation is the "pump track." What is a pump track you ask? It paved circuit of hills for cyclists to ride up and down. The term "pump" come from the fact the cyclist must use a pumping motion of the upper and lower body as they ride the track to keep moving up and down the hills without pedalling.
Thanks to the fundraising skills of the Parks Foundation of Calgary, our city is home to several pump track park — South Glenmore Landing, Fairview, Inglewood and West Confederation Park – with more in the works. I visited the West Confederation pump track soon after it opened this spring and it was great to see how busy it was with kids of all ages and backgrounds and parents and grandparents watching.
Article content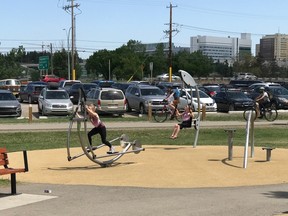 Calgary is also home to numerous neighbourhood spray parks and wading pools. This is in addition to the city's 1,000-plus playgrounds, 30-plus designed specifically so differently-abled children can enjoy them (and more in the works).
The city also provides 47 reservable picnic site areas, 3,211 picnic tables, 416 barbecue sites and 138 fire pits across Calgary. In the winter, 35 outdoor hockey rinks and hundreds of community skating rinks created by dedicated volunteers encourage Calgarians to be active year round.
Did you know . . . the city's tennis and pickle ball courts that have not been reserved can be used free of charge? Or that there are 12 parks with outdoor adult fitness equipment across the city free for anyone to use? Or that there are three permanent disc golf courses operated by the city and three temporary courses run by Calgary Disc Golf Club waiting for you to try them out?
Two-Tired Recreation
Perhaps one of the biggest recreational developments in Calgary over the past 40 years is the creation of many private recreation facilities in new communities. This started in 1968 with Lake Bonavista, Canada's first man-made lake community, where only those in the designated community and their friends can use the lake. Calgary is now home to a dozen lake communities. Today, even new master-planned non-lake communities have private community centre/recreation centres, playgrounds and hockey rinks that can only be used by those in the community who must pay a homeowner association fee.
Article content
Calgary is also home to the Osten and Victor Alberta Tennis Centre and indoor facility with 13 Plexipave cushion and two Playsight Smart courts.
Recreational Fee Assistance
To help those needing financial assistance, the City of Calgary has a fee assistance card program that allows low-income Calgarians access to transit and recreational facilities at no or nominal cost. The card is also good at Calgary YMCAs and families and individuals with the card are pre-approved for a YMCA membership.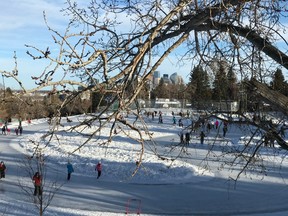 Last Word
One of the great (and rather novel) summer activities is to float or paddle down the Bow or Elbow Rivers with family and friends. In the winter, it would be ice-skating on one of the city's hundreds of community rinks with your neighbours. Great cities have great recreational opportunities.