RioCan reimagines its shopping centre with plans for mixed-use residential towers and redesigned commercial and residential spaces.
Reviews and recommendations are unbiased and products are independently selected. Postmedia may earn an affiliate commission from purchases made through links on this page.
Article content
Big plans are in the works for the Glenmore Landing Shopping Centre at the corner of 14th Street and 90th Avenue S.W.
I remember when it opened in 1985 as I was living nearby in Kelvin Grove (not sure who Kelvin is and never did find the grove). Glenmore Landing Safeway was my go-to grocery store with its fruits and vegetables then displayed in orchard-like bins, an in-store bakery, skylights and imitation wood floors, all giving it a farmer's market-like look and feel. And the then-new J. Webb Wine Merchant was my go-to wine shop (at the time, it was one of only two private liquor stores in Calgary). In the early 1990s, Good Earth Cafe opened its third location, which has become a popular spot for locals and weekend cyclers and runners along the pathways. Overall, Glenmore Landing had a bit of a European flair with its mostly independent boutiques and retailers.
Article content
I have always thought the site was under-utilized given its proximity to the Glenmore Reservoir and Rocky Mountain vista. It could and should have incorporated several mixed-use, mid-rise buildings with retail at ground level and residential above. But back in the 1980s, nobody in North America was thinking mixed-use, higher density, walkable communities or 15-minute neighbourhoods.
Perfect Timing
I am happy to report RioCan, owners of the Glenmore Landing site, is working with the City and community to convert the site into a mini urban village with a dramatic change in the mix of uses and the heights of the buildings. Their timing is perfect as the City has completed the Southwest BRT (Bus Rapid Transit) with a station on 14th Street S.W. at Glenmore Landing, making transit a viable option for some of the future Glenmore Landing residents.
It is an ideal residential site — the Glenmore Reservoir and pathway next door, the Paperny Family JCC recreation centre across the street and the Southland Leisure Centre not far away. It has great transit access via BRT to Rockyview Hospital, Mount Royal University and downtown — three major employment hubs.
Article content
This is exactly the kind of infill development City planners and council envisioned when it approved the Municipal Development Plan in 2009 that called for 50 per cent of all new homes to be built in existing communities from 2009 to 2069. The increase in property tax revenue from the added density is the dividend the City was hoping for when it designed the City's new BRT routes.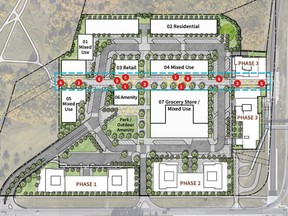 Glenmore Landing Revisited
The current proposed concept will develop the periphery of the site in three phases. Two phases, both along 90th Avenue S.W., would each have two residential towers (number of floors yet to be determined) linked by two storeys of commercial space (retail, restaurant, professional services offices) at ground level and the second floor. Along 14th Street N.W., next to the BRT station, would be another phase consisting of two residential towers (number of floors to be determined) above two floors of commercial spaces (retail, residential, office) at ground level and second floor.
The proposed interior of the site would continue to be anchored by a grocery store along with several smaller mixed-use buildings (residential, retail, commercial). There would be small park in the middle and a three-block long high street (think University District's main street) with continuous pedestrian-oriented shops facing the sidewalk from the BRT station to the Reservoir.
Article content
In total, the new Glenmore Landing is proposed to have about 1,250 new homes and could accommodate approximately 2,500 people. The retail and commercial space would increase slightly from the current 147,000 square feet, but with a different configuration to create a new public space and enhance pedestrian activity.
Community Concerns
For some neighbours, the density being proposed is too much and will significantly increase traffic to and from an already congested site with limited access points. However, the new Ring Road with interchanges at Southland and 90th avenues S.W. should take some of the traffic off 14th Avenue S.W. and its link to Glenmore Trail.
While the plan is still conceptual, some of the residential towers could be 20-plus floors, but given the site is a long distance from any single-family homes, there should be no shade issues. The creation of fewer and taller buildings will allow more light into the interior of the site, as well as more homes with spectacular reservoir, mountain and downtown views.
Last Word
The Calgary offices of NORR and Urban Systems, two very experienced urban design firms, have been engaged by RioCan to develop the proposed Glenmore Landing makeover. I expect the new Glenmore Landing will become a popular place particularly for empty nesters in the neighbouring communities of Eagle Ridge, Palliser, Bayview, Pumphill, Haysboro, Chinook Park and Kelvin Grove looking to downsize.
In fact, I see the new Glenmore Landing functioning in many ways like the very successful Westman Village next to Lake Mahogany. But don't expect to see any construction soon as the project is still in the early stages of design.