Article content
A few months after some 40,000 protesters hit the streets in Seattle during a meeting of the World Trade Organization in 1999, Calgary's deputy police chief reached out to his counterparts in the Pacific Northwest city.
The 16th World Petroleum Congress was set to be hosted in Calgary in June 2000, just six months after the so-called "Battle in Seattle."
Article content
Rick Hanson was preparing local police for the possibility of large protests in the city aimed at the oil sector, and he wanted to talk with Seattle officers about their experience.
Article content
The 1999 battle in the U.S. city was fresh in his mind.
Buildings in Seattle were vandalized during the anti-globalization rallies, more than 500 people were arrested on the opening day, police fired off tear gas and rubber bullets, and the city's mayor declared a civil emergency.
A report for Seattle city council later concluded the local government had failed its citizens through careless and naive planning, while "authorities lost control of the streets."
Hanson and other Calgary Police Service (CPS) officials were determined to learn the lessons about what to do — and what missteps to avoid — as they planned for the gathering of international energy leaders in the city.
"There was an underlying worry about the World Petroleum Congress that came out of . . . the Battle for Seattle," Hanson recalled in an interview this week.
"We just learned a ton of stuff. And the biggest lesson was: You have to pay attention and you've got to overprepare. You don't want bad things to happen, but it's better to be prepared for the worst."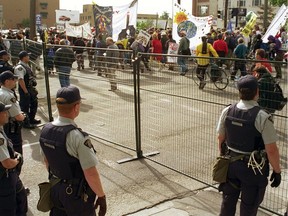 Twenty-three years later, the World Petroleum Congress is coming back to this city — and so is a comprehensive plan to deal with security for the conference, which runs from Sept. 17 to 21.
Article content
The city has budgeted $11.6 million for the event. About 80 per cent has been allocated to policing, safety and security measures. The remainder will be spent on parking, transit, road closures and tourism promotion.
This is a much different time than the initial era of anti-globalization rallies that began more than two decades ago.
It's also a much different time for the global energy industry, amid the push for net-zero emissions and mounting public concerns about the effects of climate change.
In 2000, Calgary spent $2.2 million to beef up security for the World Petroleum Congress — an industry event held every three years and known as the Olympics of the global oil and gas sector — and an estimated 700 people protested peacefully during the first day of the conference.
At that time, more than 220 officers came to Calgary from other police forces in Alberta, Saskatchewan and Manitoba to help with security.
Fencing was set up around parts of the downtown, including the Telus Convention Centre, where the event was hosted — and where opening ceremonies of the 2023 World Petroleum Congress will be held Sept. 17.
Article content
"We have got very robust plans. We've gone through scenario planning and we're ready," said Denis Painchaud, chief executive of the 24th World Petroleum Congress (WPC).
"This event is still considered a low-risk event. Having said that, we're not fooling ourselves, we expect that there will be somebody trying to create some mischief. And we're prepared for that."
***
This month's summit is expected to attract delegates, visitors and media from around the world to Calgary.
The theme of the conference is "Energy Transition: The Path to Net Zero," a timely conversation given the forces of change sweeping through the industry and the fact more than 120 governments have adopted the goal of reaching net-zero emissions by 2050.
More than 4,000 delegates are anticipated to attend, along with another 5,000 visitors to the exhibition and technical programming, said Richard Masson, chair of the World Petroleum Council Canada.
This year's gathering includes a list of influential figures in the international oil and gas industry.
They will speak during panels on an array of subjects, such as geopolitics and the energy transition, new supply sources required to meet global energy demand, energy security issues, and the future roles of renewables and hydrogen.
Article content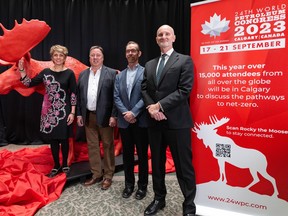 Speakers are expected to include Amin Nasser, the head of Saudi Aramco, the world's largest oil company, along with the CEOs of ExxonMobil and Repsol, and the president of China National Petroleum Corp.
A number of government officials, including federal Natural Resources Minister Jonathan Wilkinson and Saudi Arabia's Energy Minister Prince Abdulaziz bin Salman, are also speaking. Alberta Premier Danielle Smith is expected to attend the event.
Civic officials travelled to the last WPC event in Houston in December 2021 and believe the Calgary event will generate about $88 million in economic value and spinoffs, filling up hotels and generating business for local restaurants.
The city and local police have also spent a lot of time tied to security planning, given the thousands of visitors arriving in the city.
At the Calgary police commission's public meetings in January and June, CPS officials discussed their efforts, which will involve other city departments and "mutual aid agencies," such as the RCMP and police services in Edmonton, Lethbridge and Vancouver.
Article content
The event, which will largely be held at the BMO Centre and Stampede Park, is "putting Calgary on the global stage and has the potential to draw protest and demonstrations," according to a June 28 police report for the commission.
"Internally, CPS is focused on monitoring potential risks and threats. There is currently no intelligence that suggests a direct threat to the WPC and the city during the event."
CPS officials weren't available for an interview this week, but the police service issued a statement Friday saying that it polices "behaviours, not beliefs." It committed to working with groups to ensure that "there's a safe and peaceful opportunity for demonstrators to exercise their lawful rights."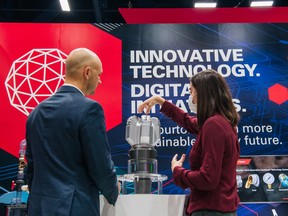 Greenpeace Canada senior energy strategist Keith Stewart noted rallies to end fossil fuel use will be taking place across North America in mid-September tied to the UN Climate Ambition Summit in New York.
It will draw the attention of much of the environmental community, as people seek to pressure policymakers to take stronger climate action.
"There is no major mobilization around the Calgary (WPC) event, beyond what might be happening locally," Stewart said.
Article content
"It (the congress) certainly hasn't been a focus of the global movement for a long time, just because we know what they are going to say — and we know what they are going to do."
***
Back in 2000, the police presence was conspicuous during the congress.
According to reports in the Calgary Herald, a special armoured vehicle was on standby, while manhole covers were welded shut and downtown oil company buildings covered their corporate logos.
On the opening day, hundreds of protesters gathered peacefully. Rallies during the week took place without violence or damage, recalled Hanson, who later served as Calgary police chief from 2007 until 2015.
"It went off smoothly. They got their voices heard. It went really well. I don't think either side would say, 'Oh, yeah, we didn't do our job.' We may have inconvenienced a few people with road shutdowns, and we had the fencing installed," he said.
"Yet, the activist groups and civil society very much had their say."
Whether it was overkill — one local labour leader called the policing presence "needlessly exorbitant and intimidating" — or simply prudent planning was left up for debate.
Article content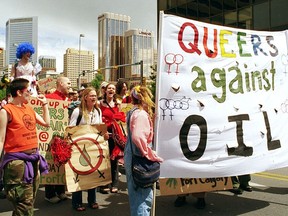 Roger Gagne, who founded Climate Plan Alberta, attended a march during the 2000 WPC conference in the city streets near the headquarters of Petro-Canada, now the home of Suncor Energy.
A line of police officers used their bicycles as a makeshift barricade to the building.
At one point, Gagne spoke into a bullhorn and asked if any Calgary police would shake his hand.
One soon obliged.
"I watched people dancing in front of the Shell building, and we did a die-in on the Petro-Canada Plaza. There was a lot of energy," Gagne said this week.
"I never thought the police went too far. They were a major presence but, to some extent, they were shepherding the process. They made sure there was no disruption with traffic."
Gagne said he's not involved in planning for any protests in 2023, but if they're held, he may attend, contending such gatherings can focus public attention on climate issues. He pointed to the rally held in Montreal in 2019 with Swedish climate activist Greta Thunberg that drew an estimated 500,000 people.
"Protests make a difference. They are visible, people putting their shoes on and getting out into the street and saying, 'Yeah, this matters enough that I care to come out,'" he added.
Article content
Heads of Saudi Aramco, ExxonMobil, OPEC coming to Calgary for World Petroleum Congress

Calgary police to bolster resources for World Petroleum Congress

World Petroleum Council set to transition name 'to move with the times'

Rocky the red moose to welcome delegates to World Petroleum Congress
Given the wildfires and extreme weather events now taking place, there needs to be more attention placed on the climate, said Calgary Climate Hub co-founder Dr. Joe Vipond.
"We have never been a particularly protest-focused society in Alberta. Maybe now is the time for that to change," he said.
Hanson, who has volunteered to work on the WPC's security subcommittee this year, noted in 2000 that police successfully communicated with members of civil society groups, rallies were held, people expressed their opinions and the conference was able to take place.
Having knowledge of what happened in other cities, ensuring proper training for officers and having adequate resources on hand, were some of the key lessons learned from that time.
"Looking back, I think there were those who said, 'Well, this was an overreaction.' Yeah, better to be overprepared than underprepared and always within limits," he said.
"You learn from other people's experiences, you learn from your own experiences."
Chris Varcoe is a Calgary Herald columnist.