It's important to get investment flowing to create jobs and to decarbonize industry, the 2023 Alberta Climate Summit heard
Get the latest from Chris Varcoe, Calgary Herald straight to your inbox
Article content
Enough dithering, it's time Ottawa and Alberta strike a ceasefire — even a temporary one — to reach an accord in the coming weeks on a long-awaited incentive package for carbon capture and storage projects.
The federal and provincial governments have continued to shell each other in the past month over energy and environmental issues, including the oilpatch emissions cap, regulations for a net-zero electricity grid and a recent court decision that undercut Ottawa's Impact Assessment Act.
Article content
Meanwhile, the clock continues to tick for the two levels of government to reach an accord on providing incentives for carbon capture, utilization and storage (CCUS).
After speaking Thursday to the 2023 Alberta Climate Summit held by the Pembina Institute, Premier Danielle Smith reiterated she wants to reach an agreement with Ottawa and roll out a provincial incentive package at the upcoming COP28 United Nations Climate Conference.
The international gathering, which takes place in Dubai, begins Nov. 30.
For those keeping track, that's just five weeks away.
And some proposed carbon capture projects were first unveiled a couple of years ago.
"I will be announcing something prior to COP on what our portion would be. But it will have to obviously be contingent on the federal government matching us, because the lion's share of corporate taxes are paid at the federal level," Smith told reporters.
"In order for us to have a program that's going to work for the industry, they have to be in sync with us . . . We hope that they come together with something for the end of November."
Article content
Related Stories
Smith, Wilkinson furthering discussions on energy regulations; feds open to flexibility on CER

Varcoe: 'Small price to pay' — Premier says CCUS incentives under development, could be worth nearly $2B for oilsands

Alberta prepared to use sovereignty act over proposed clean electricity regulations: Smith

'Will not be implemented': Alberta pushes back against Ottawa's new Clean Energy Regulations
The Trudeau government first announced its intentions in the April 2021 budget that it would put an investment tax credit on the table for such developments, which capture carbon dioxide emissions from industry and then store them deep underground.
The federal credit is set at 50 per cent for investments in equipment to capture CO2, and 37.5 per cent credit for spending directed to transportation and storage for such developments.
The Liberal government has also called on Alberta to step up with its own assistance package.
In an interview last month, Smith indicated the provincial program could have a price tag that approaches $2 billion over a decade for the country's largest oilsands producers. She called it a "small price to pay" to trigger industry investment, create jobs and government revenues, and to decarbonize the oilsands.
Article content
After speaking at the Alberta Climate Summit, federal Natural Resources Minister Jonathan Wilkinson told journalists a deal between the two sides hasn't been reached. He also suggested Ottawa wouldn't bolster its investment tax credit.
"We are working actively on that with the government of Alberta . . . We've been very public about our investment tax credit. It will need to be coupled with the money that Alberta is directing toward this," he said.
"The (federal) investment tax credits are pretty robust. They actually cover a significant portion of the capital costs of these projects. I don't think we're looking at actually augmenting that."

Several large proposed projects have not yet received final investment decisions, as proponents have been awaiting details of the joint incentive package.
The Pathways Alliance group of major oilsands producers has proposed constructing a $16.5-billion carbon capture network in the province. It includes a CO2 trunk line that would connect multiple oilsands facilities to an underground storage hub near Cold Lake.
Article content
It's expected a regulatory application would be required for the development's pipeline and the various capture facilities; the group has previously said it's hoping to start construction by 2026.
Last month, Pathways Alliance president Kendall Dilling told Reuters that the group still needed to see Ottawa establish a contract that can lock in a national carbon price into the future.
Incentives need to be in place by next year if the massive development is to begin operating in 2030, he told the news outlet.
But it's not just oilsands producers that are proposing big-ticket CCUS projects.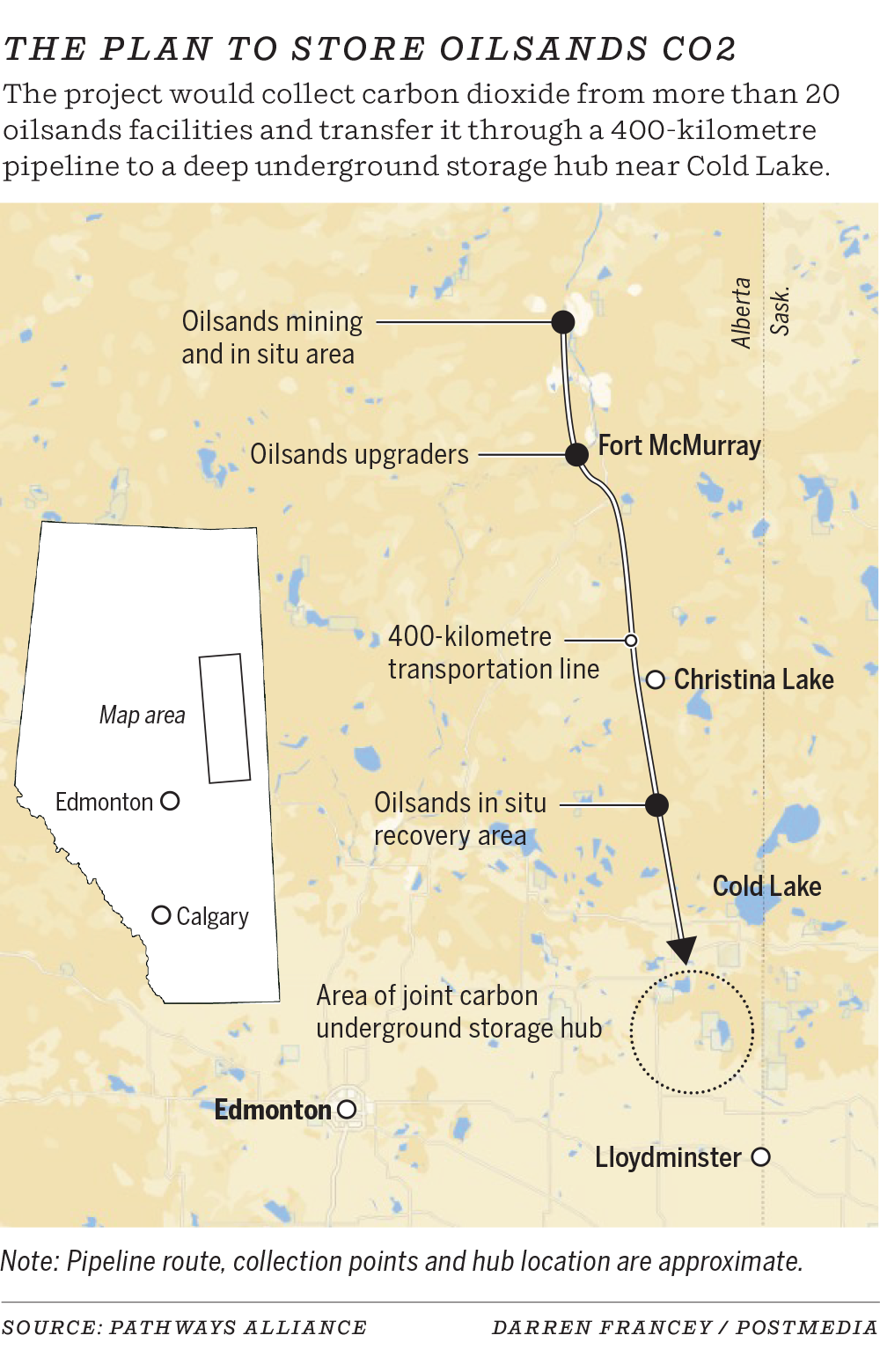 Edmonton-based Capital Power is developing a carbon capture and storage project near its Genesee Generating Station west of Edmonton. It has yet to make a final investment decision on the proposed $2.3-billion development.
From the federal perspective, Ottawa has said it would proceed with the carbon contract for difference, which should lock in the future price for carbon or hydrogen.
Wilkinson said the matter is still being discussed with the oilsands group.
However, Pembina Institute deputy executive director Simon Dyer said the existing federal investment tax credit for CCUS is enough to get major projects moving. Companies need to start making investment decisions to meet their decarbonization commitments.
Article content
"It's time to get some steel in the ground and start building," he said.
It's important to get investment flowing to create jobs and to decarbonize industry, the conference heard.
As Janet Annesley, chief sustainability officer with Kiwetinohk Energy, pointed out: "If money is not flowing, there's something wrong in the system."
Annesley, who previously served as the chief of staff to former natural resources minister Jim Carr — he was the first Liberal MP in the Trudeau government to hold the post — said governments need to move faster.
As Canada delays, the U.S. Investment Reduction Act is drawing investment south of the border into decarbonization initiatives, including CCUS.
"We could miss the window of opportunity if we continue to rag the puck on incentives. And that view, I believe, is widely shared in Alberta in the industry," Annesley said in an interview.
"We can all lock them in a room and say, 'You are not coming out until this is done.' "
That might work, although there should be an easier way to end the stalemate — simply set aside the differences, reach a deal and get the hard work started.
Chris Varcoe is a Calgary Herald columnist.