Get the latest from Chris Varcoe, Calgary Herald straight to your inbox
Article content
Imagine getting a city property tax bill next year that arrives with a whopping 40 per cent hike.
That's the scale of the increases potentially awaiting Calgary hotel operators in 2024.
Article content
New preliminary assessment data from city hall indicates property values for the 108 local hotels and motels in Calgary have recovered from the deep lows endured early in the pandemic, when tourism was devastated across the country.
Article content
As the industry has begun to recover this year, those properties are now worth more, according to the annual civic reassessment process.
In fact, the combined assessed value of local hotels and motels has shot up by 42 per cent to $1.18 billion for the incoming tax year, up from $832 million in 2023.
That's the good news for a sector that was decimated during the pandemic.
But here's the kicker.
Early city estimates indicate the total tax load for these properties next year will skyrocket by 43 per cent to $26.3 million, up sharply from $18.4 million this year — pending changes that could take place next week when councillors debate the 2024 civic budget blueprint.
"The first thing that came to my mind is, do we have to lay off people? Where does this end?" said Karim Ismail, area director of operations for First Canadian Management Corp., which operates three hotels in the city.
"We've got utilities doubling in cost. We've got finance costs practically doubled. Now we have property taxes that are going up drastically … . Having a number like a 44 per cent increase is outrageous."
Article content

Other industry players are also bracing for steep increases.
"They are hammering our sector," said Mark Wilson, a vice-president and partner with the Hotel Arts Group.
The hotel industry is finally rebounding in 2023 after three years of famine.
Tourism has taken off and hotels were packed during the Stampede in July. Major events, such as the World Petroleum Congress, brought thousands of visitors into Calgary.
The city also saw 3,900 people arrive from the Northwest Territories in August due to wildfires. More than 1,300 local hotel rooms provided accommodation to evacuees.
A report by CBRE Hotels indicates Calgary businesses reported an 82 per cent occupancy rate in August, up from 74 per cent a year earlier.
Throughout the first eight months of this year, local hotels saw occupancy levels rise to 65 per cent, just below the national average.
Leisure travel has picked up with pent-up demand finally being unleashed, although corporate travel has been slower to recover, said Sol Zia, executive director of the Calgary Hotel Association.
It's a pivotal turnaround from the pain that began in 2020, when pandemic-related restrictions throttled the sector. In January 2021, the average hotel occupancy rate in Calgary sat at a puny 6.8 per cent and layoffs rippled through the sector.
Article content
Calgary hotels suffered more than $500 million in lost revenues from the start of the pandemic until the middle of last year, the association estimated.
In turn, the city's annual reassessment process reflected the drop in property values for local hotels.
The total assessment for the industry plunged by 35 per cent between 2019 and 2022.
The combined property taxes paid by local hotel and motel owners dropped from almost $26.8 million in 2019 to $17.2 million last year.
The city also offered much-needed help to the sector, creating a program that saw hotel and motel owners defer about $2.8 million of property taxes in 2021-22.
"When the effects of the pandemic were fully in swing, accommodation property values reflected the decrease in value," city assessor Eddie Lee said in a statement.
"Now that the effects of the pandemic have lessened, the market value of these properties (has) increased accordingly, along with increased tax responsibility. Preliminary 2024 assessment values indicate that accommodation properties are robust and resilient."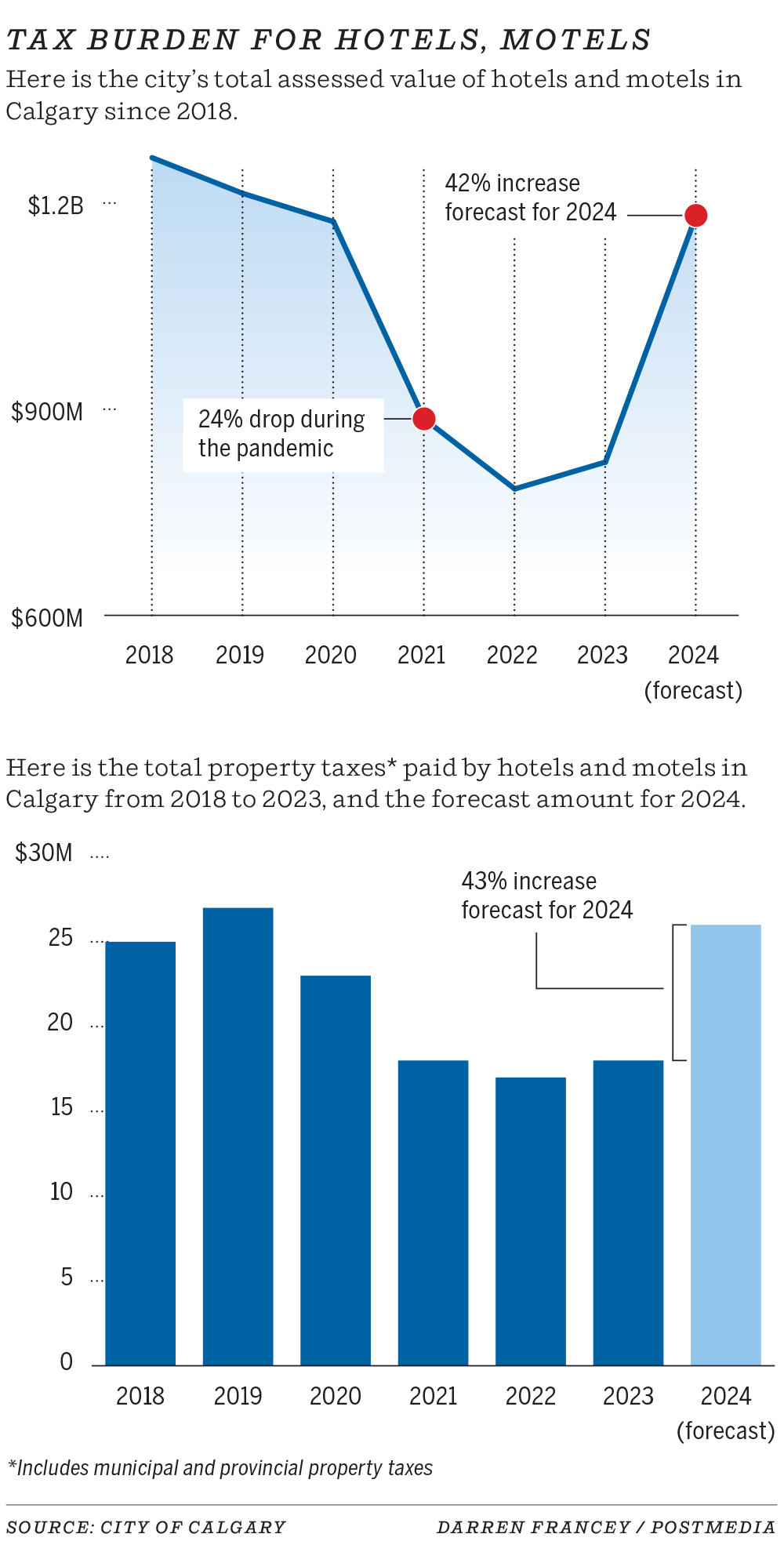 But are these companies resilient enough to endure a tax hike that exceeds 40 per cent in one year?
Article content
Greg Kwong, regional managing director for CBRE in Calgary, compares the industry's situation to a skier who has suffered a terrible tumble and is struggling to get back on their feet.
"We've put our equipment on and we're just starting to go down the hill again and ski again, but we're still hurting and there's some bruises," Kwong said.
"Hotels lost millions and millions of dollars … . They're just starting to make money, but that money is not going in their pockets — that's going to pay back debts that they've accumulated over the past three years."

Zia credits the city for helping the industry during a bleak period.
Yet, few hotels are profitable today, he said.
Business in 2023 has been strong, but he does not expect the growth rates to be repeated — as leisure travel returns to normal — while borrowing costs, utilities, labour expenses and other bills are still escalating.
"What we've asked the city to do is consider a smoother ascent," he said.
Coun. Terry Wong, whose ward includes downtown Calgary where many hotels are located, said it's premature to start talking about finding ways to buffer the industry from a jump in next year's tax bill.
Article content
He noted the assessment data hasn't been finalized and a broader debate is also coming on the overall split between business and residential property taxes.
"It's too early to speculate (whether) should we do something special for anybody," Wong said.
At First Canadian Management Corp., which owns 17 hotels across the country, the company is used to seeing increases in municipal property taxes, "but we don't get jolts like this," said Ismail.
If a 40-plus per cent increase comes to pass, he anticipates it will add about $100,000 to the tax bills for each of its three Calgary hotels.
"Somebody feels that 2023 was a great year and now we can go to the hotel industry and tell them to cough up," added Ismail.
"I cannot see the logic in how you come up with such an increase, especially when our industry went through such a decline."
Chris Varcoe is a Calgary Herald columnist.