'It will be a transition. There seems to be . . . wishful thinking that we're going to flip the switch, and we'll go from where we're at today to where we will be tomorrow'
Article content
The global oil and gas sector is on board for the energy transition, but its leaders are also warning of "wishful thinking" about how easy it will be to make the shift.
On the opening day of the World Petroleum Congress in Calgary, leaders with some of the world's largest oil and gas producers cautioned about the risk of underestimating how challenging it will be to transform existing global energy systems, as governments and the public demand tougher climate action.
Article content
Some at the energy summit also rejected projections from various corners, including the International Energy Agency (IEA), that the world will see oil demand reach its peak later this decade.
The daunting challenges of how to meet rising energy demand while also decarbonizing oil and gas production dominated much of the debate during the conference's opening sessions.
"It is difficult to replace today's energy system, in part because of the utility of today's energy system. Oil and gas is widely available, easily transportable," Exxon Mobil CEO Darren Woods told the crowd on Monday.
"It will be a transition. There seems to be . . . wishful thinking that we're going to flip the switch, and we'll go from where we're at today to where we will be tomorrow."
The congress, which is expected to attract more than 4,000 delegates from around the world, is called the Olympics of the oil and gas industry and attracts some of the most influential leaders in the sector to discuss the key energy issues of the day.
The world is consuming a record 102 million barrels of oil per day (bpd) this year and demand is projected to expand by another one million barrels per day next year, according to the IEA.
Article content
Public anger has grown over rising energy costs during the past 18 months, with oil topping $100 a barrel after Russia's invasion of Ukraine last year.
Members of the OPEC+ group — including Saudi Arabia and Russia — have extended their own production cuts until the end of the year. On Monday, prices for West Texas Intermediate (WTI) crude hovered near US$91 a barrel.
'Tone deaf': Smith, provincial politicians blast federal energy minister's remarks at WPC

'Absolutely critical': Gondek looks to showcase Calgary with World Petroleum Congress

Calgary set to host World Petroleum Congress
Concerns about the effects of climate change are also at the fore of the debate, along with stricter government policy designed to reduce emissions.
More than 80 countries have adopted a net-zero target by 2050, including Canada, which is the fourth-largest oil producer in the world, behind the U.S., Saudi Arabia and Russia.
The chief executive of the world's largest energy company, Amin Nasser of Saudi Aramco, told the audience the energy transition is like an epic voyage across an ocean — not a quick or easy path to reach global climate objectives.
Article content
"We know the destination and the whole world has already left port. But the fleet is scattered and drifting," he said.
Many shortcomings around the energy transition have led to unrealistic scenarios and timelines, said Nasser.
As well, issues such as keeping energy affordable and secure, and addressing energy poverty across the world, can't be overlooked.
The transition is a "complete transformation of a $100-trillion global economy today," he noted.
But the industry is under fierce pressure to take more action on climate concerns.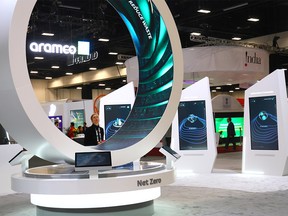 In Canada, the federal government has introduced a price on carbon and a new clean fuel standard. It is also set to release draft regulations later this year that will place a cap on emissions coming from the country's oil and gas industry, putting it at loggerheads with the Alberta government.
"No one is saying we're going to flip a switch and change the system tomorrow," said Greenpeace Canada's Keith Stewart. "The only thing that's more expensive than getting off of fossil fuels is staying on fossil fuels."
The CEOs also discussed their investments in developing technology, such as carbon capture and storage (CCS) and new low-carbon fuels.
Article content
Woods noted the energy transition will require a lot of investment, policy certainty and a regulatory system that allows new projects to be built to meet growing energy demand.
Last week, the International Energy Agency's executive director said that its new global outlook projects demand for oil, gas and coal will peak later this decade.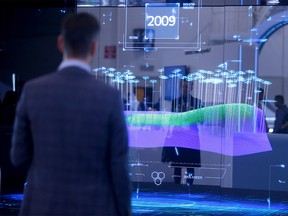 During a panel discussion, Nasser noted that when he started at Aramco in 1982, the talk in the industry was about reaching peak oil supply. However, that ignored the fact that improving economics would provide incentives for companies to find new ways to discover and produce oil.
"Now, everybody is talking about peak demand. And the same people talking about peak demand, by the way, are forecasting in the second half of this year, a 103 to 104 million barrels a day (market) — and this is in the middle of an economic downturn," he added.
"Demand will continue to grow because, also, we are making a lot of progress in terms of reducing emissions (from) conventional energy, and as you reduce these emissions the demand for this product will increase as you decarbonize."
Speaking to reporters on Monday, Alberta Premier Danielle Smith expressed similar skepticism with projections that oil consumption will soon hit a plateau, calling the IEA increasingly "a political activist organization."
"I liked what . . . the Saudi energy minister had to say this morning — you've got to live in the real world, not on computer models," she said.
"We've got to respond to the world as it is."
Chris Varcoe is a Calgary Herald columnist.