'It does show that Enbridge, a company that started on the oil (pipeline) side, has shifted more weight toward the natural gas side of the business'
Article content
It wasn't a complete surprise that Enbridge made another strategic step this week to increase its investment and exposure to the natural gas utility business in North America.
But what did catch investors, analysts — and perhaps even its new CEO — off guard was the sheer size of the deal it was able to secure to double the size of its utility operations.
Article content
Enbridge CEO Greg Ebel announced Tuesday afternoon the Calgary-based company will buy three U.S. natural gas utilities from Richmond-based Dominion Energy for $19 billion, including $12.8 billion in cash and $6.3 billion in assumed debt.
Article content
"Frankly, this type of opportunity isn't something I would have actually envisioned being possible eight months ago when I was asked to serve as Enbridge CEO. It's a pretty rare and unprecedented opportunity," Ebel told reporters Wednesday.
"A package of this size and magnitude hadn't come to market for more than a decade . . . That was a driver for us as one of the few players that can make a move of this size and magnitude (in) one fell swoop."
The agreement will see Enbridge acquire East Ohio Gas Co., Public Service Company of North Carolina (PSNC) and Questar Gas Co., adding customers and new operations in Ohio, Wyoming, Idaho, Utah and North Carolina.
Enbridge, which already serves Ontario customers through its Enbridge Gas utility — and some consumers in Quebec — said the deal will propel it to become the largest gas utility on the continent by volume, shipping more than nine billion cubic feet per day to seven million consumers.
The acquisitions are expected to close next year and will require federal and state-level approvals.
East Ohio Gas Co. serves communities in Ohio, including Cleveland and Akron, and more than 1.2 million customers, while PSNC Energy has more than 600,000 customers in North Carolina.
Article content
Questar Gas has about 1.2 million customers in Utah and some parts of Idaho and southwestern Wyoming.
The new companies have more than 3,000 employees.
"I like the deal. It gives them diversification into some more natural gas," said Jennifer Stevenson, vice-president and portfolio manager with 1832 Asset Management, which owns Enbridge stock.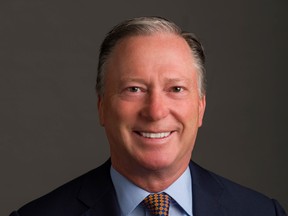 "I don't think anybody expected them to do something this big, but the interesting thing was Dominion had funding needs and had these three assets for sale. The advantage for Enbridge is they are big enough they can buy these three companies from Dominion all in one deal."
Enbridge also announced a $4-billion bought deal equity offering to help pay for part of the purchase.
Ebel, who was previously chair of Enbridge and replaced Al Monaco as the company's chief executive on Jan. 1, has frequently emphasized the role of natural gas in the ongoing energy transition.
Last year, the company bought a stake in the US$5.1-billion Woodfibre LNG project on the B.C. Coast.
The company, which operates Canada's Mainline crude pipeline system, has natural gas assets operating in more than 40 states, and is also growing its renewable energy business.
Article content
Ebel noted the utilities that it's acquiring operate in "positive jurisdictions" toward natural gas from both a regulatory and policy front.
Earlier this year, New York became the first state to ban natural gas for heating and cooking in many new buildings.
However, a report by S&P Global Market Intelligence this summer noted at least 24 American states have passed laws preventing local governments from restricting gas use in buildings.
"I don't think anybody seriously sees a future for a lower carbon perspective without natural gas playing both a key role today and in the future," Ebel said.
This is the biggest purchase for Enbridge since September 2016, when it bought Houston-based Spectra Energy for $37 billion, and is by far its largest move since Ebel took over as CEO.
Enbridge to purchase three U.S. utilities for $14 billion in cash and debt

Will Canada answer the call for LNG? 'It's a TBD,' says Enbridge head

October 2022: Incoming Enbridge CEO commits to Calgary headquarters, eyes energy transition

Varcoe: With oilpatch growth coming, patience pays off for ARC Resources and Enbridge

Enbridge CEO sees future growth for Canadian energy
In the spring, the company announced it was buying the U.S. Gulf Coast natural gas storage assets Tres Palacios for US$335 million, part of $3.3 billion of planned new investments.
Article content
"It's not off-base from what they have communicated strategically. It's the scale that is what's most surprising," said Colton Bean, managing director of infrastructure research with Tudor, Pickering, Holt & Co.
"Do I think anyone was expecting a US$14-billion scale transaction? No . . . but if you have an opportunity like this, where you can get three well-valued gas utilities at once, it does make sense."
In a research note, Bean pointed out the $4-billion bought deal offering "largely de-risks financing, though at a steep cost," with the equity offering coming at a seven per cent discount to the previous close of Enbridge's share price.
Enbridge's stock dropped almost six per cent on Wednesday, closing down $2.85 to $45.31 on the Toronto Stock Exchange.
"It's one of the biggest equity issuances ever in Canada," noted Laura Lau, chief investment officer with Brompton Group, which owns Enbridge shares.
"The bigger the deal, the bigger the discount."
Morningstar analyst Stephen Ellis said Enbridge acquired a valuable asset and was able to pay fair value for the gas utilities.
Article content
He called the acquisition a "defensive move," in that it appears the earnings contribution from the utilities is replacing weaker results or opportunities expected on the oil side of its business.
"It sounds to me like they saw this as somewhat opportunistic," he added. "I would say it's a reasonable transaction."
Strategically, it also indicates there's a long runway ahead for natural gas demand, while renewable natural gas and hydrogen blending will also have roles to play in a lower-carbon future, say analysts.
"It does show that Enbridge, a company that started on the oil (pipeline) side, has shifted more weight toward the natural gas side of the business," said Dulles Wang of energy consultancy Wood Mackenzie.
"It really speaks to the resiliency and possibly the longevity of natural gas demand in North America."
Chris Varcoe is a Calgary Herald columnist.