Article content
Wildfires continue to burn across Western Canada, other parts of North America and around the world this summer, increasing the need for planes that can attack the flames from the skies.
For De Havilland Aircraft of Canada, interest in its new water bomber is increasing as the Calgary-based company prepares to launch its program to build an amphibious aircraft, the DHC-515 Firefighter, in Alberta.
Article content
European countries, which signed a letter of intent last year to acquire 22 of the newly designed planes, bumped up their order by two because of more demand from France, while other jurisdictions have also made inquiries.
"We do know that there's a significant demand globally for the aircraft. It doesn't matter if it's in Europe or North America, there's a huge demand," said company spokesman Neil Sweeney.
"We've had countries, both existing customers and new potential customers, calling us and asking about either a retrofitted aircraft or new 515s — quite a significant amount."
The spotlight on firefighting efforts and water bombers has intensified this summer with the worst fire season on record in Canada. Wildfires in Alberta in May (there are still 80 active fires in the province) led to nearly 30,000 people being evacuated, followed by blazes in other parts of the country.
This month, wildfires have triggered the evacuation of residents in Yellowknife and parts of British Columbia. A record 15.3 million hectares of land across the country have been burned, according to the Canadian Interagency Forest Fire Centre.
Article content
Amid soaring temperatures and a changing climate, large fires have broken out in Greece, Spain, the United States and many other countries this summer — and increased the need for more equipment, planes and helicopters to help fight them.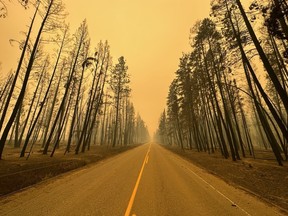 At De Havilland, the new amphibious planes will be designed to refill their tanks in a dozen seconds by scooping up water from lakes, rivers and oceans, instead of landing at an airport after each fire-suppression trip.
The DHC-515 aircraft builds on decades of history dating back to the iconic Canadair CL-215 planes, initially designed in the 1960s, and later the CL-415. The Canadian-designed water bomber is the only Western plane that's purpose-built for battling fires.
The "Super Scoopers" planes are used in North America and customers in Europe have included Italy, France, Greece and Spain.
Six provinces own or operate the CL-215 or CL-415 models, including Ontario, Quebec, Saskatchewan and Alberta. The province has four of the Super Scoopers, which are now being used to drop water on fires burning in British Columbia.
Article content
"Because of the rarity of these planes and how few there are available, we try to share them as much as we can, just because they're such a useful tool," said Phil Reid, an emergency management technology adviser in Alberta's wildfire management branch.
"They're extremely effective. They can carry a high volume of water and they can travel at high rates of speed."
De Havilland (previously operating as Viking Air) bought the manufacturing and design rights to Bombardier's amphibious aircraft program in 2016.
In March 2022, the company confirmed it was moving forward with its plan to build the new DHC-515 Firefighter, with key upgrades, such as state-of-the-art navigation instruments.
At the time, the company announced that European countries had signed letters of intent to buy 22 aircraft, pending negotiations through the federal Canadian Commercial Corp. The European order has also increased by two.
The new DHC-515 program will create an estimated 650 to 700 jobs, including 300 in its facilities in Victoria and another 300 in Calgary, where final assembly will be completed, along with additional positions in Toronto.
Article content
"In both Calgary and Victoria, we're ramping up for production. We've got the tooling in place in both Calgary and Victoria to commence construction of the new DHC-515 Firefighter," Sweeney said.
"We are just down to the short strokes with getting those contracts signed and then production will begin in earnest."
Varcoe: Calgary awaits takeoff of new 'Super Scooper' plane

Experts worry about Canadian water bomber expertise with rising demand, aging fleets
The company also announced plans last fall to build De Havilland Field, a new aircraft manufacturing centre and aerodrome in southern Alberta. It will ultimately be the final assembly site for the DHC-515 Firefighter.
The facility will be built on 1,500 acres of land in Wheatland County, about 15 kilometres west of Strathmore.
De Havilland, owned by Westerkirk Capital — which is owned by billionaire Sherry Brydson — is also in the "early stage discussions with our existing customers in North America" about the possibility of buying DHC-515 planes, said Sweeney.
The record number of wildfires in Canada this year means the existing water bombers are running from dusk to dawn, putting more wear and tear on them and requiring more maintenance.
Article content
"It's a changing climate, where summers are becoming longer and hotter, and that's leading to additional interest in the aircraft," he said.
Sweeney anticipates the company could begin manufacturing the planes by the end of this year.
"I think there is a really strong market for this particular type of aircraft moving forward, especially in light of climate change — and look at the absolutely hellacious year we've had," said Calgary-based industry analyst Rick Erickson.
While helicopters are also used to battle blazes, along with other planes that have been converted to drop water on forest fires, the Super Scooper planes have built a global reputation for being rugged and versatile.
"They're structurally very sound airplanes. They've been built to take a beating. And when you fly forest fires and you fly wildfire suppression, you are — as a pilot — putting the airplane through its paces," added John Gradek, a faculty lecturer who teaches aviation management at McGill University.
"As the world faces more and more wildfire threats, we're going to need not tens, we're going to need hundreds of these airplanes."
Chris Varcoe is a Calgary Herald columnist.