City council can make the shift now or risk hitting a legislated provincial limit within a few years
Get the latest from Chris Varcoe, Calgary Herald straight to your inbox
Article content
Will city council bite the bullet and shift more of the tax burden to Calgary homeowners — or wait until provincial rules force them to do so?
That's the $22.7-million question facing councillors as they head into budget deliberations in the coming days.
Article content
For homeowners, it's not an esoteric debate — it could mean an extra $48 a year in property taxes next year, on top of increased budget spending.
Article content
On Tuesday, city hall released its proposed budget adjustments for 2024 with a recommendation by administration to shift more of the tax burden off of commercial property owners — business operators — and onto local residents.
For Calgarians battling an array of higher utility expenses, housing costs and food bills, it won't be a popular move. There are already signs of resistance by some councillors to the notion.
However, city council might not have much choice.
They can make the shift now or risk hitting a legislated provincial limit within a few years.
As city manager David Duckworth told reporters on Tuesday, if the city hits a provincial limit on the tax rate ratio — the ratio between commercial and residential properties — of five-to-one, it would be forced in the following budget year to lower it.
"It's kind of in our hands right now to make this adjustment. We don't need the provincial government to make us make this — we need to make it," he said.
Business owners, who've seen this debate before, say it's time to act.
"What is unfortunate is the city has postponed the decisions that need to be made to bring tax fairness more into line for businesses," said Michael Going, founder and CEO of Good Earth Cafes, which has 25 locations in the city.
Article content
"Businesses aren't looking for a handout, but they are looking for fairness."
Related Stories
Calgary households could see 7.8 per cent tax increase this year if residential share is boosted

Varcoe: 'Outrageous' — Calgary hotels face 40% jump in city taxes next year as property values recover

Calgary's business-residential tax ratio, highest among big cities nationwide, forecast to widen further: report

'Do the right thing': Gondek, Yedlin say property tax ratio needs to change to help business community

None

None
Currently, residents pick up the tab for 52 per cent of all property taxes collected in the city.
Commercial property owners, who represent 18 per cent of the assessed values, pay for 48 per cent.
In Edmonton, businesses shouldered 44 per cent of property taxes last year, while it sat at 33 per cent in Winnipeg and Toronto.
City administration is proposing to shift the burden by one percentage point annually over the next three years. If passed by council, it would leave homeowners footing 55 per cent of the total tab by 2026.
Every one percentage point change means residential property owners would collectively pay another $22.7 million.
Article content
For a typical home valued at about $600,000, a one per cent tax shift means paying an additional $48 in taxes for the year.
(If the city's proposed spending changes and the tax shift are adopted, it would mean the average homeowner will pay an extra $16 a month in 2024, or a 7.8 per cent hike.)
While there's a wide range of retail, industrial and office properties in Calgary, a non-residential property valued at $5.2 million would see a savings of $2,027, simply because of the tax redistribution next year.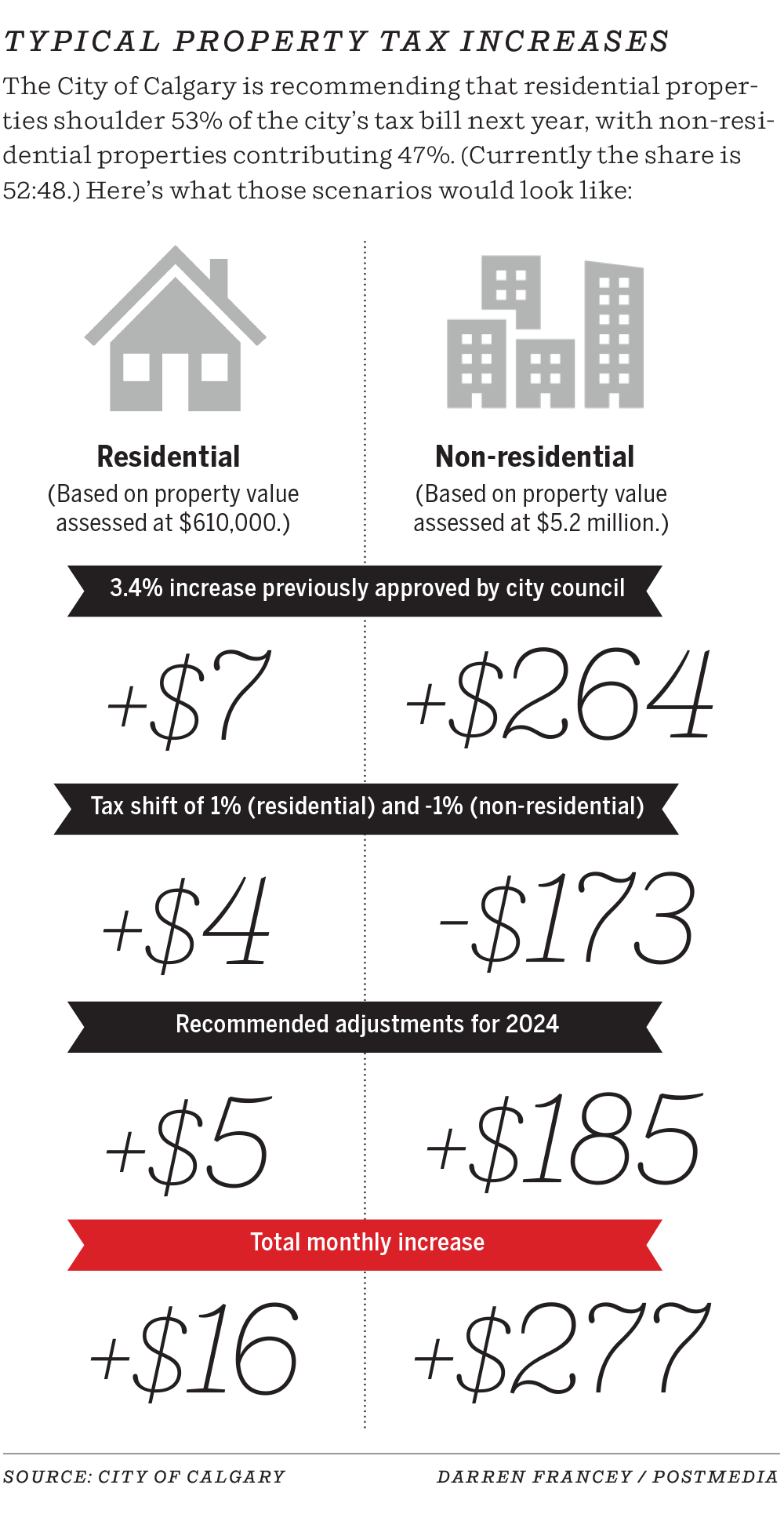 High property taxes are among the top issues for small businesses across the city and they "can make or break a decision for a company to come here," said Calgary Chamber of Commerce CEO Deborah Yedlin.
This isn't the first time the issue has surfaced, as councillors narrowly rejected options in February that would have lowered the tax burden on businesses; they also opted last November not to address it, noted Mayor Jyoti Gondek.
After the value of downtown office towers began to erode in the middle of the last decade — these buildings used to generate windfall revenues for city coffers — some of these issues around taxation have come to a head.
Article content
Provincial legislation limits the tax rate ratio to five-to-one, which reflects the relationship between the taxes for residential and commercial properties. For every dollar of assessed property value, a commercial property owner would pay five times more in taxes than a residential owner.
Without any changes, the ratio will increase from 4.26 this year to 4.59 in 2024, moving Calgary closer to the limit.
City officials say Calgary has a 40 per cent chance of hitting the ceiling of five by 2026. At that point, council couldn't pass a tax bylaw that would exceed that amount.
In other words, it has to do something — take gradual steps now, or adopt some tougher medicine in a few years.
"I think for a lot of councillors, the conversations that are being had internally are that businesses don't vote," said Coun. Courtney Walcott, who supports the proposed shift.
"At some point, and this is the situation we will be looking at in 2026 . . . you can't kick it further" down the road, he added.

Some councillors are clearly uneasy with the shift, particularly as housing costs and rents are skyrocketing.
Article content
"At this point in time, I'm not comfortable putting additional burden on residents, unless we know the true dollar impact. Some people can afford it, some people cannot," said Coun. Terry Wong.
Coun. Sonya Sharp, who doesn't support the redistribution, said she's not worried about Calgary breaching the provincial cap.
"I think the province will turn around and say, 'You have to go back and reassess (the) values of your properties,' before they're going to tell us that we're going to cut," she said.
"That's not their game."
The budget debate begins Nov. 20. And as the city manager told councillors on Tuesday: "We get it, this isn't easy."
No, it isn't.
But waiting won't make a tough decision any easier.
Chris Varcoe is a Calgary Herald columnist.