'It's leading into a very good market here in the fall and then into 2024'
Article content
Oil prices have chugged past US$85 a barrel this month and expectations are solidifying for a well-balanced "Goldilocks" market through the rest of this year — while Canadian energy companies are busy rolling out new deals and capital plans.
On Monday, Crescent Point Energy announced its preliminary capital budget for 2024, expecting to spend about $1.1 billion next year while production averages between 145,000 and 151,000 barrels of oil equivalent (boe) per day.
Article content
The Calgary-based producer, which is expanding in the Montney and Duvernay areas of Alberta, has projected total capital expenditures of about $1.1 billion for this year after it sold off some assets in North Dakota last month.
Crescent Point said it will pump out more than $1 billion in excess cash flow next year if West Texas Intermediate (WTI) crude prices average US$80 a barrel.
On Monday, benchmark U.S. oil prices closed at $87.29 per barrel, down 22 cents.
"It's extremely positive here on the (oil) outlook — not only for us, but the sector as a whole," Crescent Point CEO Craig Bryksa said in an interview.
"It's leading into a very good market here in the fall and then into 2024."
The company is targeting a production increase to 180,000 boe per day by 2028, with annual spending remaining in the same neighbourhood as its 2023 capital budget, he added.
Last month, Crescent Point disposed of North Dakota properties that produced about 23,500 boe per day, for $675 million in cash to a private operator.
The senior producer has been busy reshaping its portfolio, acquiring $3 billion of properties in the Montney and the Kaybob Duvernay areas since 2018.
Article content
In March, it bought assets in the Montney formation from Spartan Delta Corp. for $1.7 billion.
The company's flat preliminary budget for 2023 was announced as many oil and gas companies are now busy formulating their spending plans for next year.
"I think you will see with all of the budgets coming out, just the industry continuing to stay very disciplined," said industry analyst Amir Arif with ATB Capital Markets.
Crescent Point plans $1.05B to $1.15B in development capital expenditures for 2024

Precision Drilling to buy CWC Energy Services in deal valued at $141M

'Feels pretty good': Oil and gas investment in Canada to hit $40 billion in 2023, CAPP says
Earlier this month, Statistics Canada reported that capital spending in the Canadian oil and gas extraction industries increased modestly during the April-to-June period to $10.4 billion, up three per cent from the first quarter.
It also represents a 17 per cent jump from the same period in 2022.
Although down from the highs seen last summer, oil prices have taken off in the past two months, rallying from $67.70 a barrel in late June to trading above $85 this month.
Article content
Recent production cuts by OPEC and last week's decision by cartel heavyweight Saudi Arabia to extend its voluntary output reduction of one million barrels per day until the end of this year have helped bolster oil markets.
Global oil demand has also continued to accelerate.
The International Energy Agency recently projected oil demand this year will increase by 2.2 million barrels to 102.2 million barrels per day.
"We've seen oil prices move very drastically over the course of the past two-and-a-half months after a pretty sluggish first half of the year . . . It's warranted," said Michael Tran, RBC Capital Markets' managing director of global energy strategy.
"Oil prices currently are in a Goldilocks scenario. Consumers are not being hurt by elevated oil prices and the current range is extremely favourable for global oil producers."
RBC expects WTI oil prices will average US$86.50 a barrel through the fourth quarter and at a similar level next year, with robust demand growth of about 1.2 million barrels per day forecasted in 2024.
While oil prices are strengthening, there have been a spate of industry moves made as the summer winds down.
Article content
Precision Drilling, the country's largest driller, agreed Thursday to buy Calgary-based CWC Energy Services last week for about $141 million in cash and shares, including the assumption of about $40 million in debt.
CWC will add 62 service rigs and seven marketed drilling rigs to Precision's fleet in Canada, and 11 drilling rigs south of the border, where Precision is also a large industry player.
Precision CEO Kevin Neveu pointed out the deal follows previous transactions to expand its presence in the well servicing business. Last year, it bought the well servicing and rental division from High Arctic Energy Services for $38 million.
"This transaction with CWC is well timed, with the operators looking at spending more money on servicing existing wells, abandoning old wells and the industry is just generally more active now than it had been for most of the last decade," Neveu said Monday.
Neveu noted the number of rigs working in Canada is slightly lower than the same time last year, but he sees a strong outlook in Canadian activity through the fall and into 2024, with producers active in the Montney and heavy oil areas.
Article content
"If the oil prices stay in this plus-$80 range . . . it looks pretty good for Canada," he added.
"We're optimistic that next year is going to look as good as this year, or perhaps a little better."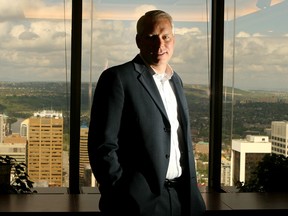 Meanwhile, Peyto Exploration & Development announced Wednesday it will acquire all of Repsol's exploration and production assets in Western Canada for $626 million.
The properties produce about 23,000 boe per day.
The land is near Peyto's existing assets in the Alberta Deep Basin area, and it includes five operated natural gas plants.
For Repsol, the Spanish company is reorganizing its portfolio to focus on core areas.
During a conference call after the agreement was announced, Peyto CEO Jean-Paul Lachance said Wednesday the Calgary-based company has a three-year plan to spend between $450 million and $500 million annually on capital.
It aims to grow its overall production from 123,000 boe per day, once the deal closes, to more than 160,000 by the end of 2026.
"We are not buying this asset for the current production . . . but for the longer-term quality of the drilling inventory and for the significant infrastructure that comes with it — not to mention, this is in Peyto's backyard," Lachance said.
"I don't think there could be a better fit for Peyto."
Chris Varcoe is a Calgary Herald columnist.