Reviews and recommendations are unbiased and products are independently selected. Postmedia may earn an affiliate commission from purchases made through links on this page.
Article content
It would be understandable if fans assumed that Clay Aiken and Ruben Studdard's relationship was based on friendly but fierce competition.
The two reality-TV stars famously went head-to-head in the second season of American Idol 20 years ago. In a finish that some found controversial, Studdard narrowly beat Aiken for the top spot by 140,000 votes out of a total 24 million. There were tales about an overwhelmed phone system that may have impacted the voting process and some of Aiken's fans were not shy about voicing their annoyance. 
Article content
When promoting the Calgary stop of the Ruben & Clay: Twenty tour at the Jack Singer Concert Hall on its website, Arts Commons even asks "Whose team were you on, Team Ruben or Team Clay?"
It makes for a good story. But in an interview with Postmedia, Aiken says he didn't really see Studdard, or anyone else, as the competition back in 2003. While that second season was obviously a personal milestone in the lives both singers, it was also a turning point for the series. The first season did well enough to be renewed and would eventually help turn winner Kelly Clarkson into a superstar. But Clarkson's debut album wasn't released until the second season was nearing its end. No one who auditioned and then competed in Season 2 had any inkling that the show would have the power to launch a music career, much less a wildly successful one. Season 1 had nine million viewers, which paled in comparison to Season 2's 40 million. Yes, in retrospect, the stakes were high, it's just that the competitors didn't necessarily realize it at the time.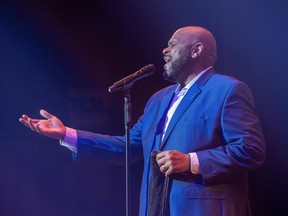 "All of us went into it with a very different mindset than I think the people who did it after us did," says Aiken, in an interview alongside Studdard with Postmedia. "If you're in Season 3 — Fantasia (Barrino) and Diane DeGarmo — you've seen Kelly have millions of album sales. You've seen Season 2 have 40 million viewers," he says, noting those contestants had seen that the show could make your career.
Article content
"We didn't realize that, I don't think. We all went on thinking we're going to get some connections, we're going to meet some people, we're going to have some fun; maybe we'll get an album we can make. They just weren't the stakes to set us up to be competitors and we just became good friends. We all wanted to win, but we became good friends with the people who were on the show with us because we didn't realize that it could change our entire lives."
Studdard adds, "Having been involved in so many competitions, on a smaller scale for sure, over my whole life, I really didn't expect it to be the juggernaut that it was. For me, I really just wanted a record produced. I got much more than I bargained for."
It was a juggernaut, of course, and it forever changed the trajectory of their lives. Both went on to have successful music careers and Aiken even briefly dabbled in politics. It also turned them into life-long friends. In 2010, the pair teamed up for a tour that found them trading songs, stories and jokes on stage. They are not reinventing the wheel for the 2023 version, but Aiken says it is a show specifically designed to stir nostalgia in fans and bring them back to those heady days in 2003 when Aiken and Studdard both became unlikely pop stars. Judging from reviews of previous shows on the tour, the setlist is a crowd-pleasing mix of everything from American Idol-era staples — such as Studdard's take on Luther Vandross' Superstar and Aiken's show-stopping version of Simon and Garfunkel's Bridge Over Troubled Water — to Bee Gees covers, Motown hits and a segment dedicated to a medley of boy-band hits.
Article content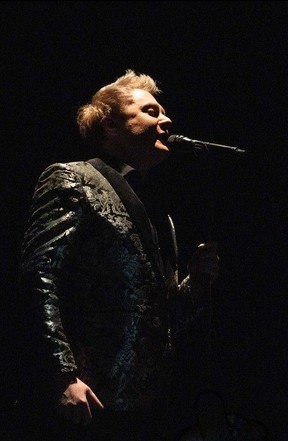 "It's really like looking back at your high-school reunion," Studdard says. "It's the same fond memories, I feel, that you would have if you were talking about high school or college."
Aiken adds, with a laugh, "My Idol memories are far fonder than my high-school memories."
It all suggests that both see their American Idol experiences as positive. But they also both admit that having fame arrive so quickly and forcefully was often bewildering.
"It definitely takes some getting used to," Studdard says. "It was not very comfortable in the beginning and sometimes it's not comfortable now. It's what comes with being a part of something so monumental."
Aiken says, "I don't think either one of us handled it poorly. We were both, in a way, fortunate enough to not become a household name until we were in our mid-20s. We were old by the standard of American Idol nowadays. We were 24 when we did it. Folks after us were 16. We had a little bit more life experience. But it ain't always easy and I'd say for the first several years, for me, I wouldn't leave the house. It happens so quickly and so overnight. When we both went home — for the few minutes we were able to go home after Idol was over — we couldn't go anywhere without people knowing who you were. I know Ruben had the same thing, people would pull up a seat at your dinner table at a restaurant and just sit down and talk. Not only were we household names, we were household names that people put in that position. They picked up the phone and they voted and they gave us these opportunities. So there was a lot of ownership that people had in us. That became difficult to process. Twenty years later, I think we have a better grasp and better handle on it but, he's right, sometimes I still can't get used to it."
Arts Commons presents Ruben & Clay: Twenty at the Jack Singer Hall on Sept. 29 at 7:30 p.m.