Reviews and recommendations are unbiased and products are independently selected. Postmedia may earn an affiliate commission from purchases made through links on this page.
Article content
On my second day at the Calgary Fringe Theatre Festival, I learned the truth about Ophelia's role in Shakespeare's Hamlet from a former teacher turned playwright, had a sex education tutorial from a company of puppets, and spent 45 minutes in a doctor's office with a very anxious woman as she waited to learn the results of her pregnancy test.
Once you've seen P Gail Whiteford's Fringe play Ophelia Rising, you'll never be able to look at Shakespeare's Hamlet the same way again.
Article content
In her wickedly clever dissection of Hamlet, Whiteford sets out to prove Hamlet and Ophelia were never lovers, that Ophelia lost her virginity to someone else in the palace, and that Ophelia did not commit suicide. That pretty much upends everything most of us who've read or seen Hamlet have taken for granted.
Ophelia Rising opens with the funeral of Ophelia as it appears in Hamlet with all the main characters throwing flower tributes into the coffin and then leaving, but that's where things immediately take their fun turn. Ophelia rises out of her coffin to explain to the audience how they've been deceived for more than 400 years, and she does so in contemporary vernacular. She may be wearing her Elizabethan garb but this Ophelia is most definitely a modern young woman courtesy of a robustly comic performance from Chelsea Howell-Fellows.
Ophelia keeps the secret of who deflowered her as long as she can, just dropping hints, so I'm not about to reveal that tidbit, but it's a good one, and Ophelia and Whiteford have all the clues to support their premise. Whiteford and Howell-Fellows get major guffaws when Ophelia debunks the whole suicide sham.
Article content
Whiteford's staging of the play is as clever and witty as the dialogue she has given Ophelia. All the other characters are dressed in black and gold and move and speak like marionettes adding another great level of humour, especially for people who consider Shakespeare as being stilted or prosaic.
The fun that Howell-Fellows six co-stars are having playing Hamlet's mother Gertrude (Anne Hodgson), uncle/stepfather Claudius (Greg Spielman), brother Laertes (Nathan Severson-Baker), father Polonius (Yvonne Fredrick) and the indecisive Hamlet (Bryan Smith) is clearly and immediately evident, and it spills over into the audience who need no prodding to laugh from start to finish.
What Whiteford and company are doing in Ophelia Rising is essentially what Tom Stoppard did almost 60 years ago in Rosencrantz and Guildenstern Are Dead, his classic spoof of Hamlet which, ironically, had its premiere at the Edinburgh Fringe Festival. The 17th annual Calgary Fringe Festival is seeing the birth of another great parody, and it would be foolish to miss it.
Ophelia Rising runs in the Wood's Homes conference centre.
Article content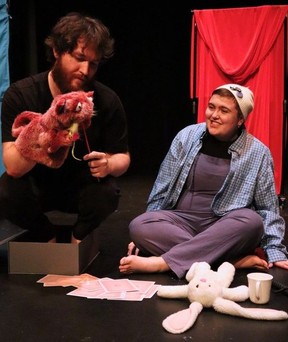 BACK TO SCHOOL FOR THESE PUPPETS
Hanna Manko Bell, who created and directed the puppet comedy Going All the Way, said she wanted to give her puppets the most ridiculous assignment conceivable which is why she chose a sex education seminar for junior high school students.
It's a great premise, not only for comedy but for fleshing out some insights into such topics as gender, boundaries and sexually transmitted diseases, which writers Sophie Underwood and Kiley Verbowski attempt to do.
Manko Bell also says she wanted Going All the Way to be a show about the people behind the curtain, or in this case, the puppeteers Avery (Ty Wesley) and Beatrice (Loreto Espinoza). This means the audience gets to see the conflicts hidden in a friendship the women have shared throughout university. It's evident immediately there is sexual tension at play in their relationship on and off stage which Wesley and Espinoza handle with natural ease.
One of the problems with Going All the Way is that Manko Bell, Underwood and Verbowski don't trust their puppets nearly enough. There are times when the conflicts needed to be dealt with by puppets and not the two characters. This is especially true when Avery and Beatrice pour out their souls in phone videos. This scene needed to be done through puppets. The only time the puppets really need to be sidelined is at the end of the play for the final confessions. It would have made that scene so much more powerful if the audience saw, for the first time, the real people behind the puppets.
Article content
One of the most inventive moments of the play happens when a sex puppet is missing, forcing Wesley and Espinoza to improvise using a hoodie. A great deal of creativity did go into this show but it still needs more reworking and rethinking.
Both Wesley and Espinoza need to be more aware of their diction. There is nothing wrong with speaking quickly or with accents as long as there is clarity which, too often, there isn't in these performances. Audiences should never have to strain to understand a performer.
There were also some technical difficulties on Saturday with the sound system so the voices of the students were barely audible. Rowdy junior high school students would be as loud as they are vocal in this show.
Going All the Way, which runs in the Lantern Church basement, gets some big laughs, but there is potential for so many more.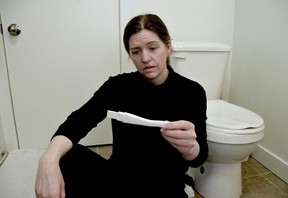 A GOOD PRESCRIPTION FOR A FRINGE THEATRE FESTIVAL
Karen Solomon, the character Sarah Gibbs has created for her solo show Solomon, is a woman of contradictions which makes her so interesting.
She has three university degrees, including a master's in English literature, yet she is working as a legal assistant. It's her literary background that's responsible for Karen sitting in a doctor's office waiting to hear the results of a pregnancy test. She was at a poetry reading when an equally awkward academic happened to mention he liked one of her favourite Joseph Conrad novels. It sparked a conversation which lead to glasses of wine, and eventually a sexual encounter which still confuses this confirmed spinster.
Article content
Gibbs makes Karen a nervous woman with noticeable physical idiosyncrasies. This doesn't seem to add up until she begins talking about her parents, a father who is a stodgy academic and a mother who is a free-spirited artist. She couldn't please either of them, which made her so unsure of her own abilities even after securing three degrees. The only person who really understood her, and who she still goes to for advice, is her old Irish Catholic grandfather, the man responsible for changing their name.
It takes Karen, and Gibbs, about 30 minutes to finally veer into the topic of women's reproductive rights. How Gibbs does this is just another example of her skill with dialogue and monologue construction. This is such a well-written play. It would be an excellent choice for festivals because it demands an impressive acting range, which Gibbs has.
Director SueAnne Fu-Joncic has chosen to have Gibbs dressed in black and act in a black box setting which initially seems such a strange choice until it becomes evident that trying to blend in, instead of sticking out, in any setting has been Karen's overriding goal. This is a woman who wants to disappear, and the prospect of having a child at 38 is not going to make that simple anymore.
Solomon, which runs in the Wood's Homes conference centre, is the kind of play that needs an intimate setting. It really should feel as if we're trapped with her in that claustrophobic doctor's office as she prattles on nervously and impulsively.