There are reports that parts of the Saddledome's concrete roof were crumbling on the outside; netting has been put up as a precaution
Article content
City officials say the Saddledome roof is showing signs of deterioration, as a committee tasked with finding a replacement for the aging arena suggested there's potential progress on that front.
The Calgary Events Centre Committee met for almost two hours behind closed doors on Wednesday while hearing an update on the ongoing negotiations between the city and the Calgary Sports and Entertainment Corp.
Article content
Without giving many details, committee chair Sonya Sharp hinted that progress is being made.
"We're still having some great conversations with CSEC and the city, and we had a fulsome update from administration and the third party today, which was really great," she said.
In May, three people with business backgrounds were brought in as a third party to help mediate talks between the city and the owners of the Calgary Flames as they work to get the derailed event centre discussions back on track.
City councillor 'very optimistic' as efforts continue towards reviving Flames' arena deal

Calgary executives to mediate arena talks between city, Flames ownership

Braid: Gondek says the event centre isn't dead yet, urges council to press on
Calgary did have a deal to build a new events centre in Victoria Park, but CSEC walked away from the project late last year, citing escalating costs.
Plans for the new building had been finalized and a development permit had been approved last November, leaving many wondering how the deal could have collapsed so suddenly.
Sharp declined to give details on what sort of progress was being made in the new discussions, or a timeline of when the public could hear more.
Article content
"What I can say is administration is working as hard as administration can be working, and in city-speak, this has been light speed in some of the work that they've been doing," she said.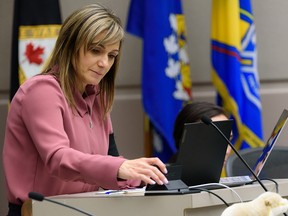 The committee recommended that the report they heard Wednesday be forwarded to council as an item of confidential urgent business. As council resumed its ongoing combined meeting on Wednesday afternoon, the matter was added to the agenda.
The entire council went behind closed doors for more than an hour to receive the report.
Speaking after that in-camera session, Mayor Jyoti Gondek said she is pleased with the progress.
"I have always remained optimistic on the fact that we could enter into a new negotiation and figure out how we get an event centre done as part of a larger district, and I remain optimistic about that," she said.
But as potential progress in the event centre discussions was being made public, Calgarians were also learning that the Saddledome may be facing some problems.
CBC News reported that it had obtained engineering reports through a freedom of information request, which showed parts of the Saddledome's concrete roof were crumbling on the outside. Netting has been put up to catch any falling pieces.
Article content
Michael Thompson, general manager of infrastructure services, said the deterioration is not a major concern.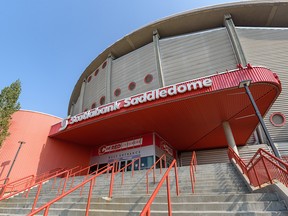 "We annually conduct inspections of our buildings," he said. "The recent reports we've received from the Saddledome show that it's structurally sound and safe for public use."
Thompson said the city sees similar deterioration on a lot of its concrete buildings and structures such as bridges, and there are methods for repairing it.
"Buildings of this age require maintenance just like any other building or facility we have," he said.
Thompson said there is money budgeted for such repairs.
[email protected]
Twitter: @brodie_thomas