Reviews and recommendations are unbiased and products are independently selected. Postmedia may earn an affiliate commission from purchases made through links on this page.
Article content
O'kosi is the Blackfoot word meaning autumn, the time when Indigenous peoples gathered to return to their winter camps. It's also the time when nature readies for the coming season of cold and snow, and change is what O'kosi is all about.
Conceived three years ago by Michelle Thrush, Garret C. Smith, Alanna Bluebird and Janine Owlchild, O'kosi looks at the devastating effects that the signing of Treaty 7 had on the people it promised to protect and aid.
Article content
There was appropriation of lands, and residential schools that robbed Indigenous peoples of their homes and identities and fractured their families. Set in various decades from the day of that fateful treaty in 1877 through 2023, and even into an imagined future in 2077, it tries to find hope and reassurance through the plight of two families.
Grace's son Jordan (Dustin Frank) was taken from her at age five and raised by Polish foster parents. Regret sent Grace (Owlchild) into a downward spiral and a life on the streets of Calgary. Another character, Darren, (Garret C. Smith) is so broken by the generational effects of residential schools that his grandparents and parents were sent to that he abandoned his wife and daughter Lily (Mary-Rose Cohen).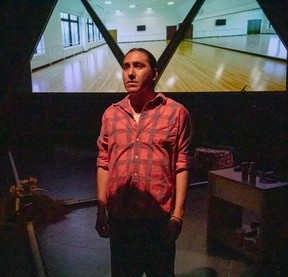 Fate, in the guise of Sylvia (Alanna Onespot), a mysterious poet and the show's narrator, brings Darren and Grace into each other's lives, and eventually back into the lives of their lost children. It's not linear storytelling which makes it a far more intriguing experience. There is also a surreal aspect in that Sylvia can enter the thoughts and spaces of the characters she intends to influence. This is particularly hilarious when she intrudes on Jordan, a gamer living in the basement of his Polish parents' home. His own experience with avatars makes him more susceptible to this spirit person than most young people his age.
Article content
Lily is an aspiring dancer which gives Cohen the opportunity for a haunting interpretive dance sequence which blends modern dance with traditional pow-wow. There is a live band and a pow-wow band with beautiful solos from Kaidynce Goodwill. This blend of music, song, dance and storytelling places O'kosi firmly in the genre of any Indigenous theatre from Asian to Middle Eastern.
Andy Moro's set allows for several different acting areas, while his projections take the audience from fields to streets in Calgary, the Arts Commons, a dance studio, Jordan's bedroom and a cabin in the future. Matt Levesque's lighting design helps establish the always-changing moods.
There is a bench on set and several of the play's best moments occur there as when Grace approaches Darren asking for money, only to find they have so much in common. She is asking for change, but it's not really coins she wants, but an escape from her current situation. It is a beautiful scene, so rich with authenticity and unforced feelings. Smith also has a powerful moment on that bench with Cohen when father and daughter finally unburden their hearts, and there is another sweeter, funnier moment when Cohen and Frank talk to each other about what it meant to be abandoned by their parents.
Article content
When the set turns into the television game show Let's Make a Deal with Smith as the host and Frank as the contestant, it's all great slapstick fun, that leads to a touching reunion between son and mother.
Thrush's direction gives the evening a variety of colours and emotions, constantly reminding us there are so many ways of telling stories. O'Kosi is a gentle way of dealing with some powerful insights and messages and never feels like a history lesson or a diatribe because Thrush and her co-creators and cast members know one of their primary goals is to entertain.
O'Kosi runs in the Grand Theatre's Flanagan Theatre until Saturday, nightly at 8 p.m. with a 2 p.m. matinee on Saturday.