Reviews and recommendations are unbiased and products are independently selected. Postmedia may earn an affiliate commission from purchases made through links on this page.
Article content
On my first day at the 17th annual Calgary Fringe Theatre Festival, I shared secrets with Joanna Rannelli, carpooled with Sarah Gibbs and SueAnne Fu-Joncic, and got real with Jonathan Top and some of his imaginary friends.
The thing about being privy to secrets is knowing which ones to keep and which ones to share. This is the dilemma when reviewing Rannelli's exquisitely powerful solo show Private Parts: The Secrets We Keep. In a most candid 55 minutes, Rannelli discloses much about the secrets she tried to keep from her parents and those her parents kept from her. She also talks about the secrets her body kept from her. It would be unfair to disclose too many of those secrets because the way Rannelli deals with them is what makes her show sometimes humorous and sometimes devastating, but always riveting.
Article content
Another important thing about Rannelli's show is, though she definitely allows a bit of melancholy to slip in, she keeps it from ever becoming maudlin. She doesn't ask for sympathy, but it's obvious she wouldn't mind a bit of empathy.
In her press materials and interviews, Rannelli talks about the marriage she kept secret from most people including her father. She plays this one for laughs, explaining why it was not as easy to keep the divorce a secret. She also talks about trying to keep her smoking habit a secret from her father and stepmother, and how that one leaked out during a family vacation in Cuba. As an accomplished playwright knows, this kind of comic relief is essential when the subject matter gets as raw and personal as it does a few times in Private Parts.
Rannelli is not just an astute performer but a masterful storyteller. She knows when to move and when to be absolutely still. She uses carefully planned histrionics to punctuate dramatic and comic moments, and she uses brief silences for maximum effect.
Rannelli, whose Vancouver company is called Gravity Theatre, is, ironically, performing at Cafe Gravity and she understands the confines of dinner theatre, asking only that people not order food or drinks during the show itself. This venue actually adds to Rannelli's show, giving it the feel of being in her kitchen or living room as she unburdens her soul.
Article content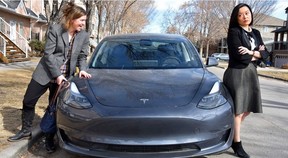 WATCHING OUT FOR POTHOLES AND SPEED BUMPS
Carpool, the comedy about a pair of Calgary office workers who decide to save money by driving to work together, reminds me of those movies inspired by Saturday Night Live sketches. Movies like It's Pat, Coneheads, Superstar or A Night at the Roxbury were all great fun as brief skits, but had to work so much harder the longer they stretched the jokes or the basic situation.
Carpool is not a rough ride, and it doesn't quite run out of gas, but it does, understandably, hit some rough patches.
Sarah Gibbs and SueAnne Fu-Joncic play employees at the same energy firm in Calgary but not in the same departments. Gibbs works in the computer department while Fu-Joncic is in human relations. Their apparel is the first big joke with the very prim and proper Fu-Joncic contrasting with the casual Gibbs, and it's a fun joke they know just how far to take beginning with the way they sit in the car. It's character observations like this that make Carpool so immediately charming.
Gibbs, who also wrote and directed Carpool with input from Fu-Joncic, wants to show how Gibbs' Irish Catholic background gives her a much different perspective on gender, race, politics and sex than Fu-Joncic's mainland China heritage. They make some poignant and perceptive observations but, this is essentially a comedy, so they also go for some broad jokes and sprinkle in some racy language. The show does earn its share of raucous laughs from the audience, and that seems to be one of its basic aims.
Article content
The Trivial Pursuit jokes go on too long, but the discussions about one-child families as opposed to having multiple siblings are most perceptive.
Both characters are well-defined, but Fu-Joncic needs to be far more aware she is driving a car, even if it is an electric car.
Carpool runs in the Wood's Homes conference room at 1008 14th Street S.E.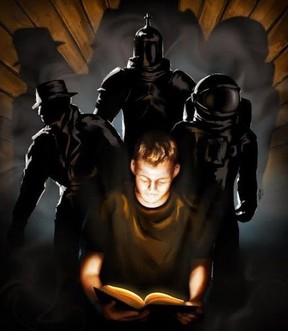 A PANDORA'S BOX FILLED WITH TREATS
It's the youthful exuberance of Jonathan Top's Real that makes it such a treat.
Top has created and stars as Ted, a novelist with writer's block. Ted's first book was a runaway hit and now his publishers want to know what his second book will look like. The problem is Ted has no ideas, so he returns to the attic of his childhood home to look for his old journals, hoping they contain the inspiration he needs.
Ted's mother (Michelle Gritter) senses something is bothering her son but he initially refuses to unburden himself, so she waits patiently until he will.
The first journal Ted finds in an old trunk is about a knight who Ted left fighting a dragon. As Ted reads a passage, the knight (Kenan Hekman) appears. He's a big, loud, fun character who wishes Ted had just let him slay the dragon so he could finally woo a damsel.
Article content
The second journal brings back Ted's gumshoe (Nick Sommerville). The joke here is Ted would always run out of inspiration the moment someone knocks at the detective's door, so the poor guy never actually got a case to solve.
Finally, there is the astronaut (MJ Batalla) who Ted left stranded during the final countdown before blast off. He is the most perceptive of all Ted's creations.
What these characters, and Ted's mother, finally assure him, is that writer's block is not something new for Ted, and since he got over it once, he can, with their help get over it again. It's not the most profound observation, but it is so well handled that it is completely captivating and disarming.
Top gets dynamite performances from Hekman, Sommerville and Batalla, and some gentle pathos from Gritter, and his Ted, is a wonderfully cuddly Everyman who's a bit of a Peter Pan who might just turn into a JM Barrie.
Top and his co-directors and designers have created a great little attic set in the sanctuary of The Lantern Church for just the kind of escape fringers need at the end of any day down at the Calgary Fringe Theatre Festival. This is one little show you don't want to miss.