Article content
The Red Lot will return for Game 6 as the Calgary Flames try to eliminate the Dallas Stars in Texas on Friday.
While the Flames will be on the road, fans in Calgary will be able to gather for a watch party outside the Scotiabank Saddledome.
Article content
"Flames fans, we heard you loud and clear! The Calgary Flames are proud to announce that they will host the Red Lot Community Viewing Party for Game 6," read a statement from the Flames organization.
Article content
The lot has drawn thousands of fans throughout the first five games of the series, prompting the club to continue the party outside their arena. Friday night's watch party will open at 4:30 p.m. — three hours before puck-drop — and will feature live music from Boogie Hill Faders. There will also be interactive stations, prizes and food and drink.
Flames mascot Harvey the Hound and several former players will be in attendance.
"This event is free of charge, available for fans of all ages, and will open three hours prior to puck-drop," read a statement posted online. "Fans in attendance can watch the game live on the enormous Titan screen along with music courtesy of the Boogie Hill Faders."
Dallas Kitt, manager of events for the Calgary Sport and Entertainment Corporation, said the crowd was electric for the Game 5 victory as the Red Lot reached its maxium capacity of 5,000 people.
"The support of the fans is tremendous and I know that the organization, the players really feed off that. To be able to have everyone together and cheering for the same thing just really builds on that sense of community," said Kitt. "(It) brings a positive energy that everyone feeds off of."
Article content
She said that as long as the Flames stay alive in the play-offs, the team will continue to host community watch parties.
Meanwhile, crowds along 17th Avenue S.W. — dubbed the Red Mile during Flames playoff runs — have been growing throughout the series. Calgary police spokeswoman Lindsay Nykoluk confirmed Thursday that four traffic safety act tickets were issued Wednesday night along with one parking ticket. Police also arrested two people with a total of 13 outstanding warrants. One of those individuals was carrying a can of bear spray when arrested.
"Everyone seems to be celebrating in a respectful manner for the most part," said Nykoluk.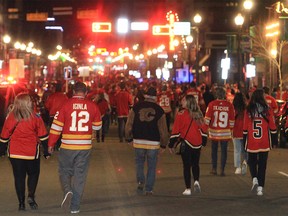 Updates from the CPS Twitter account that were originally posted by officers on duty showed that a section of 17th Avenue was temporarily closed due to high pedestrian traffic once the game had concluded, but was reopened a short while later. Const. Chris Martin tweeted that most fans were co-operative and celebratory. He said there was heavier than usual pedestrian traffic as most bars along the strip were at or near capacity.