Reviews and recommendations are unbiased and products are independently selected. Postmedia may earn an affiliate commission from purchases made through links on this page.
Article content
Farren Timoteo hopes audiences leave his solo show, Made in Italy, hungry for connection, conversation, a sense of community, and the great Italian food that inspired all these in his life growing up Italian.
Timoteo created his semi-autobiographical homage to Italian food and his immigrant family in 2016, and has performed it across the country more than 150 times since it premiered.
Article content
"When I was in high school, I did stand-up comedy impersonating my family members. It was easy because they all have such big personalities. When I was studying theatre in Edmonton at Grant MacEwan, I really responded to our study of the solo show. I thought it would be the ideal format to tell my family's story," says Timoteo.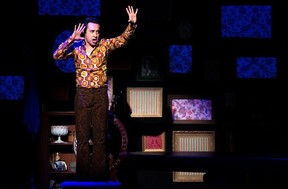 His grandfather immigrated to Canada in the 1950s and settled in Jasper as he came to work on the railroad. Made in Italy takes place before Timoteo was born. It is largely inspired by the stories he heard and some of the things he witnessed or experienced. He put them all into a family called the Mantinis. Salvatore is based on his grandfather and Francesco on his father.
"My grandfather came to Canada to give his family a better life. Unfortunately, my father, being an immigrant, was considered an outcast. Growing up in the 1970s in Jasper, he felt so alone. He felt he had a target on his back. When I was growing up Italian, the Italian culture was all about sports cars, fashion designers, famous actors and renowned directors. It was enviable being Italian. That was not his experience."
Article content
When Timoteo was a youngster, he and his father bonded over the iconic movies Rocky and Rocky II.
"He was so proud to share them with me. We rented those two movies so often that the owner of the video store eventually gave us the giant stand-up of Rocky. It was not Sylvester Stallone that entered my DNA through those movies, but Rocky Balboa."
Timoteo also had John Travolta as part of his DNA long before he knew who the actor was.
"My father used to style my hair for me each morning before I went to school. It was the same way he wore his hair. I didn't know the significance, until I finally saw Saturday Night Fever, that I was a miniature John Travolta."
One of the greatest influences in Timoteo's life was his grandmother's dining room.
"It was a big, beautiful, special room you could only enter when she was serving one of her special dinners, which was usually every Sunday. We dined in that beautiful room with its massive table, and a special chair was assigned to each person. I got to sit on a step stool beside my grandparents because I was so tiny."
That room with its table is the set which will greet audiences at the Martha Cohen Theatre from Oct. 17 through Nov. 11 as Theatre Calgary presents Made in Italy. Timoteo wanted a more intimate setting to bond with his audiences.
Article content
"The back wall of the set consists of photos of family members, many of whom are deceased which means my family literally has my back the entire time. It's why the show is an emotional experience for me, no matter how many times I tell their stories."
Timoteo says he has dined at some of the finest Italian restaurants across Canada, but none were able to recreate that special taste of his grandmother's spaghetti. Then he went to his family's home in Italy this past August.
"My grandmother's sister, who is in her 80s, cooked for us. Her food was like a time machine to my youth. It was pure magic. I know people will understand that feeling.
"When I first created my show, I was so worried it was a specific family, a specific culture, and specific memories, but, over the years, countless people from other ethnicities have told me that this was their family and their memories. Thankfully, the show has true universal appeal, because it is about family and the kinds of connections and memories we all seem to share."
Theatre Calgary's Made in Italy runs in the Martha Cohen Theatre from Oct. 17 through Nov. 11.