Reviews and recommendations are unbiased and products are independently selected. Postmedia may earn an affiliate commission from purchases made through links on this page.
Article content
In 2008, Calgary artist Francis A. Willey began getting word through friends and acquaintances that his black-and-white portrait, Blindness, had been showing up in a number of places.
A friend was working on some reverse-image software and tested it using Willey's haunting 2006 image of a blindfolded woman.
Article content
"They congratulated me for being published somewhere," Willey says. "Another person said, 'Oh I saw your work graffitied on a wall in London.' Or 'I saw it on the side of a truck in Brooklyn' or 'I saw it on a book cover here.' I was like, 'What is going on?' I did my own reverse-image search and there was just a plethora, endless page after page after page. I was beside myself."
Article content
He wasn't credited or compensated for most of these replications. But the image went around the globe. It appeared as graffiti on a wall in Tehran. It became the central image on the cover of the rerelease of John Wyndham's 1951 novel The Day of the Triffids. It's been used on advertisements advocating mental health, on Russian hook-up sites, as the album cover of a Polish punk band and for a poster for The Eye Bank Society of Rajasthan. It has been used in countless memes, referenced in the work of other artists and even posted on Facebook in early 2013 by the late Lou Reed.
"He would just share art," says Willey. "I commented on it, (saying) it's originally by me. That was my comment, which is kind of lame to do but I just had to say it."
It's a testament to the power of the image, even if Willey admits he became negatively obsessed with the fact that it was often being used for causes or by organizations that he didn't endorse and that he wasn't getting compensated. On his website,Willey has a section dedicated to the image that shows dozens of examples of how and where it has been used. It's also part of his new exhibition at Inglewood's Collector's Gallery of Art. Running until Nov. 26, the show is called The Art of Francis A. Willey and Manyeyescity. The latter is the name Willey uses for some aspects of his work, specifically painting and collage.
Article content

A multidisciplinary artist since the mid-1990s, Willey is also a poet and composer. But he is arguably best known in Calgary for his stunning photography work, which has included the cover for Sargeant X Comrade's 2021 album The Elephant in the Room.
"Everyone knows me specifically for poetry and film photography, or traditional photography," he says. "The other side, since I was a teenager, was my exploratory soul. Discovering who you are as an artist, you have to try different things. So I started all of them at the same time. Manyeyescity was my original graffiti name, kind of my disrupter name. I wouldn't be out destroying property, but I would be creating art that would stir more of a social consciousness – public art here and there, little poetry slogans, collage work."
But Willey's photography became more in demand. That journey began when Willey was 12 and his mother gave him his first KODAK camera. Over the years, his work has appeared in Vogue and exhibits in Europe – including in The Louvre in 2015. This year, he received The Legacy of Doug and Louis Mitchell Outstanding Calgary Artist Award, presented by Mayor Jyoti Gondek as part of the 2023 Celebration of the Arts Awards.
Article content
The exhibit showcases both Willey's photography and collage work he has done over the years, revealing an eclectic list of interests and themes including religion, mythology, and even hip-hop and general modern life.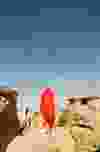 That includes everything from the sly mixed-media collage OMG! I Forgot My Phone Charger, a frantic figure overwhelmed by chaos, which he created under the Manyeyescity moniker; to the beautiful and lyrical Red Ghost on Written Stone, a 2017 photograph of a woman cloaked in red taken at Writing-on-Stone Provincial Park.
As for Blindness, Willey says he has found a certain peace about how the image has travelled around the world. It has endured through various interpretations. The original negative was also one of the few that survived when fire destroyed Willey's home and a good portion of his artwork in 2011.
In 2014, he was contacted by KODAK. The company was working on a documentary about artists having their work appropriated. Because of his experiences with Blindness, Willey was recommended to them. Their lawyers managed to get some of the images removed and, on rare occasions, Willey has received a bit of compensation. He is working on a book called Stealing Blindness to share his story and "help other artists protect their own intellectual property."

But he admits he is no longer distressed by the widespread appropriation of that image.
"I got past that," he says. "I felt it was really wonderful that it has been used so much. It's become this marker in society and people want to express something through it and that's the power of art. That's how art should be used. It should used as a tool to help."
The Art of Francis A. Willey and Manyeyescity will be on display until Nov. 26 at the Collectors' Gallery of Art.