Reviews and recommendations are unbiased and products are independently selected. Postmedia may earn an affiliate commission from purchases made through links on this page.
Article content
As the sun slipped below the mountains, the western sky started blazing. Red-rimmed clouds scuttled over the foothills and, as we rolled around a bend in the road, presto, there they were: two beautiful horses grazing on the hill. The fiery sky was the perfect background for an image. I stopped the car beside the road, opened my window, and framed the shot. Not surprisingly, given the classic Alberta scenes in and around the picturesque town of Sundre, my trigger finger got a good little workout on our whirlwind weekend in this peaceful part of the world.   
Article content
There are a lot of places that scream "Alberta." Banff and Jasper come to mind when the best – and, certainly, most famous – mountain towns in our province are the topic on the table. And when it comes to beautiful rural towns and areas ripe for exploration and adventure, there is no shortage. Drumheller, Diamond Valley, Longview, the Crowsnest Pass, Nanton, Three Hills …the list just keeps going.
Article content
Located just an hour northwest of Calgary in the heart of Mountain View County, the town of Sundre is, for me, a personal favourite. It seems to encapsulate everything great about Alberta: photogenic rural scenes, mighty rivers, beautiful farmland, impressive summer storms, nearby mountains, and limitless opportunities for outdoor recreation. And then, of course, there is the friendly, unpretentious vibe and the quaint townsite that's home to beautiful riverside trails, boardwalks, campgrounds, museums, art centres, and plenty of cool stores and restaurants.  
Also, if you're looking to stay overnight in a Sundre hotel, the Mountain View Inn & Suites is a clean and contemporary hotel that will exceed your expectations. It's owned and operated by the Totem Group, a local company that owns the Sundre Golf Club as well as the outstanding Greywolf Golf Course in Panorama, B.C. Besides all of the camping opportunities, another great spot to stay is the Schott's Lake Conference & Resort just west of Sundre. The restaurant there, The Kitchen, is outstanding (get the elk burger!). 
Article content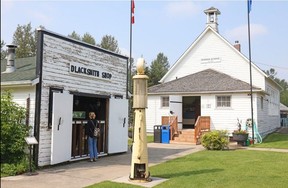 After spending our first evening cruising around the backroads east and west of town, my wife, Dawn, and I explored some local attractions the following day. The tidy Sundre & District Museum, a local treasure, was a highlight. It's filled with pioneer buildings and artifacts that capture what life was like for early settlers in the region. It's also home to the eye-popping World of Wildlife Exhibition, which features 170 taxidermy animals from around the world. (They were all donated by a local outdoorsman, the late Chester Mjolsness.)  
Another interesting and rather eclectic place to explore in the area is the Bergen Rocks International Sculpture Park. This unique three-acre park, owned by local artist Morton Burke, features a dozen, or so, impressive marble sculptures created by various artists from around the world. 
The relationship between "art" and "Sundre" seems to be growing and strengthening all the time. For example, thanks to the Sundre Arts Centre, which is completely volunteer-driven, Sundre has also become a hub for performing arts, including dance, theatre, and music. It's an impressive little centre that most rural communities of this size can't boast. (Sundre's population is approximately 2,500.) 
Article content
As luck would have it, the weekend we visited, the long-running Shady Grove Bluegrass Festival was also happening. Located at the Sundre rodeo grounds, this beloved annual festival was another highlight of our weekend. True, a few thunderstorms (Sundre is known to get the odd "boomer") sent people scurrying for cover on a couple of occasions. Contrary to popular belief, if you hear a banjo there's no need to run in the opposite direction.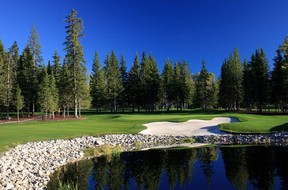 Of course, embracing some "Western ways" is par for the course on a visit to Sundre. (Speaking of "pars," I'd also recommend trying to make some at the spectacular Sundre Golf Club, which is easily one of the prettiest rural courses in Alberta.) 
One of the best ways to experience the beauty and culture in the area is by visiting the Wild Horses of Alberta Society, which is located approximately 15 minutes west of Sundre. This unique facility, a nonprofit that is entirely funded by donations, rescues and rehabilitates wild horses that are injured, abandoned or causing problems with domestic animals. By appointment, guests can tour the barns, buildings, and corrals and also visit the wild herd that roams the nearby range. Although I don't have a lot of "cowboy" in me, I found it an amazing experience to be close to these wild animals, most of which had never been touched by a human before being rescued.  
Article content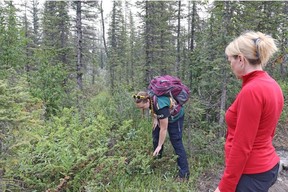 Our final "Western" experience was also very enlightening but in a different way. On our guided Medicine Walk with Mahikan Trails, which was an easy two-hour stroll through the forest on the new riverside boardwalk in Sundre, we learned how many of the local plants have sustained Indigenous people for thousands of years. The benefits of spruce sap, tobacco, wolf willow, and numerous other plants and animals were discussed.  
Not surprisingly, on our way out of town, the beautiful rolling landscapes unfolded again. More images of ripening wheat, pumpjacks against mountains, and beautiful red barns were made. This is, after all, quintessential Alberta country.