Reviews and recommendations are unbiased and products are independently selected. Postmedia may earn an affiliate commission from purchases made through links on this page.
Article content
Mike Reno likes to tell the story of how Loverboy was rejected, rather abruptly and in a less-than-polite manner, by a record-company PR man in the early days of the band's career.
Details may be a bit fuzzy after all these years, but the singer believes he and co-founding guitarist, Paul Dean, were still officially residing in Calgary at this point, even though the band would soon make the move to Vancouver. They made a pilgrimage to Los Angeles with their demo tape. It was at least 44 years ago.
Article content
"This was before we came up with a name or anything," says Reno, in an interview with Postmedia from his home in Vancouver. "We went down and had a meeting with somebody at Capitol Records and played him a cassette tape of us demoing in a warehouse just with a ghetto blaster. The guy just laughed at us. We said 'OK, thanks for your time.'  We went on to sell 60-million records — with all the different soundtracks we've done, it adds up to about 60 million. So I wonder if he ever kicked himself in the ass for not signing us after that."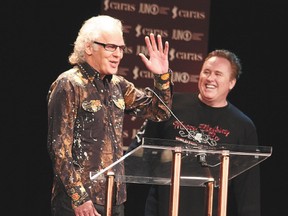 It's one of those last-laugh stories that defines Loverboy's lengthy career as Canada's ultimate underdogs done good.  At the time of this interview, Reno and his bandmates had just returned from a highly successful tour with Foreigner, playing in front of "18,000 people every night," the singer says. Foreigner, which is roughly the same vintage as Loverboy, announced that this latest tour would be their last. Loverboy, on the other hand, has made no such proclamations. More tours are planned. They might enter the studio soon to record some singles. In 2021 and 2022, they went on a lucrative, well-attended tour with American bands REO Speedwagon and Styx.
Article content
"Last year, I think was one of the best concert tours we ever had because we really go along with the guys from Styx and the guys from REO Speedwagon," says Reno. "A lot of the same guys are all the same people that have been with them for years and they are so good. Last year's groups were so good. Styx is fantastic, REO is so great. This year, the Foreigner band was so great."
Reno's perpetual enthusiasm and apparent camaraderie with his peers is an endearing quality. He is so friendly and down-to-earth that it's easy to forget he once helped lead one of Canada's most successful musical exports in the 1980s. On Sept. 28, Loverboy will be among 13 acts that will be added to Canada's Walk of Fame with a ceremony at Toronto's historic Massey Hall. While there are a few outliers, for the most part the lineup reads like a Cancon playlist from a classic radio station: April Wine, Chilliwack, Glass Tiger, Lee Aaron, Lighthouse, Max Webster, Michel Pagliaro, Platinum Blonde, PRISM, Rough Trade, The Parachute Club and Trooper.
Loverboy has no doubt crossed paths with most if not all of their fellow inductees. After being signed to Columbia Records in 1980, in fact, one of the band's first tours was as a support act for PRISM. As they moved up the classic-rock ladder, they soon scored opening slots with American bands such as Kansas, ZZ Top and Journey. As anyone who had access to a radio, or television, in the 1980s already knows, the band's ascension after releasing their 1980 self-titled debut, which featured hits such as Turn Me Loose and the Kid is Hot Tonight, was bewilderingly quick. Within a few years, they had become sex symbols and bona fide rock stars both in their home country and, more importantly, the United States.
Article content
But a few years before the band began its meteoric rise, the two main architects of the Loverboy sound were both living somewhat uninspired, if not downright miserable, lives in Calgary.
It's part of the band's compelling rags-to-riches lore that begins with Reno and Dean meeting at a Calgary warehouse in 1978. As with most lore, details vary depending on whether it's Reno or Dean telling the tale. But both agree it was not a great time in either of their respective music careers. Dean, who was born in Vancouver but grew up in Calgary, was already 32 by that point and had returned to  the city after being fired from Streetheart, a Regina outfit that was being touted as the country's next big rock band. In a 2007 interview with Postmedia, Dean describes those days as "the most devastating period of my life." He hooked up with his old manager, Lou Blair, who got him some space in a warehouse close to Calgary's Refinery, a bar that Blair co-owned.
As luck would have it, Reno was in the midst of a similarly unlucky period. He has also spent some formative years in Calgary and had followed his university-bound girlfriend to the city after a short stint with the Toronto act Moxy. The singer had joined Moxy specifically because the act had a record deal. He sang on one of their records before realizing he was more ambitious than his new bandmates. He left the band and was at a crossroads, working construction in hopes of raising some money to travel. One chilly night in the winter of 1978, he went to go see a Johnny Rivers concert at the Refinery. Because he had to be on the construction site at 5 a.m. the next morning, he left the concert early. At the time, he remembers hoping his car would start in Calgary's frigid climes. But he was soon distracted when he went out the back door of the club and heard "this noise from what used to be an old bus-repair warehouse."
Article content
"The windows were all papered and taped and painted so you couldn't really see in," says Reno. "There was this little half door, I opened it and saw this guy sitting in the middle of giant warehouse on a chair with this ghetto blaster at his feet and he was just rocking out some rhythms and stuff all by himself. Basically, he was writing some songs. I think just before the door closed he said 'Hey man, come on in.' That was the first time I met Paul."
Dean was nearly a decade older than the young singer, but they immediately bonded after discovering they shared common goals. They began writing songs that first night together.  Like most people involved in the Canadian music scene, Reno was aware of Streetheart and says he vaguely recognized Dean even before hearing his story.
"Streetheart would come to Toronto and everybody would go out of their minds because these guys were really good," Reno says. "This was back when there was all kinds of nightclubs and bars and stuff. I remember hearing that these guys could just blow the doors right off a place and I thought 'This is cool.' I couldn't believe he wasn't with Streetheart anymore. What the hell happened there? That's a whole other story and it wasn't a positive story and he was pretty upset about the whole thing. I basically had nowhere to go, either. I was just looking for something."
Article content
Reno has fond memories of Calgary's music scene at the time, saying it was as good a place as any to play for an active bar band. The reason Reno and Dean, and later keyboardist Doug Johnson, relocated to Vancouver so quickly was to secure Bruce Allen as a co-manager, Reno says. In Vancouver, the band was joined by bassist Scott Smith and drummer Matt Frenette.  Allen had helped guide Bryan Adams, Anne Murray, Bachman-Turner Overdrive and, later, Michael Buble to successful careers south of the border. Allen, who is still a prominent force in the industry, signed on to co-manage the act and stayed with them through the height of their fame. Their fame was certainly impressive. They sold millions of albums, sold out stadium worldwide and became early stars of music videos, which made them favourites of MTV. The hits kept coming as well, including the radio staple Working for the Weekend, which helped turn the band's 1981 sophomore album Get Lucky into a hit, and Lovin' Every Minute of it in 1985.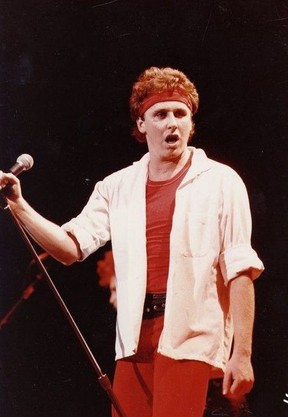 As with most acts, some darker moments followed. Internal strife began to show as early as the mid-1980s, despite the band's success. Hair metal and later grunge and alt-rock altered the musical landscape and Loverboy went on hiatus. In 2000, bassist Scott Smith was swept overboard of his sailboat off the coast of San Francisco. His body was never found. In 2001, the band began playing live shows again. In 2007, they released its first album in 10 years. Since then, the band has kept an active schedule touring with fellow 1980s road warriors such as Foreigner and REO Speedwagon. In 2009, Loverboy was inducted into the Canadian Music Hall of Fame.
Did Reno ever think he would still be doing this 44 years after meeting Dean in that warehouse?
"Hey, listen, this morning I woke up, had coffee and I listened to the Rolling Stones' new song," Reno says with a good-natured laugh. "Mick Jagger celebrated his 80th birthday. You could ask Mick Jagger the same thing. Loverboy has been at it for 44 years. I never expected to be doing this for 44 years, but I'm sure loving it."
Loverboy will be inducted into Canada's Walk of Fame on Sept. 28 at Massey Hall in Toronto.