Reviews and recommendations are unbiased and products are independently selected. Postmedia may earn an affiliate commission from purchases made through links on this page.
Article content
Hello ChatGPT, I'm having beef for dinner tonight and would like a reasonably priced cabernet sauvignon. What should I have?
ChatGPT: Great choice! If you're looking for a dry cabernet sauvignon under $30 that pairs well with beef, I recommend the Columbia Crest H3 Cabernet Sauvignon. This wine hails from Washington State and is known for its rich, full-bodied character with notes of blackberry, dark cherry, and hints of oak. It's a fantastic choice to accompany a beef dish and should fall within your specified budget. Please note that wine prices can vary depending on your location and the specific vintage, so it's a good idea to check with local wine shops or online retailers for availability and current prices. Enjoy your wine and meal!
Article content
For this column, I considered having ChatGPT write the entire piece and then submit it, in the name of research of course. I quickly realized my editor would know it's not me as there would be no missing words and/or witty repartee (Chat does not use witty repartee, at this point anyway).
The implications of this technology are mind-boggling when you consider it's in its infancy and is already capable of writing a term paper (or wine column) for example. Technology plays a large role in the wine industry these days, from detecting flaws and creating climatic charts through to the bottling line. Robots can detect blights like powdery mildew before it takes form, while in Burgundy, a region that has become increasingly plagued by hail, a system has been developed to seed the atmosphere with silver iodine before the storms start. Robots can do everything from soil assessment and weed control to eliminating cork taint (very soon apparently) in wine.
The wine industry is no stranger to modern technology, of course. Years ago, I visited a huge winery in La Mancha, Spain, that produces a million litres a week. We donned lab coats and hard hats and walked around a catwalk that was over a kilometre in length. The first thing I noticed was an absence of workers. There were a few but their jobs seemed to be standing around and waiting for stuff to break. Our group left there without tasting any wine, and I could only assume that was for a reason.
Article content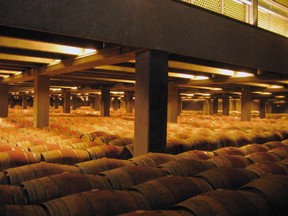 Most of us have probably never had a counterfeit wine but if it was well-made, how would we know? Wine forger Rudy Kurniawan famously cooked up wines in his kitchen and sold them to unsuspecting billionaires before he was arrested and sent to jail for seven years (his sentence was 10 years, but he was released early for being a model sommelier). He was caught but not because the wines didn't taste right. Someone twigged to the fact some of the rare wines he sold were not produced by the respective wineries in those specific years. It's estimated that as many as 10,000 bottles of Rudy juice are still in collections and circulation.
A company called Prooftag might have brought Rudy's enterprises to a halt much sooner had it been around at the time. It uses a digital ledger/labelling system that guarantees authenticity. Then there are apps, like Living Wine Labels, that will offer stories about the wine when you scan the QR code on the label. Want to hear Snoop Dogg tell you all about 19 Crimes (an Australian cabernet sauvignon)? You now can, although, in my opinion, one of those crimes, is this wine.
Article content
Smart tags can be scanned with your phone and will provide you with far more information than you thought possible about a bottle of wine. Want to know about rootstock and yield management? I do, but only because it's a passion and source of income. Another company has developed a robotic sommelier that will manage your wine cellar for about $200,000. For the record, I'd do it for far less and I'd walk your dog. Satellites and drones are keeping an eye on things as well, collecting data on climatic changes, water reserves, disease, and inappropriate clothing choices (Gauthier is fine for the Champs-Elysees but a poor choice for foot-stomping grapes in the Douro Valley).
All this technology does not come cheap of course, and I begrudgingly agree that it can't help but improve large swaths of the winemaking world. Personally, I want wines procured from some grumpy vigneron with wine-stained hands, an eye to the sky, and passion for their craft.
Just for grins, I posed the following question to ChatGPT:
Hey ChatGPT, how would wine journalist Geoff Last write about AI and technology in winemaking?
Article content
Reply: Geoff Last, the wine journalist, would likely approach the topic of AI and technology in winemaking with a combination of enthusiasm for innovation and a deep appreciation for traditional winemaking processes. His writing style would aim to strike a balance between the exciting possibilities that AI and technology bring to the wine industry and the importance of preserving the artistry and authenticity of winemaking. (Note: This is the actual response).
Huh, this AI stuff is starting to grow on me. Cheers!
Geoff Last is a long-time Calgary wine merchant writer, instructor, and broadcaster. He can be heard every Friday on CJSW's Road Pops program between 4 -6 p.m. He was awarded a fellowship at Napa Valley's Symposium of Professional Wine Writers for articles that have appeared in this column. Media inquiries can be directed to [email protected]