It's possible to build solar farms while maintaining agricultural output, according to Alberta industry leaders.
Article content
As Alberta's solar industry has grown, so have concerns about the effect the panels have on soil health.
It's an issue the Rural Municipalities of Alberta, among others, have raised. The RMA says approvals for renewable projects such as solar developments — the province has placed a moratorium on approvals until March — "should consider the productivity and climate change adaptation costs of taking food-producing land out of service."
Article content
But there are ways to maintain and even improve soil health on solar farms, say many players in the solar industry.
Jason Bradley, president of Regener8ve Ag, Inc., is promoting a nature-based approach with energy companies and agricultural producers called regenerative agrivoltaics, which aims to improve soil health and the nutrient density of crops planted near solar panels, while increasing profits for farmers and ranchers.
"It's often scaling down the equipment or type of equipment being used, as well as rethinking livestock reintegration at the same time within these large arrays," said Bradley, adding that using cover crops and crop mixtures are among other strategies.
"All of it is focused on the first priority, which is to increase functional soil health," said Bradley, a resident of Olds, 80 kilometres north of Calgary, and a former manager of a large ranching operation.
The approach ensures collaboration between landowners and solar companies, with both benefiting.
Solar arrays can be placed on farmland of various quality, he said.
"It's not about putting solar on marginal land," Bradley said. "The approach of regenerative agrivoltaics is to use that existing high production (farm) land, and when these solar farms are being designed, built and installed on those locations, is to then produce the same amount of food calories per acre as was existing before solar was put up."
Article content
Ryan Tourigny, co-founder and director of Energy Harvest, a solar company that focuses on adding solar to land that can be continued to be used for farming, said he was skeptical at first that farming could be carried out within solar fields.
"The idea that we could make as much food in a solar farm and get clean electricity really blew our minds," he said, adding it's "absolutely possible."
Solar panels are a way of mimicking the natural environment, like the way a row of trees shelters a crop from wind, said Tourigny.
"That changed our way of thinking, that it's not something impeding farming but to really embrace that biomimicry of the shape and layout of the solar facility," he said.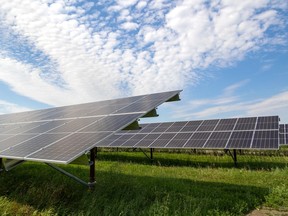 Constant lease revenue from solar an incentive for producers
For producers, the lease revenue makes it less risky to have solar panels on their property, said Tourigny.
"Because there's constant revenue coming in for the producer from the solar facility over time, they can experiment, they can try things that might otherwise be too risky to implement," he said, adding producers are then eager to share their findings with neighbours.
Article content
Tourigny said the solar industry needs to work closer with agriculture producers to find ways to help them financially and improve soil health.
"The industry has a ways to go, but I'm confident we're going to rise to the challenge with the help of farm communities," he said.
The industry, including Energy Harvest, is looking to a project currently under construction, the four-megawatt SunRISE Solar in Cardston, to demonstrate agrivoltaic approaches for future use in large-scale solar facilities. The project, owned by Clean Communities Corp, of which Tourigny is president, is seen as a crucial step to removing barriers, including insurance and financing concerns, from large agrivoltaic projects.
On ranches, one challenge is getting cattle to graze near solar farms, as they are large, "love to scratch and have habits of their own," said Tourigny.
"We're getting there, we're finding ways of doing it, and there's definitely more demand in the market to have more cattle grazing," he said.
A Calgary-based company is addressing the challenges around having cattle graze alongside solar panels. Jon Bichel, chief operating officer for Solartility Inc., said the company is working with a manufacturer on a vertical racking system that keeps the solar panels protected from cattle and minimizes the amount of land the panels occupy.
Article content
"The cattle can still eat the grass underneath," said Bichel. "Essentially, there should be no change to the output of the range, but you get the additional incentive of the profit sharing from the solar revenue. It increases the dollar per acre revenue of the land significantly."
Bidel said Solartility is currently focused on solar projects under one megawatt due to the province's moratorium, which has placed a pause on wind and solar power approvals projects greater than one megawatt. The company is working on 25 such projects, mainly between Calgary and Edmonton, and hopes to complete 10 next year, he said.
Related Stories
Proposed solar farm near High River deemed too dangerous for birds

Calgary to explore financial incentives for solar farms on vacant land

'Virtual power plant' model could convince more Albertans to switch to solar