Reviews and recommendations are unbiased and products are independently selected. Postmedia may earn an affiliate commission from purchases made through links on this page.
Article content
It's time to give a hearty pat on the back to several local theatre companies and artists in recognition of their accomplishments.
StoryBook Theatre has plenty to quack about, having secured the Western Canadian premiere of the hit British musical Honk, a song-and-dance retelling of Hans Christian Anderson's beloved fable, The Ugly Duckling.
Article content
When Honk opened in London's West End theatre district in 1999, it won the prestigious Laurence Olivier Award for Best New Musical. The 20th-anniversary revival in London in 2017 won the award for Best Production of a Show for Young People, and that production has continued to tour in the U.K. since. Honk has become an international phenomenon, having amassed more than 8,000 productions worldwide.
Article content
Critics have praised Honk for being that rare family show that appeals to preschoolers as much as it does their grandparents. It tells the story of Ugly, who looks different from all the other barnyard ducklings and thus becomes the object of bullying and ridicule. Turkey, the headmaster at the school, tries to make the other ducklings see that tolerance of all differences is an important lesson to be learned, but Ugly has to run away when a very hungry cat wants him for lunch. Ugly embarks on a journey through the countryside where he meets many new kinds of animals and learns lessons of his own.
Honk was written by George Stiles and Anthony Drewe, the writing duo responsible for the 1997 Peter Pan A Musical Adventure, and 2004's Mary Poppins.
StoryBook's Honk, which runs in the Beddington Arts Centre from Oct. 13 to Nov. 4, stars Alex Bergen as Ugly, Joanna Murphy as his mother Ida, David Kampel as Turkey, and Ethan Vasquez Taylor as Cat. Elizabeth Stepkowski Tarhan directs, with musical direction by Rejean Campbell, choreography by Greg Pember, costume designs by Darcie Howe, and features such songs as Different, It Takes All Kinds, Warts and All, Hold Your Head Up High, and Together.
Article content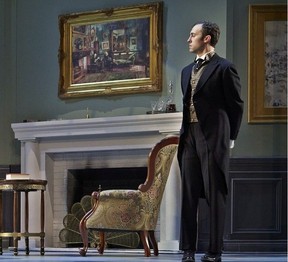 THREE CALGARY PLAYWRIGHTS NOMINATED FOR TOP PRIZES
Three local playwrights have been nominated for the prestigious 2023 Tom Hendry Awards which recognize excellence in new works for the stage. Past winners of these awards include Irene Sakoff and David Hein's hit musical Come From Away, Kate Hennig's The Virgin Trial – the Stratford Theatre historical drama featured at Alberta Theatre Projects in 2018, and the Shaw Festival hit This is How We Got Here by Keith Barker.
Calgary actor David Sklar has been nominated in the Emerging Playwright category for his play Vile, which won Fire Exit Theatre's new play competition in 2022. Sklar is an actor, most recently seen in Theatre Calgary's productions of Bad Jews, and The Importance of Being Earnest. He also assistant-directed the Badlands Passion Play. An excerpt from Sklar's play, which is part of this year's Gala program, can be viewed on the Playwrights Guild of Canada YouTube channel.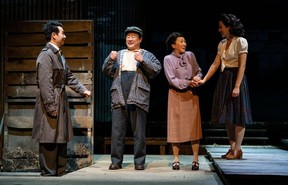 Jovanni Sy has been nominated in the drama category for his thriller Kowloon Bay, a sequel to his thriller Nine Dragons, which premiered at Vertigo Theatre in 2017. Last year, Sy won the Tom Hendry Award for Comedy for The Tao of the World, his homage to Crazy Rich Asians. Sy directed the premiere of his play at the University of Calgary. Last season, Sy directed Vertigo's Murder on the Orient Express and starred in Theatre Calgary's production of Forgiveness.
Article content
Meredith Taylor-Parry has been nominated for the Carol Bolt Award for her Shark Bite, which premiered at Lunchbox Theatre last year. The Carol Bolt Award is given annually to an outstanding new play that received a professional production. Lunchbox also premiered Taylor-Parry's comedy Book Club, and its sequel Book Club II: The Next Chapter.
The winners of this year's awards will be announced from the Royal Manitoba Theatre Centre on Oct. 29.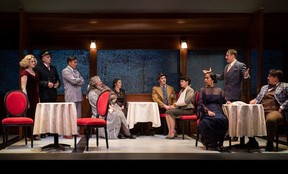 THE QUEEN OF CRIME IS QUEEN OF THE BOX OFFICE
When it comes to the box office, Agatha Christie is the Midas Touch treasured by theatre companies worldwide, and Calgary is no exception.
Her thoroughbred whodunit The Mousetrap has been playing to turn-away crowds in London for 70 years, and it worked the same magic for Theatre Calgary this past month.
TC's version played to just over 16,000 people, which was an 85 per cent total attendance rate. It even outdrew, by 2,000 tickets, TC's version of the Jimmy Buffett musical Escape to Margaritaville. This season, TC is selling all seats on the main floor of the Max Bell Theatre for every performance for $39, and Mousetrap audiences snapped up 94 per cent of those seats during the month-long run.
Article content
Ironically, The Mousetrap is the first Christie thriller that Theatre Calgary has staged in its 53-year history, but probably not the last.
Not to be outdone, Vertigo Theatre announced its last season production of Christie's Murder on the Orient Express was the company's all-time box office champ playing to 90 per cent capacity. On a hunch that Murder on the Orient Express was going to be a winner, artistic director Jack Grinhaus scheduled it for a five-week run instead of the usual four, a gamble that paid off handsomely. The last time Vertigo staged The Mousetrap was in 2015. Watch for Christie to make another appearance at Vertigo shortly.
Workshop Theatre knows who does it best when it comes to bringing crowds to the Pumphouse Theatre. The company's 2019 production of Christie's Witness for the Prosecution, and 2022's A Murder is Announced are among the company's most successful productions in its 52-year history. Workshop is staging Christie's The Rule of Thumb, three one-act plays, in the Joyce Doolittle Theatre in February.