Rising RRO prices during a period of major affordability concerns prompted the mayor to make the request, while the Calgary Chamber of Commerce CEO said the current environment is like "death by a thousand cuts"
Article content
Mayor Jyoti Gondek is instructing city administration to explore a change to access fees on electricity bills that prioritizes energy affordability.
Access fees in Calgary are tied to the Regulated Rate Option (RRO) price, which has spiked in conjunction with increased consumption. As a result, the city has raked in massive profits above what was budgeted for the past few years, while businesses and residents struggle with rising costs.
Article content
"I think it's important at this particular point in time, where rates are higher than we've ever seen them, to ensure that council is having a discussion about why we use the formula we use, and will it work for us into the future," Gondek said. "We have to be prudent in understanding how we're going to pay our own bills, but we can't do that at the expense of Calgary."
She noted an official directive has not been given by council or herself. She anticipates administration will present a report to either an executive committee meeting on Sept. 6 or council on Sept. 12. If there is no report presented by that time, she will bring an urgent notice of motion.
Province will assess phasing out the RRO under Premier Smith
This is not the first time the issue has been addressed, with Gondek noting an in-camera presentation in January. The work becomes even more important with Premier Danielle Smith including a mandate for Affordability and Utilities Minister Nathan Neudorf to assess phasing out the RRO.
Gondek wants the report to address five things: the history of the local access fee, research into potential changes, what those changes could look like in a volatile environment, budget implications to the city and the positive effects for Calgarians.
Article content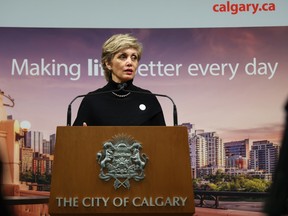 "Ultimately, the conversation becomes one of, 'How do we protect ourselves as a corporation without doing it at the expense of all other consumers?'" said Gondek. "That's a pretty blunt conversation that we have to have with each other and with administration."
The RRO hit a record 31.86 cents per kilowatt-hour in August, up from 27.57 cents in July, which was the previous high. Last year, the RRO jumped from 9.97 cents to 22.1 in December.
This affects all customers in Calgary — even those on fixed rates, as the access fee is set by the RRO and applied to all electricity users. The fee is collected by Enmax for the city.
Provincial legislation allows municipalities to levy a fee in lieu of property taxes and right-of-way access fees on utilities. Calgary's franchise fee is made up of the cost of distribution infrastructure to deliver the energy and the value of the power based on the RRO price.
Calgary's energy rates hit record high

Summer power prices to surge for Albertans on regulated rate plans

As end of electricity rate cap looms, study says low-income Albertans will bear brunt of repayment cost
Skyrocketing electricity costs are 'like death by a thousand cuts' for businesses: Calgary Chamber of Commerce CEO
Article content
The costs are much higher in Calgary than in other cities in Alberta.
Based on the RRO for the first eight months of 2023 and estimates for the rest of the year, the average cost for a homeowner in Calgary is $261 this year, compared with $140 in Lethbridge, $79 in Edmonton and $78 in Red Deer. Large commercial users will exceed $100,000 in Calgary, compared with $34,000 in Edmonton and Lethbridge and $24,000 in Red Deer.
Since 2018, local access fee charges for the average homeowner have increased by more than two-and-a-half times.
Last year, the city collected $225.8 million in local access fees, $98 million more than budget estimates.
Meaghon Reid, executive director for Vibrant Communities Calgary, applauded the mayor for taking this step.
"There's very few items that are generally a municipal control when it comes to affordability factors, but this local access fee is," she said. "I think it's encouraging that we're taking a look at what we can control to help Calgarians out during this time."
Reid said the need for change will only grow as the colder months approach.
Article content
Deborah Yedlin, president and CEO of the Calgary Chamber of Commerce, said local access fees are part of affordability concerns, which is front of mind for everyone.
"If there's a way to decrease it, to freeze it, that is something that would be welcomed for businesses," she said. "It is like death by a thousand cuts. Businesses are already challenged. We know that 78 per cent of Alberta businesses are concerned with the cost of electricity . . . And it takes the flexibility out of anybody who's running a business because you're dealing with the rising costs, which takes a bite out of the bottom line, takes a bite to your cash flow, and it's a problem."
— With files from Chris Varcoe
Twitter: @JoshAldrich03