It may be more difficult to secure provincial and federal funding for the estimated $380-million project without tying in one of the world's biggest sporting events, one city councillor said
Article content
Construction of a new fieldhouse in Calgary will proceed despite Alberta's decision not to pursue a bid to host the Commonwealth Games in 2030.
Coun. Terry Wong, vice-chair of the multi-sport fieldhouse committee, said the project was a priority before the potential bid even became public, and remains one today. However, it may be more difficult to secure provincial and federal funding for the estimated $380-million project without tying in one of the world's biggest sporting events.
Article content
"The province needs to recognize that Edmonton has two coming on three (fieldhouses) — Calgary has zero and we need to provide those sort of facilities for Calgarians and southern Albertans," he told Postmedia.
The committee approved the plan for a fieldhouse in Foothills Athletic Park in June, and it has been sent out for design. The facility will include an indoor track and field area, gymnasia and artificial turf field with flexibility for configuration for other sports. The city has committed $109 million toward the project, which has long been identified as a top need for the city. Funding from other levels of government will be required before construction can commence.
'We're in an Olympic city, but we need infrastructure upgrades'
The province announced on Thursday it was withdrawing support for a 2030 joint bid between Calgary, Edmonton, and Tsuut'ina and Enoch Nations on Thursday, citing a high degree of financial risk. Sport and Tourism Minister Joseph Schow said "it was not a good deal for Alberta."
Catriona Le May Doan, president and CEO of Sport Calgary, said a number of other sporting facilities in Calgary either need replacement or renovation, including WinSport and the Canadian Olympic Oval, while a plan for a new events centre has been approved and a solution for McMahon Stadium still needs to be found.
Article content
"We're in an Olympic city, but we need infrastructure upgrades," said the former three-time Olympic speedskater and three-time medallist.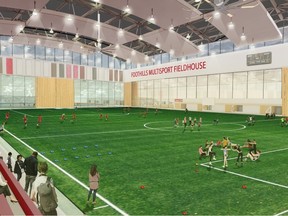 Le May Doan said events such as the Commonwealth Games are about more than an economic benefit, they are also about creating a stage for the next generation of athletes, coaches and officials to shoot for greatness or to be inspired to take up a sport.
To properly do this, the infrastructure is required.
"We're not getting smaller, we're getting bigger and different sports are emerging," she said. "We need to make sure that we have that voice, that sport and getting people active is going to help our community, because we're not in a good state of health — that's mental and physical and social. And so we know sport changes that."
'It's all fun and games until you're stuck with the bill'
Calgary benefited following the 1988 Winter Olympics with a legacy of world-class facilities. Likewise, Edmonton emerged from the 1978 Commonwealth Games with top-tier venues such as Commonwealth Stadium.
Le May Doan was encouraged, however, that there is once again a minister with a direct portfolio to focus on sport and these conversations are happening.
Article content
The Canadian Taxpayers Federation applauded the move by the provincial government, following in the footsteps of the Australian state of Victoria, which two weeks ago backed out of hosting the 2026 Commonwealth Games after the budget almost tripled to more than $7 billion.
Province scraps bid to host Commonwealth Games

Calgary fieldhouse cost estimated at $380M as project nears design phase

Calgary's field house project moving into design phase
Kris Sims, Alberta director for CTF, said there is little appetite among taxpayers to be on the hook for the tab when many are struggling to pay for housing and other essentials.
"It's all fun and games until you're stuck with the bill," she said. "The Commonwealth Games and these large international sporting tournaments have a very bad scorecard when it comes to cost overruns, and the people paying the bills are the taxpayers of Alberta, of Edmonton, of Calgary, of wherever these games actually settle in."
Carson Ackroyd, vice-president of sales for Tourism Calgary, said in an emailed statement that the organization understood the province didn't think hosting these Games was a good fit, but said such events can play an important role.
"We continue to believe in the power of events to create meaningful economic and social impact in our community," he said. "Our team looks forward to continued work with many partners, including the province and the city, to bring top events to Calgary year-round; events that attract world-class athletes, stimulate the economy and provide benefits to the community, such as further investment to enhance our sport facilities and infrastructure."
Twitter: @JoshAldrich