Article content
Three environmental groups have criticized the provincial government for its six-month pause on new renewable energy projects, while supporting the federal target for a net-zero electricity grid by 2035.
Representatives of Climate Plan Alberta, For Our Kids Alberta Network and the Alberta Renewable Energy Alliance held a joint news conference Wednesday decrying the provincial measures.
Article content
Citing wildfires in western and central Canada, Roger Gagne, founder of Climate Plan Alberta — a group of 53 businesses, 17 non-profits and three faith groups — said the calamities, spurred on by human activity, have made the need for renewable energy projects more urgent.
"All of our groups here today are deeply motivated by concern over the accelerating climate crisis and we want our leaders to take action," Gagne said.
"One key part of that action is to phase out fossil fuels in generating electricity, replace it with renewable power, make improvements in energy efficiency, and take advantage of price drops and new technologies in energy storage."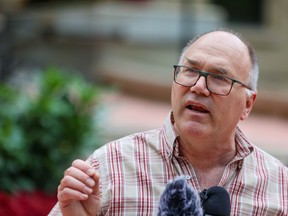 Alberta has said the decision to pause the approval of new renewable energy projects was made in response to concerns from counties and municipal districts about the loss of agricultural land and the lack of rules around remediation. It is undertaking an inquiry of what safeguards are needed.
Some municipalities have denounced the move.
"They pulled the rug out from under us," said John Rimmer, mayor of Caroline, where the moratorium has stranded a solar project that would have contributed at least 15 per cent of the community's municipal budget.
Article content
Innisfail, another town in central Alberta, has also sent a letter to Smith, pushing for the moratorium to be lifted.
The Pembina Institute concluded that 118 projects have been affected, representing $33 billion in investment and enough work to give 24,000 people a job for a year.
The environmental groups on Wednesday also rallied for other causes.
Claire Kratz, founder of For Our Kids' Alberta chapter, a group of parents concerned about climate change, supported the federal government's goal for creating a net-zero energy grid by 2035 — a target rejected by the province, which depends on fossil fuels for 89 per cent of its electricity.
"The clean energy target is one avenue to engage and excite youth in our province, offering them a chance to be at the forefront of a sustainable future while also providing an avenue for the federal government to create high value job opportunities for those transitioning to clean energy and for young people at the start of their careers," Kratz said.
Gagne said the jobs of workers in the natural resources industry are already under threat.
Article content
"A lot of jobs are being taken over by automation, and that's been happening for decades, it's accelerating," he said.
"A lot of jobs are going to be taken over soon by AI. So those things have nothing to do with the energy transition. And yet the the energy transition is happening."
Breakenridge: Alberta's pause on renewables undermines notion of a level playing field

Some communities oppose Alberta's pause on renewable energy approvals

AESO report outlines costs, challenges to achieving net-zero power grid by 2035
Instead, with the growth of electric vehicles and the rising demand for clean energy, people should look to the renewable sector for employment growth, he added.
Premier Danielle Smith has argued the federal plan is too costly and would heighten the risk of blackouts. The federal target would require up to $52 billion in additional capital investments, mostly from power producers, found a report by the Alberta Electric System Operator.
In a statement, Alberta's Ministry of Affordability and Utilities said the federal targets are unrealistic.
Article content
"We are rapidly reducing emissions, but Ottawa's goal for net zero by 2035 is overly ambitious and poses significant challenges for electricity reliability and affordability. Not to mention, their upcoming Clean Electricity Regulation and other policies are driving instability and uncertainty," the statement said.
"Alberta's Emissions Reduction and Energy Development Plan has Alberta committing to being carbon neutral by 2050 — consistent with Canada's obligations under the Paris Accord, and the inquiry into renewables will not effect this. Alberta's government is committed to ensuring the reliability and affordability of the power grid."
Darren Chu, a representative of Solar Club by UTILITYnet, a program offering rooftop panel installations to residents in Alberta, said the cost of moving to a net-zero electricity grid that doesn't completely phase out fossil fuels will be expensive, although "no one really knows" its costs.
"What we do know is there is a significant investment in renewables," Chu said. "The combined investment by our members in residential rooftop solar is about $77 million.
Article content
"So people are investing in renewables. It's just going to take some direction in government to have that happen on a bigger scale."
Gordon Petersen, of Alberta Renewable Energy Alliance, made seven demands to the provincial government, including ending the moratorium, accepting the federal net-zero target, eliminating coal production by the end of 2023, relying on renewable energy for two-thirds of its electricity and making information on greenhouse gas emissions publicly available.
"Daily news reports of climate chaos and personal tragedies due to heat waves, wildfire smoke, fire, tornadoes, mudslides and droughts should never, ever be casually accepted as the new norm," he said.
"Climate disruption is real. It's happening now. And our collective response to it must be science driven and urgently supported by all levels of government."
— With files from Canadian Press