Reviews and recommendations are unbiased and products are independently selected. Postmedia may earn an affiliate commission from purchases made through links on this page.
Article content
"My name is Tim, in case you didn't know," said Tim McGraw with a sly smile on Saturday night to an adoring audience at Fort Calgary.
Of course we knew.  But it was a fitting greeting for the superstar, who then launched into a headlining set at Country Thunder that was heavy on easy charm and Nashville polish. It didn't take long into Day 2 of the mainstream country festival to realize that good-ole-boy familiarity was the main thrust in programming this year, as it has been since the event began. While it's officially a "festival," it has none of the sense of adventure, discovery or diversity that fuels The Calgary Folk Music Festival, Sled Island or the sadly missed White Cut Weekend. Saturday's lineup probably offered the least surprising eight hours of music in the city this year, operating with the same sense of marketing savvy and aversion to genre outliers that guides Nashville and mainstream country in general.
Article content
But, hey, marketing savvy is marketing savvy and the folks behind Country Thunder proved once again that they know how to zero in on their audience's tastes with a lineup that explored little of country music's different shades but offered plenty of sing-a-long moments.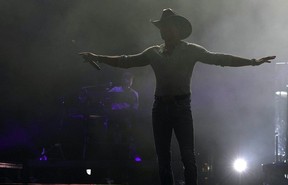 Saturday's festivities followed a chilly opening night on Friday that featured headliner Jon Pardi. Sunday will feature Keith Urban and Carly Pearce. Saturday had McGraw sharing the main stage  with Kip Moore and Jo Dee Messina, but also made way for newer acts such as Nashville's Shane Profitt and Chase Matthew and Airdrie's Flaysher.
Led by local siblings Brad and Ryan Flaysher, the latter had the never-easy task of opening up the main stage Saturday afternoon and were clearly keen on making the most of experience. They won the opportunity by placing first in a contest at Ranchman's. The band played with energy and polish, persevering through the usual out-of-the-gate sound gremlins. Still, it was a bit curious that they relied so heavily on cover material, which included runs through Billy Currington's We Are Tonight. Paul Brandt's Alberta Bound, Hinder's Lips of An Angel, Bon Jovi's Wanted Dead or Alive and even Bruno Mars Uptown Funk.  Whether the band was directed to do this by the festival or simply wanted to offer the audience familiar bar-band fare they could sing along to is  unclear. But for an act that has produced crowd-pleasing originals such as the charging Smoke Signals and catchy Flat Broke Famous, it seemed like a bit of an unnecessary crutch.
Article content
Both Profitt and Matthew have interesting backstories that may actually be more intriguing than the music they have produced so far. Profitt was discovered by Chris Jansen and his manager wife when he bumped into them at a Nashville sushi restaurant and asked if he could send them some demos. It led to an opening spot on Jansen's tour and publishing deal. On Saturday, he offered a set that featured self-congratulatory redneck anthems and obligatory shoutouts to God, small-towns, pickup trucks and cold beer amid the general celebrations of workin', drinkin', fishin', lovin' and lovin' where you're livin'. (especially if it's in a small town.)
He padded it out with an extended run through Hank Williams Jr's Family Tradition and even longer let-me-introduce-the-band segment.
Matthew's backstory apparently involves brief homelessness and precarious dabblings in drugs and hip-hop. He lunged around the stage like a rapper with an endearing eager-to-please exuberance that occasionally bordered on the manic. He padded out his set with covers of songs by Jason Aldean and Florida Georgia Line. Yep, even the choice of cover material is predictable at Country Thunder.
Article content
Backed by a first-rate six-piece band and decades of material to draw from, country veteran Jo Dee Messina's offered an entertaining and energetic set. Messina's powerhouse voice is equally well-suited for salty anthems of defiance such as opener My Give a Damn's Busted and Lesson in Leavin' as it is for gorgeous ballads such as Bring on the Rain. She even managed to insert some righteous thunder into Anne Wilson's treacly contemporary Christian song My Jesus. Her band were equally adept at mid-tempo country rockers such as her early hit Heads Carolina, Tails Country as they were at providing the organ flourishes and guitar-riff flurries of the old Kansas classic-rock chestnut Carry on My Wayward Son.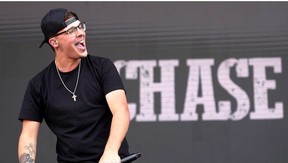 Kip Moore showed intensity right from the get go with brooding, mid-tempo rockers such as Damn Love and Peace and Love. His band added hints of Texas swing amid the guitar crunch of the excellent Tennessee Boy, while audience eagerly sang along to the joyful Beer Money and the soaring anthem Red White Blue Jean American Dream. Moore's gritty vocals shone on the moody, Springsteen-esque ballad Hey Pretty Girl and the band generated some genuine heat, particularly on The Bull. Moore's performance had a nice flow from intense and aloof to wild and open, climaxing with a heartfelt shoutout to Canadians before offering a soaring guitar-duel workout on the fiery Last Shot.
Article content
Which only left McGraw, whose showman-like charm and craft makes him somewhat review-proof. Starting with the sly How Bad Do You Want It and an extra playful Something Like That, the setlist rarely offered tunes that accelerated past an amiable, mid-tempo shuffle even when the eight-piece band appeared to be going for broke. But it's hard to argue with melodic gems such as Just to See You Smile and Where the Green Grass Grows. He also introduced some promising new material, particularly the deceptively sweet-sounding Hey Whisky. It seemed to help make his handful of surging, guitar-fuelled hits such as Truck Yeah and I Like It, I Love It all the more climactic. But McGraw actually returned to the stage with a satisfying encore that began with a stately run through The Cowboy In Me and finished the night with a sweet run through Humble and Kind, which came complete with a video that seemed to preach inclusivity. It sent the boisterous audience home on a refreshingly gentle note.
Country Thunder continues Sunday at Fort Calgary.