Reviews and recommendations are unbiased and products are independently selected. Postmedia may earn an affiliate commission from purchases made through links on this page.
Article content
When Anna Cooley was growing up in Calgary, the future filmmaker became an early fan of the local theatre scene.
That was largely due to her aunt, actress Barbara Gates Wilson, who is a veteran of Calgary theatre. As a child, Cooley would often see performers such as David LeReaney, Joe Norman Shaw and Karen Johnson-Diamond trod the local boards. All three have roles in Cooley's feature-length fiction debut, the tightly wound, Calgary-set thriller Faultline, as does Cooley's aunt. So does Peter Skagen, Julie Orton, Stafford Perry, Daniel Libman, singer-songwriter Shane Ghostkeeper, Jonathan Hawley Purvis and Chantal Perron, who should all be familiar faces to anyone who has been paying attention to Calgary's arts scene for the past few decades.
Article content
"I think that there is this misconception that you have to go outside of Calgary to find good talent," says Cooley, in an interview with Postmedia. "I've heard that, I've been told that and I hate that. It was exciting to be able to work with these folks and be able to offer roles that are outside what you normally see of roles for folks over the age of 40."
Calgary is front-and-centre in Faultine, which will have its world premiere at the Calgary International Film Festival on Friday, Sept. 22. Shot in February, the project was not only filmed entirely in the city but largely set here as well, which is a rarity for films. An urban thriller with a twisting plot that begins with a mysterious act of violence before entering a world of corporate corruption, cover-ups and blackmail, Faultline presents a Calgary made up of corporate offices and grittier locales. Cooley's past work includes A Sauropod Abroad, a 2016 documentary about her paleo-artist parents, Brian Cooley and Mary Ann Wilson. She was fascinated with the idea of shooting a gritty thriller in her hometown and was impressed by the suspenseful, nail-biting premise of the script.
Article content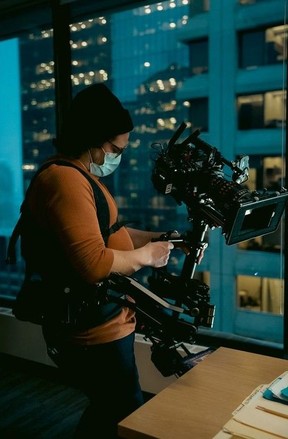 "One of the things that we rarely get to do as filmmakers in Calgary is to shoot Calgary as Calgary," says Cooley. "The ability to just show the Calgary Tower or to show the dirty snow and grubby motels and the skyline buildings, it's a nuanced look at what it's like to live in Calgary in the winter; what it feels like: the good, the bad and the ugly of living here. So often you end up bringing in people from outside of Alberta to fill key creative roles, whether it's director or star. But this was almost entirely Calgary crew and Calgary cast shooting a project in Calgary. It's not something that I've done before."
Sharp-eyed views may recognize the Dog & Duck Pub and Restaurant, off of MacLeod Trail, which plays a key role in the film, and the Olympia Motel in Calgary's northwest. The crew also shot in Bankers Hall and the old Greyhound depot as well.
The project's Calgary roots stretch back years before Cooley was involved to Calgary actress Kirsten Lankester. Lankester took a masterclass taught by Cochrane native Stacie Harrison at the Company of Rogues Actors Studio, which was co-founded by Joe Norman Shaw. Lankester and Harrison began developing their own material, including a script for a 10-minute pilot for a web series about two sisters who reunited 20 years after their mother commits a shocking act of violence. That premise started life as a teaser trailer, which led Lankester and Harrison to the 2018 finals of Telus Storyhive, which granted them $10,000 in funding to make the pilot. After many rewrites and a pandemic pause, the script evolved into the feature-film version of Faultine.
Article content
Lankester plays a bar server named Jesse Tennant, the younger sister of high-strung corporate lawyer Paige (played by Harrison). After the tragedy involving their mother, Paige went to England to find success in corporate law. When she returns to Calgary 20 years later, she comes across evidence that casts doubt on her mother's guilt, plunging the sisters into a dangerous world of high-level conspiracies and corruption.
"Initially, it was the genre," says Lankester. "I love British mysteries, I love mystery shows, movies — everything about it. So I wanted to do something in that vein. I also wanted to do something centred on the story of these sisters and the traumatic event that happened and how it impacted their lives and what that meant for them. It was to tell one of those genre stories with the personal elements of the sisters' relationship grounding it. Everything came from there."
Lankester and Harrison also serve as executive producers of the project. While the film certainly had a long gestation period, it also offered the actresses some juicy roles. Lankester has appeared in Calgary filmmaker Aaron James' film Guitar Lessons opposite Corb Lund, while Harrison has appeared in TV series such as Jann and Damnation and in the docu-drama Marlene.
Article content
"Eight years ago when this idea did come about, it really was partly the opportunity for us to sink our teeth into these roles that are perhaps more than most of the auditions in Calgary," Lankester says. "That is definitely part of it. I think it ties to that Calgarian entrepreneur attitude: I'm not going to sit and wait for an opportunity, I'm going to start making opportunities happen. I think that's a big part of the indie filmmaking community here is that we don't just want to be for hire crew and cast; we actually want to be a part of the artistic experience and to be crafting a shaping these stories that we're telling as well. It's not easy. Even just talking about the number of years until this came fruition, it's a really, really tough thing to bring a full-length feature to conclusion. So I'm really proud of Stacie and myself and having Anna aboard. Just getting to this point is a feat."
Faultine screens Friday, Sept. 22 at 5:15 p.m. at Cineplex Odeon Eau Claire Market Cinemas as part of the Calgary International Film Festival.