Reviews and recommendations are unbiased and products are independently selected. Postmedia may earn an affiliate commission from purchases made through links on this page.
Article content
Logan Red Crow admits that watching the documentary about her isn't always easy.
Aitamaako'tamisskapi Natosi: Before The Sun follows the young Siksika Nation woman as she competes in the Indian Relay, where racers ride bareback and exchange horses every lap. Directed by Banchi Hanuse, the documentary has a lot going for it. There's the nail-biting race sequences where riders leap onto a new horse each lap, showing exactly why the Indian Relay is considered one of the most dangerous horse races in the world. There's the gorgeous scenery at Siksika Nation, Tsuut'ina, Enoch Cree Nation and Casper, Wyo., all beautifully shot by cinematographers Ben Giesbrecht and Luke Connor. There's the tender relationship Logan has with her horses and the touching father-daughter bond between Logan and Allison Red Crow, a longtime Siksika horseman and relay veteran who supports Logan but also fears for her safety.
Article content
But when Logan, 23, watches the film these days all she sees are the mistakes. Her own mistakes.
"It's kind of weird," says Red Crow, in a phone interview from Siksika Nation. "I like to think it's a past version of myself. I'm always trying to improve and get better as an athlete. When I watch the video of when I was first starting out doing relay, I find I was kinda slow."
While all the aforementioned attributes of Hanuse's film are admirable, what may stand out most in Before the Sun is the unyielding determination of Red Crow as she trains for and competes in the relay races. The soft-spoken athlete possesses an endearing, never-give-up attitude as she enters the family business, becoming the first female relay rider to compete at the Calgary Stampede in 2021. The film follows her from Calgary to Enoch to a climactic sequence in Casper, which is where she competes at the Championship of Champions Indian Relay Races.
The film, which screens at the Calgary International Film Festival on Sept. 23, depicts Red Crow as a diehard relay rider from a young age, even though there were initially scant opportunities for female participants in the sport. The Indian Relay first came to the Calgary Stampede in 2017, offering a chance for riders to showcase Indigenous horse culture. Red Crow made history in 2021 as the first female when she rode for her father's team at the Greatest Outdoor Show on Earth. It was so unheard of that the announcer kept referring to her as a him.
Article content
"I didn't even notice," Red Crow says with a laugh. "My brother was the one who was saying they thought I was a guy."
Part of the charm of the film is Red Crow's relationship with the two horses she competes on, named Calf Rope and Sally. Red Crow talks quietly but non-stop to her horses as she prepares for the races, gently encouraging and instructing them. It becomes a vital part of the film, although Red Crow admits it was a little awkward at first.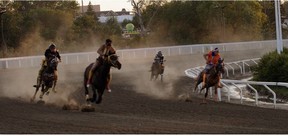 "At first I was kind of like narrating what I was doing," she says. "They told me to pretend (the cameras) weren't around."
When she does offer narration, she is usually conveying her passion and devotion to the race and her relationship with her family and horses. At one point, she reveals how training and participating in the race got her through some dark days, helping her rebuild her confidence after leaving a toxic relationship.
"The sport helps me so much," Red Crow says; "I'm always thankful for the sport. It just takes me away from reality. It takes me away from everything. When I race, nothing else matters but me and the horses."
Article content
While there is little conflict in the film, there is some difference of opinion between Red Crow and her father about how much energy and devotion she should dedicate to the sport. While he's clearly impressed with his daughter's passion and work ethic  — early in the film he points out that she is always the first one up in the morning at the ranch to tend to the horses — he also wants her to get an education. Allison Red Crow talks about his father's experiences at residential school and the importance of education in the film.
At the time of this interview, Logan Red Crow had spent the previous six weekends competing in relays. But she is also enrolled in college, where she is taking a nursing program that she hopes will lead to a career as a veterinarian or medical doctor. But she had no plans of quitting racing. She returned to the Calgary Stampede in 2022 and raced for her father's team as a replacement on the final day after his rider, Fox Running Crane, broke his arm. In 2023, Red Crow participated in the Calgary Stampede's inaugural single-lap Lady Warrior race.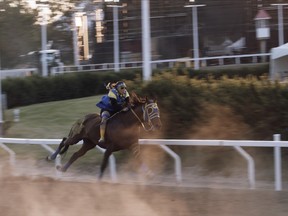 She has attended a number of screenings of Before the Sun, including one at the Siksika Nation and at its Canadian premiere in April at Hot Docs in Toronto. But she will not be at the Sept. 23 Calgary screening because she will be in Casper competing in the 2023 Championship of Champions Indian Relay Races.
"I've dreamed of all these opportunities I'm getting," Red Crow says. "I've dreamed of them for so long and when they came my way, I jumped at them. I've been dreaming about it for a long time."
Aitamaako'tamisskapi Natosi: Before The Sun screens Sept. 23 at 5:45 p.m. at the Sep. 30 at 2 p.m. at the Cineplex Odeon Eau Claire Market Cinemas as part of the Calgary International Film Festival.