Over four years, filmmaker Dan Covert followed the inner and private life of artist Geoff McFetridge for new documentary
Reviews and recommendations are unbiased and products are independently selected. Postmedia may earn an affiliate commission from purchases made through links on this page.
Article content
At one point in the documentary Geoff McFetridge: Drawing a Life, Liv Siddall discusses the well-worn notion that artists are inherently troubled souls.
"I don't know that every artist has to be tortured but I think it can help," says Siddall, a writer and podcaster who is among the artistic friends of renowned, Calgary-born visual artist Geoff McFetridge attempting to unravel his inner-workings in director Dan Covert's fascinating film.
Article content
"There is definitely a lot going on in his head . . . for sure," she adds.
It doesn't take long into Covert's documentary, which will open the Calgary International Film Festival on Sept. 21, to realize that there is certainly a lot going on in McFetridge's head. In fact, we hear about it first hand in interviews the filmmaker conducted with his subject over four years. McFetridge discusses his approach to his work, and life, in an often existential and poetic manner, encompassing angst and anxiety, self-doubt and the sadness found in his work. He offers cryptic tidbits such as: "How do you work through inner stuff? The farther you go, the deeper it gets and you walk til just your nose is out, you're on like the tips of your toes. You can swim into the expanse or you could step back and there's that moment in between those two states. What I'm doing is trying to go to that point."
McFetridge isn't the only one trying to make sense of his artistic inner life. High-profile friends and collaborators, including Oscar-winning filmmakers Sofia Coppola and Spike Jonze, discuss the artist's work and work ethic at great length. The resulting portrait doesn't really present McFetridge as outwardly suffering for his art, but he certainly comes across as complex and even contradictory. He is based in Los Angeles with famous friends, yet avoids the spotlight, excessive behaviour and the glamorous life. He is shown to be an obsessive workaholic and a "control freak" who is nevertheless happily married and a devoted father to his two daughters. He has done work for massive corporations, including designing Pepsi billboards and Apple watch faces, but remains uncompromising in his vision. He turns down "87 per cent" of the work he is pitched and refuses to take meetings with potential clients because he "hates meetings."
Article content
Drawing a Life is Covert's first feature-length documentary, but he has made two short films about McFetridge and his art before. A visual artist himself, Covert has been a fan for 20 years and felt that his two previous films, shot in 2015 and 2019, only scratched the surface.
"I was just fascinated by Geoff's work," Covert says. "It's evolved pretty drastically over the years. It's pretty iconic and there is humour and deep thinking and formally it's very inventive. That's what I saw in the work. But I think as we started making the movie I realized that him as an individual and how he lives his life may be equally compelling as the work itself."
Getting someone who guards his privacy and doesn't take meetings to open up is no easy task, of course, which may be part of the reason the film was a four-year journey. McFetridge is not only private but also very busy, Covert says.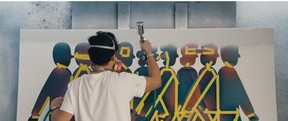 "It was a long exercise in establishing trust and him understanding where I was going with the project and me really understanding what he was doing with his own personal trajectory and his art," Covert says. "It wasn't that he was unkind or anything, it was just . . . he's a busy dude. So it was really showing him I knew what I was doing, which he kind of had some semblance of. But, three years into it, he saw a first cut of it and I think he really understood what I was trying to do. It's like anything. We worked on it for four years and it was a gradual opening up and a trust on both of our parts. Because he is revealing a lot about his life, his family and stuff. That is tough to get into on Day 1."
Article content
Covert traces the artist's origins back to his upbringing in suburban Calgary in the 1970s and 1980s. He interviews McFetridge's parents, who still live in the city and are portrayed as supportive, idealistic and somewhat hippie-ish. His Chinese mother was a teacher and his father was a lawyer and McFetridge says "both sides of my family were super westernized. It was all about how can you assimilate as fast as possible. I never found my Chinese roots. It was like 'I'll just be part of a new culture.'" His search for community would lead him to various subcultures in Calgary.
"Through my research, it seemed he was tied into punk, he was tied into skateboarding, he was tied into snowboarding," Covert says. "But the internet didn't really exist back then. He was part of these scenes and but then witnessing them happening on a much larger scale in Los Angeles and the East Coast. So he was part of it but not part of it. I think he found a core group of friends and they had bands and stuff together. But I think he still felt like he was still a bit of an outsider."
After graduating from what is now the Alberta University of the Arts, he left for Los Angeles to study at the California Institute of the Arts. He first gained prominence in the mid-1990s, when he became art director for the Beastie Boys' magazine Grand Royal before working as a graphic designer for MTV, Casio and Elektra Entertainment Group. He befriended Coppola and Jonze, who were married at the time, and would eventually go on to do the title design for Coppola's 1999 debut, The Virgin Suicides, and for a number of Jonze's films, including Where the Wild Things Are, Being John Malkovich, Adaptation and 2013's Her. In 2003, the Calgary Herald sent a reporter down to Los Angeles, who profiled McFetridge under the headline "He's so hot, they call him Mr. Cool: Calgarian leads new breed of American designers" a day after The New York Times ran a piece on him. At the time, the Herald described him as offering "a characteristic nonchalance about it all, an essential mark of the truly cool." In fact, the words "cool" or "coolest" are mentioned eight times in the article.
Article content
McFetridge continues to work with high-profile clients, while obsessively working on his own visual art and  putting together exhibitions. Contemporary Calgary will open  an exhibit of McFetridge's work on Sept. 20 called These Days Are Nameless, which will feature three of the artist's short videos from 2020 and the "gouache works on paper used to animate them." The gallery's online bio describes him as "instinctively ignoring creative boundaries" with a practice that includes "paintings, drawings, sculpture, poetry, animation, graphics, ceramics and public artworks." 
Covert's film ends with McFetridge opening a new exhibit at the V1 Gallery in Copenhagen, which was also called These Days Are Nameless and ran for a month in 2020. Both Covert and McFetridge will both be in Calgary for the screening at the film festival.
"Ultimately, at the beginning of the film the original impetus was to shine more light on Geoff and his work," Covert says. "I think as the film was going along, equally as important was (the idea) that all of us might be able to have a little more autonomy and control in the decisions we make about where our lives go. That's huge. It's not about 'oh, you have to look at this guy and mimic his process. I think it's more that he lives very intentfully and being able to look at one's own life after seeing someone navigate this system of life a little big differently."
Article content
Geoff McFetridge: Drawing a Life will screen Thursday, Sept. 21 at 7:30 p.m. at Cineplex Odeon Eau Claire Market Cinemas and Sept. 24 at 12:30 p.m. at the Globe Cinemas. Dan Covert and Geoff McFetridge are scheduled to be at the Sept. 21 screening for a Q&A.
---
No Facebook? No problem.
Meta has blocked news articles from appearing in Canada through its social media platforms Facebook and Instagram, so skip the gatekeeper and come straight to the source.