Reviews and recommendations are unbiased and products are independently selected. Postmedia may earn an affiliate commission from purchases made through links on this page.
Article content
The collection of restaurants in Kensington is eclectic, to say the least. You've got hopping BBQ joints, a couple of fine dining rooms, neighbourhood pubs, sushi spots, and loads of coffee shops. For the past eight years, Sharon Choe's Ikemen ramen bar stood happily among it all as a fixture on 10th Street. But after the challenge of the last few years, Choe felt the room was too large to house a humble soup shop and set to figuring out a new concept for the enviably located room.
Article content
Choe and her team also run the popular Bincho Izakaya in Mission. With two Japanese restaurants in her portfolio (Ikemen shall rise again, albeit in a new yet-to-be-revealed location), Choe wanted to turn her Kensington unit into a Korean restaurant to reflect her cultural heritage and love of Korean food. The room got a facelift and a shiny new bar counter and just like that, Ikemen became Tiger K, a youthfully exuberant Korean lounge and shared plates concept. Choe looped in her friend Clara Montesinos to act as bar manager and the two started coming up with creative Korean-themed cocktails and a selection of what they've dubbed "Korean soul food."
Article content
"We've had so much fun opening this," Choe says. "I'm really passionate about Korean food."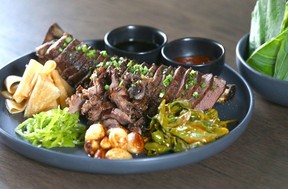 The food at Tiger K won't be wildly unfamiliar to anyone with experience in Korean cuisine. You won't find tabletop barbecues, but the menu is full of classic dishes, usually with small fusion-conscious twists and modern presentations. All of the plates are designed for sharing and pairing with a cocktail or two — the idea is for large groups of people to gather around the 65-seat room's ample wooden tables and benches to socialize over multiple dishes.
Article content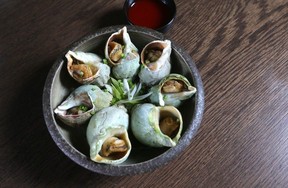 Menu highlights include clams steamed in soju (the Korean liquor that happens to appear in many of Tiger K's cocktails) with garlic, butter, and moo dashi ($22), juicy jumbo white shrimp in a sweet and spicy reduction and a dusting of Parmesan cheese and Korean chives ($24), and a perfectly crispy Korean pancake stuffed with fresh Hokkaido scallops, dan sae woo shrimp, sal ojinguh squid, and clams ($24). The pancake is quite large and suitable to share among at least a couple of people, but Tiger K has even more massive dishes specifically designed for parties of three, namely the grilled whole beef ribs ssam — a DIY lettuce wrap platter — with vegetables ($60) and the bossam, a ssam variation with braised pork belly, spicy squid, and vegetables ($58).
The cocktails are what really drives Tiger K, with a hefty selection of soju taking centre stage. Montesinos gets playful behind the bar, creating sips like the "Tiger," a soju version of the Caesar spiked with homemade chojang, a sweet and spicy Korean hot sauce ($15) and "Ms. Kim," an espresso-based cocktail with spiced gyul syrup ($15). There are also plans to introduce lunch sets and a late-night snack menu.
Article content
Tiger K is located at 217 10th St. N.W. and can be reached through Instagram @tigerkyyc. The restaurant is open Monday to Saturday from 5 p.m. to close with lunch service expected to launch in the coming weeks.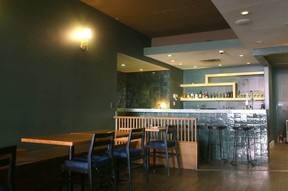 ***
In other food news, the growing local pie empire known as Pie Junkie is expanding its offering with a series of take-home items perfect for those needing a little bit of help with their home pie making. First up, the company has introduced a frozen version of its famous all-butter pie crusts. If you've mastered the art of tasty pie fillings but can't get the crust right, these will be a welcome addition to the freezer, especially with Thanksgiving right around the corner. Packs of two pie shells sell for $12.95.
Secondly, Pie Junkie is now selling a modernized version of the good old TV dinner with ingenious little trays that feature a savoury pot pie on one side and an apple or blueberry crumble on the other. Savoury options include butter chicken pie, chicken pot pie, bacon mushroom pot pie, and cauliflower potato and cheddar pot pie as a vegetarian option. The dinners sell for $15 each. For more information, visit piejunkie.ca.
Article content
And, if soup is your fall warm-up choice, don't miss Highfield Farm's third annual Soupalicious event. As a means of celebrating the fall harvest, this cool urban farm gathers some of its favourite restaurant chefs to collaborate with community food growers to come up with delicious one-of-a-kind soups. Expert judges and a public vote determine who is awarded the Golden Ladle for the tastiest soup of the event. Guests can also explore and learn more about the farm, play games and enjoy live music, and shop at a local marketplace. Proceeds from the event will support the operation of the farm and expansion of its programs.
Soupalicious will take place on Oct. 1 at Highfield Farm, located at 1920 Highfield Crescent S.E. For tickets and more information about Soupalicious, visit highfieldfarm.ca.
Elizabeth Chorney-Booth can be reached at [email protected]. Follow her on Instagram at @elizabooth.