Reviews and recommendations are unbiased and products are independently selected. Postmedia may earn an affiliate commission from purchases made through links on this page.
Article content
When restaurateur Eric Chabot was eight years old, his father treated him to dinner in a grand old restaurant in Quebec City called Le Continental. The young boy was enchanted by every detail of the fine dining icon, from the crisp white tablecloths to the classic tableside service. He immediately knew that he wanted to work in restaurants and gradually formed a dream of opening a place of his own that might pay homage to this formative experience.
Article content
After working in a series of fine dining restaurants, including Q Haute Cuisine and Chairman's Steakhouse here in Calgary, Chabot and his wife Dawn opened The Continental (yes, named after his beloved Quebec restaurant, not the secret underworld hotel and bar in the John Wick movies) earlier this spring, with him working the bar and front of house and her acting as chef. The restaurant has been in the works for years and they first planned to open in Canmore, but eventually settled on an upper-level space in the heart of Kensington that ran successfully as the Brasserie for many years before morphing into the relatively short-lived Eat Crow Snack Bar.
Article content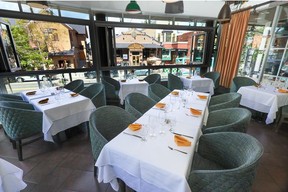 The Chabots did a relatively quick renovation and the cosmetic changes have made a big impact. The 30-seat dining room is comfortable and classy, channeling the nostalgic feel Eric always dreamed of with an independent mom 'n' pop intimacy. The familiar bar and open kitchen still stand along one wall of the restaurant with a more casual lounge area with a high-top banquette in the back, but everything is slightly more polished and refined. The Continental also took over the alley patio formerly known as Container Bar (the downstairs Wine Bar is under a different ownership), giving patrons a more casual spot to sit while enjoying Dawn's food and Eric's expertly mixed drinks.
Article content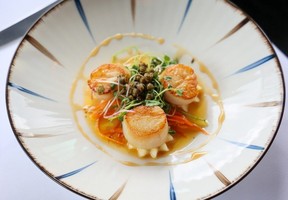 Unsurprisingly, the food matches the room with a menu unapologetically built around French-inspired fine dining. Everything is made to order in-house with fresh seasonal ingredients, and Dawn purposely sticks to the classics, filling a bit of a void in the city after the closure of restaurants like Q Haute Cuisine and La Chaumiere. While the food is classic, the Chabots work hard to keep it from feeling too fussy.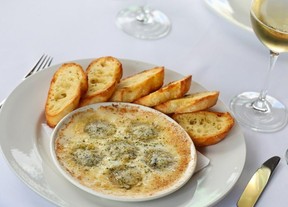 "We're just simple human beings," Dawn says. "Our concept is fine dining, but some people find that intimidating. We want people to understand we're not too expensive. We have a very simple menu and we're old school, but the flavour is there."
This is the kind of place where you're going to find dishes like escargots de Bourgogne, with the snails swimming in a plate of house-made garlic butter ($18), pan-seared sea scallops in an aromatic amaretto creme sauce ($21), fresh Caesar salad made tableside ($18), show-stopping beef wellington with a foie gras paté and mushroom duxelles ($55), and Brome Lake duck breast à l'orange with pomme purée ($45). To maintain its status as a neighbourhood joint, The Continental also has a more budget-friendly lounge menu with more casual items like brisket poutine made with Quebec cheese curds ($19), a pretzel bun burger ($21) and a selection of 12-inch pizzas ($21 to $27). For those wanting to go in the opposite direction with a night of pure luxury, the restaurant offers a five-course chef's tasting menu for $105, with an optional wine pairing for $70.
Article content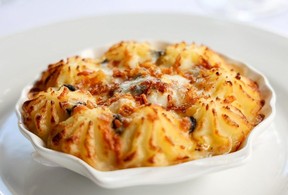 Eric is a mixologist by trade and expresses his skill through a boutique wine list and and expansive array of cocktails, including all the standards one would expect as well as some creative riffs on old favourites (this is where John Wick's name does appear in the form of a formidable smoked old-fashioned).
The Continental is located at 1131 Kensington Rd N.W. and is open Tuesday through Sunday from mid-afternoon onward. The restaurant can be reached at 587-319-6776 or through continentalyyc.ca.
***
In other restaurant news, Creative Restaurant Group, the company behind popular Calgary restaurants like Bonterra, Posto and Free House is expanding its reach in the Banff market, where it already owns the Rose and Crown pub. Creative recently acquired Ticino, a long-running Swiss/Italian restaurant on Banff Avenue best known for its fondue. The purchase is going to come with a substantial facelift, expected to be completed later in the year. For now, the restaurant is open for breakfast and dinner, until the renovations get started. Stay tuned to ticinobanff.ca for news on the upcoming changes and eventual re-opening.
Article content
And if you're looking for something to do here in the city, the Vietnam Now festival is taking place at Prairie Emporium today (Aug. 19). In addition to short films, DJs, and a marketplace, the evening festival will feature food stalls for local restaurants Pure Vietnamese and Mot To, and Vietnamese-inspired cocktails made with Empress 1908 gin. The festival aims to expand people's perception of what Vietnamese culture is all about, through art and, of course, food.
Prairie Emporium is located at 334 53rd Ave S.E. Tickets for Saturday's event are $10 per person, or free between the hours of 4 pm and 6 pm. For more information, visit vietnamnowfestival.com.
Elizabeth Chorney-Booth can be reached at [email protected]. Follow her on Instagram at @elizabooth.