Reviews and recommendations are unbiased and products are independently selected. Postmedia may earn an affiliate commission from purchases made through links on this page.
Article content
For most of us, "sauerkraut" usually means wine sauerkraut, likely sold by pickling giant Bicks. With its tangy flavour and slightly mushy texture, mass-market sauerkraut does the trick if you need to add some kick to a Reuben sandwich or want a condiment to go with a plate of perogies. But it's not necessarily something you can't stop yourself from eating directly out of the jar with a fork.
Article content
But real deal raw sauerkraut? That's another thing altogether. And if it's locally made by a pair of skilled chefs with a passion for fermentation? All the better.
Article content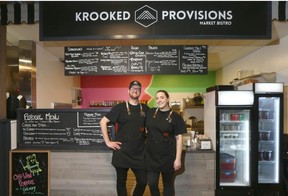 At least that's what Lyndon Hertz and Leanna Parent-Hertz thought when they started selling their Krooked Kraut products in early 2021. The couple are both chefs by trade and, like many in the hospitality industry, found themselves laid off at the beginning of the pandemic. Like many chefs, they were both interested in the process of fermentation and slowly developed that fascination into a commercial sauerkraut product. They knew they could make a delicious kraut but had to convince a public used to Bicks to buy it.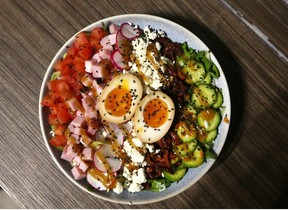 "We love fermented foods but we find that in North America people are afraid of fermentation," Parent-Hertz says. "People are a bit wary of it even though it's an ancient practice. We wanted to make something that was fun, flavourful, and approachable but still gut-healthy."
The pair started selling their kraut in markets and eventually teamed up with a perogy-making business partner to launch the Krooked Lucy's food stall in the Fresh and Local Markets and Kitchens in Avenida. A few months ago, their perogy partner left the business, leaving the Krooked crew to rebrand as Krooked Provisions. The stall still sells perogies (outsourced from another provider) paired with sauerkraut, with the rest of the hot food menu leaning more towards a market bistro approach, with a selection of sandwiches including, of course, a fantastic Rueben ($14), as well as kraut-topped Mennonite sausage hot dogs ($14), a formidable Cobb (or "Kobb) salad ($18) and pan-fried Brussels sprouts ($9 for a half order or $18 for a full order).
Article content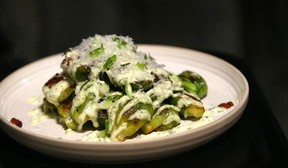 While the food at the stall is homey and delicious, the real differentiator with Krooked Provisions is the sauerkraut itself, which can be added to just about any meal it's not already featured in or purchased by the refrigerated jar. Part of what makes Krooked Kraut special is the variety of flavours — these chefs are certainly not afraid to play around with seasoning and interesting ingredients. Krooked's current lineup includes a classic dill pickle kraut, as well as compelling flavours like fennel and garlic, pineapple and ginger, lemon and leek, and cumin jalapeño, all of which are matched with a surprisingly light and crunchy fermented cabbage. While they all go great on a sandwich or alongside perogies, Hertz hopes customers come up with other creative preparations (hint: the pineapple and ginger works perfectly on a Hawaiian pizza).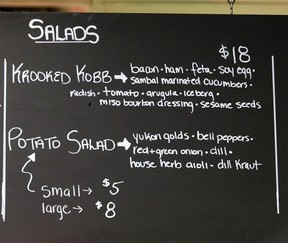 "People ask what we put it on," Hertz says. "I always tell people to put it on anything they'd put hot sauce on. I eat the dill pickle kraut with eggs."
Now that they're on their own, Hertz and Parent-Hertz have plans to develop other fermented products such as cheong, a Korean fermented syrup, and hope to start carrying other products from small local producers. For now, you can find their hot food and cold sauerkraut at the Fresh and Local Market and Kitchens at 12445 Lake Fraser Dr S.E., which is open Thursdays through Saturdays. For more information, visit Krooked Provisions on Instagram at @krookedprovisions.
Article content
***
In other food news, lucky students will have a chance to try fare from one of Calgary's most acclaimed restaurants right on campus, with D.O.P recently setting up shop at the University of Calgary. Part of the Haskayne School of Business's new food service hub in Mathison Hall, D.O.P. is operating out of a food counter called The Exchange, which will see different restaurants rotate in and out of the space. Since the regular D.O.P. is neither quick service nor in line with most students' daily lunch budgets, the University menu features a small selection of pasta (made in-house, just like they do it at their flagship on 1st Street S.W.) with a choice of five different sauces, ranging from $12 to $14. It's an exciting new food option on an under-served end of campus that also gives business students a chance to see successful local entrepreneurs in action.
The mini food court, operated by Aramark, also features a coffee counter from local roasters Phil and Sebastian and another quick-service food counter. Haskayne is also hopping on the growing autonomous store trend with an enclosed shop called Quick Eats, which sells sandwiches, coffee, and soft drinks, all available 24/7. Shoppers scan an app when they walk in and AI tracks what they pick up so they can leave with snacks in hand, all without having to check out. Welcome to the future!
Elizabeth Chorney-Booth can be reached at [email protected]. Follow her on Instagram at @elizabooth or sign up for her newsletter at hungrycalgary.substack.com.