Reviews and recommendations are unbiased and products are independently selected. Postmedia may earn an affiliate commission from purchases made through links on this page.
Article content
For the last two decades, Franca's has been one of Calgary's best-kept secrets. The Edmonton Trail restaurant, helmed by its namesake Franca Flaviano, is tucked away in an industrial park and has always had slightly odd hours but those lucky enough to discover it have fallen in love with its heartfelt Italian fare and "in-the-know" atmosphere. Now, 20 years after Flaviano started her business, she's expanded with a new pizzeria.
Article content
The original Franca's location has always been a bit of a mystery to those not in the loop. Initially started as a gift basket service, Flaviano, her husband, two now-adult sons, and various other extended family members gradually built their business into a café and eventually an elegant full-service Italian restaurant, open only for lunch Wednesdays through Fridays and for dinner on Friday and Saturday nights (the restaurant also acts as an events space for private functions). Those limited hours have been a bit of a head-scratcher in a city where so many of us want what we want exactly when we want it, but for the Flaviano family, it's been essential to creating work/life balance and serving a collection of regulars who have begun to feel like family as well.
Article content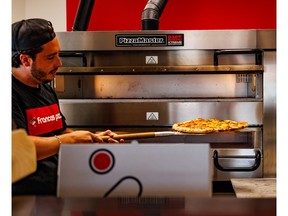 When the pandemic hit in 2020, Franca's, like everyone else, had to pivot to curbside takeout and the natural option for an Italian restaurant was to set its sights on pizza. Conveniently enough, Flaviano's husband Mario had spent years perfecting his home pizza game and hit the ground running with his beautifully made pies. With restaurants fully back open and the younger generation of Flavianos in adulthood, Franca's was ready to expand, but rather than shifting towards full-time hours at the main restaurant, the family decided to introduce their pizza to another side of the city.
Article content
Franca's Pizza quietly opened this April in the strip mall unit next door to Trullo Trattoria in Oakridge. The space is clean and modern but not fancy — this is a take-out-only affair, though there are cafe tables out front on the sidewalk for patrons who can't wait to get their pizza home before digging in. Pizza is the undisputed star here, with a sturdier crust than New York-style but nowhere near as thick as Greek-style pies. The family likes to simply call it "our pizza" because it was created for them to eat at home.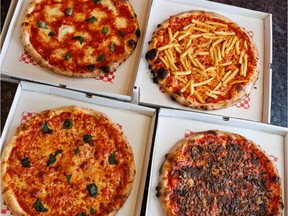 Topping-wise, Franca's keeps things fairly classic, with pizzas like a Margherita ($18 for a 12" or $24 for a 16"), beef pepperoni with mushrooms ($21/$28) and the Alba, a celebration of truffles with truffle salami, mushrooms, and truffle tapenade ($25/$32). Things really get fun with the signature pizza menu, a special collection of pizzas reflecting each member of the family's favourite pizza. This is where you'll find the "Flav" topped with mozzarella and french fries ($21/$28), the "Santos" with onion and Italia tuna ($23/$30) and the "Baba" with veal bolognese sauce ($25/$32). There's even a Hawaiian pizza dubbed "Maui" which is actually the top choice of the family matriarch (the Flavianos knew how confusing it would be to call a ham and pineapple pizza the "Nonna," even though it is the eldest member of the Italian family's personal favourite).
Article content
There are also a few salads on the menu and, since the original Franca's is on the other side of town and not easily accessible, a few take-and-bake pastas and a small selection of desserts, including frozen trays of the restaurant's signature limoncello tiramisu, made with house-made cream liqueur.
Franca's Pizza operates on a pick-up-only basis and, as with the flagship restaurant, there are a few peculiarities, namely that they do not take orders online. Just like in the good old days, customers have to call in their orders (there's only one phone line, so be patient if you get a busy signal) or order at the counter in person. This family doesn't rush what they're doing. It's nice to take a moment and do the same as a patron.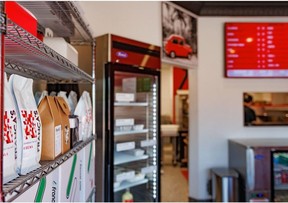 Franca's Pizza is located at #105, 2515 90th Ave. S.W. and is open Tuesday through Sunday from 4 p.m. to 9 p.m. (8 p.m. on Sunday). Pizzas can be ordered for pick-up by calling 403-281-5400. For more information visit francaspizza.ca.
***
In other restaurant news, if you've been to The District at Beltline food hall and yearned for a nice beverage to wash down your Greenfish Sushi or Modern Burger, there's a new bar option in the building. Food hall tenants Duncan Ly (Takori) and Roy Oh (Roy's Korean Kitchen) have partnered to create The Lounge, a licensed spot that serves adult beverages, overseen by bar manager Jordan Wiltshire (formerly of Milk Tiger). Guests can kick back in the venue or order drinks from the main food hall via a QR code (there are even cocktails designed to be paired with each of the food vendors).
The District at Beltline food hall is located at 227 11th Ave. S.W. The Lounge is open 11 a.m. to 8 p.m. Monday to Wednesday and 11 p.m. to 12 a.m. Thursday to Saturday with happy hour from 2 p.m. to 6 p.m. and 10 p.m. to 12 a.m.
Elizabeth Chorney-Booth can be reached at [email protected]. Follow her on Instagram at @elizabooth.