Reviews and recommendations are unbiased and products are independently selected. Postmedia may earn an affiliate commission from purchases made through links on this page.
Article content
Does Calgary need another burger joint? Over the last few years we've amassed many excellent hamburger options, ranging from higher-end gourmet creations from places like Major Tom to those at irresistibly delicious local fast-casual spots like the mighty Lil' Empire and the expanding Bussin'. So, we may not exactly need more burger choices, but true food lovers are always chasing burger perfection.
Article content
Meet the newly opened Class Clown, which not only offers a definite contender in the "best burger in the city" game but also something new in terms of atmosphere and fun food culture. A labour of love from restaurateurs Xian Fullen and Noel Sweetland, Class Clown is a grown-up, yet unpretentious version of a casual burger spot with an emphasis on thoughtful, well-executed food and drink, all presented in a joy-inducing, anything-goes setting.
Article content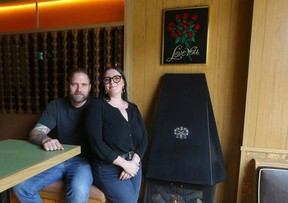 Poetically located in the building long occupied by the dearly departed Burger Inn, Class Clown is immediately defined by its decor. The 32-seat restaurant, consisting of a horseshoe-shaped padded bar, a handful of booths and a few high-top tables, is a meticulously designed explosion of nostalgia. Dripping with late '70s/early '80s touches, from the wood panelling that Fullen and Sweetland had to drive to Montana to procure to the coloured glass candles on every table, the room may feel like a first apartment, Grandma's rec room, or a set from the first season of Stranger Things, depending on each guest's age and set of personal references. Miraculously, each detail reads like an earnest homage rather than an ironic wink, giving Class Clown an instant sense of welcoming charm.
Article content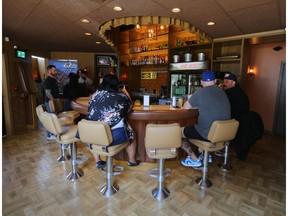 "We wanted to open a restaurant that we'd like to hang out in that also offers really good value with high-quality food," Sweetland says, noting that the finished product turned out looking a lot like his and Fullen's own basement.
Class Clown's menu reads much like standard drive-in fare, but the burger patties are made of locally sourced pasture-raised beef chuck and brisket (all muscle, no trimmings, as they say in the burger biz), ground daily in the restaurant. The menu, created by Sweetland, features a few double patty burgers — the burgers are made smash-style, so two crispy patties make for the right meat-to-bun ratio — including a play on a classic fast food burger called the Donald McRonald ($11.50), and the In-N-Out style California Classic ($12.75), as well as a version with bacon and BBQ sauce ($13.50). Manitobans, take note: Class Clown also does a "Winnipeg Fat Boy," a regional burger featuring cheddar cheese, house-made coney sauce (a sweet sloppy Joe-like meat sauce), mustard, mayo, pickles, lettuce, tomato, and raw onion ($12). Stunt burger fans can opt for the Coney Island Cowboy, topped with a butterflied Nathan's hotdog ($12.50). Each juicy burger comes with a moist toilette for very good reason.
Article content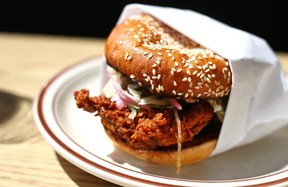 The rest of the menu is comprised of a couple of chicken burgers ($12.50 to $15.25), fish sandwiches ($12.50 to $13) and a lentil and split pea veggie burger (11.50). The fries are crinkle cut (Sweetland takes a slightly controversial stance by favouring good old frozen chips over fresh hand-cut fries) and can be topped with coney sauce, cheese sauce and Hawkins Cheezie crumbs, or a combination of both ($4.50 to $8.50).
The wine list at Class Clown brings in the "class" element, with a very nice selection of cult favourites from labels like Meinklang, A Sunday in August, and Dormilona. They are varieties the menu describes as "weird," but Fullen and Sweetland hope the restaurant can act to educate novice wine drinkers on the wonders of obscure natural wines. It's all meant to be lighthearted and exuberant like the rest of the restaurant, sending the signal that food, wine, and interior design can simultaneously bring quality and irreverence.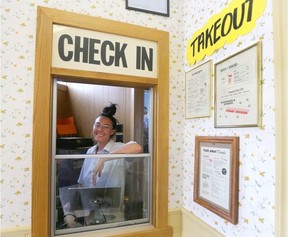 "A big thing for us is making things more accessible," Fullen says. "People often feel really intimidated with wine because they don't know what to ask for or how to use the language. Bringing really weird natural wines into a casual environment makes it easier for them."
Article content
Class Clown is located at #106, 1711 4 St. S.W. and can be reached at 403-243-8284 or through classclown.ca. The restaurant is open Tuesday through Sunday from 11 a.m. to 11 p.m.
***
In other restaurant news, the annual Alberta on the Plate festival is coming up quickly, running from Aug. 11 to 20. This is a dine-around festival, with participating restaurants around the province offering fixed multi-course meals designed to highlight local ingredients and producers, often with featured drinks from Alberta-based brewers and distillers.
The list of participating Calgary restaurants is long and varied, including local favourites Rouge, Vendome, Rain Dog Bar, Pigeonhole, and Charcut. The festival also creates a good excuse to take a little road trip to visit restaurants slightly farther afield such as Aama Nepalese Cuisine or Fence and Post in Cochrane, Cilantro and Chive in Red Deer, Sage and Sass in Drumheller, or Rge Road up in Edmonton. For a full list of restaurants and producers, visit albertaontheplate.com.
Elizabeth Chorney-Booth can be reached at [email protected]. Follow her on Instagram at @elizabooth.