Curate Vintage Market showcases found vintage pieces to pull together for distinctive fashion and home style.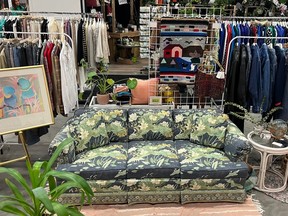 Reviews and recommendations are unbiased and products are independently selected. Postmedia may earn an affiliate commission from purchases made through links on this page.
Article content
Thrifting is all about saving money, being more sustainable and above all, making shopping more fun. Hot commodities in the second-hand economy include clothes and household goods from the 1950s through to Y2K, and business is booming.
There's a skill to incorporating found vintage pieces, whether it's designer clothing or eclectic mid-century furniture, into a modern wardrobe or home. Rosalyn Lazaruk, owner of online retailer Tipsy Palm, is gifted with that rare talent. She's an interior designer with a flare for integrating clashing styles from a bygone era. She can match up a modern sectional couch with an occasional chair from 1967 and make the whole room work.
Article content
Lazaruk and other vintage vendors will be at the Curate Vintage Market, a feature at the 2023 Calgary Fall Home Show, Sept. 29 to Oct. 1 at the BMO Centre. The market is a collaborative shopping experience where show visitors will find a treasure trove of estate vintage pieces, antiques and fabulous pre-loved items.
The Edmonton resident founded the Curate Vintage Market series that frequently pops up across Alberta and loves nothing better than scouring estate sales, thrift shops and the deepest, darkest closets for vintage gold.
"My primary focus is fashion and accessories and I look for pieces that would be constructed in the '70s, '80s and '90s. That's my era," Lazaruk says. "Everything is cyclical, in design and in fashion. I look for those items that are currently being replicated by manufacturers. Items from the '90s and Y2K are also trending and you know, pieces created back then are better quality and better construction."
Canadian fashion labels are always on Lazaruk's radar. She's quick to snap up items by Mister Leonard, Mr. Jax, Devonshire Cream and GWG, a vintage Alberta brand (the factory was in downtown Edmonton). She also takes vintage materials and repurposes them as throw pillows or kitchen linens.
Article content
Alexander & Rose and Blu Poppy Vintage will also participate in the Curate Vintage Market during the Fall Home Show.
"We each curate our own collections and we have one point of purchase so it's more of a boutique than a market. With vintage items, people love to share stories so the market is just a nice, relaxing experience," she says.
Thanks to social media platforms, TikTok in particular, thrifting has become a true artform among Gen Z, which includes anyone born roughly after 1995. Lazaruk's customers are 25 to 55 years of age, many of them professional women searching not only for nostalgia, but for quality.
"We're about slow fashion, in clothes and in the home. Fashion is a big polluter of the environment. We like to see things that have been produced get used and loved again," she says.
The Curate Vintage Market vendors are just three of 300-plus exhibitors at the Calgary Fall Home Show, running Friday Sept. 29 from noon to 9 p.m., Saturday Sept. 30 from 10 a.m. to 9 p.m. and Sunday, Oct. 1 from 10 a.m. to 6 p.m. in halls E and F of the BMO Centre, Stampede Park. Tickets are on sale at the door or online with a $2 per ticket saving at calgaryfallhomeshow.com.