Alberta has refused a moratorium on any part of oil and gas for decades, but now abruptly declares one on solar and wind
Article content
When did an Alberta conservative government ever de-boom a thriving economic sector?
Never — until Thursday, when the UCP announced a six-month moratorium on new green energy projects.
Article content
This sector is too hot to handle, apparently. So many projects at once clogging the landscape with wind turbines and solar panels.
Rural people are complaining. But angst in the countryside never stopped governments when oil and gas wells dotted the farmland, and you could probably see nighttime natural gas flares from the moon.
Article content
Alberta is attracting more investment into green projects than any other province. The wind blows, the money flows, and we get lucky — again.
First came the long run of oil and natural gas, producing immense wealth. Now, abundant sunshine and wind, along with infrastructure and deep energy know-how, put us at the very top rank of green energy aspirations in the world.
And yet, the government calls a halt to all new applications and approvals until next February.
One stated reason is growing regulatory muddle with the volume of projects.
Exactly the same concerns followed oil and gas wherever they went. That never stopped decades of development, despite the constant background worry about spills, leaks and sour gas blowouts.
The great Lodgepole well eruption of 1982 threatened environment and health for 68 days before it was finally capped. But there was no moratorium.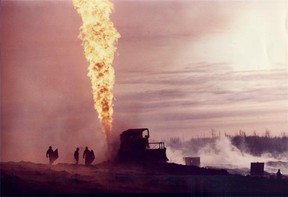 There has never been a sun spill or a wind leak, as far as I know. And yet, we have a moratorium.
Every energy action has impacts, of course. Solar panel projects cover a lot of ground. Rows of wind turbines can seem inhuman and oddly creepy. They're dangerous to birds.
Article content
But they draw clean, useful energy from Alberta's vast windscapes, without pollution or significant emissions.
U of C economics professor Blake Shaffer, who specializes in climate policy and electricity, said on social media: "Still trying to wrap my head around this.
"It's anti-business. It casts a pall on renewable investment in the province.
"It's anti-property rights. All deals are done on private land, privately negotiated.
"And it runs counter to Alberta's need to decarbonize its electric system."
Varcoe: Alberta minister says 'Wild, Wild West' wave of development triggered pause on renewables

Alberta continues to lead Canada in renewable investment, while oil growth continues

Opinion: Supporting renewable energy is a win-win for all Albertans
The moratorium could also cause more trouble with Ottawa. The UCP claims Alberta can't get off natural gas to produce electricity by the federal deadline, 2035.
That's despite the province's best efforts. Now they've halted the efforts.
The UCP surely could have slowed the pace without declaring a formal moratorium. New approvals could quietly be set aside for a few months. Heaven knows, public agencies are skilled at taking their time.
Article content
But they came out with this big splash. Why is that?
One reason is significant hostility to the green agenda in the UCP base. That's reflected by some members of the UCP's powerful rural caucus.
The government owes the rural sector for its election win. Now it's paying, dramatically.
Moratorium talk is nothing new in Alberta's energy world.
In 2006, former PC premier and founder Peter Lougheed began to argue passionately for a halt to any new oilsands projects.
He said the rapid growth was not only environmentally dangerous but wasteful, because natural gas that fuels bitumen projects could be better put to other uses, including petrochemicals.
The late premier, who was in office from 1971 to 1985, had been involved in the oilsands expansion. But two decades later he saw what was happening to the environment, and what was coming on climate change.
A new premier, Ed Stelmach, took over in 2006 from Ralph Klein. He completely rejected Lougheed's argument.
Stelmach told an audience in Washington that they should not believe the "myth" of environmental damage caused by the oilsands. He pleaded for investment.
At the same time, Stelmach faced growing rural hostility to the effect of oilsands operations on roads, services, environment and rural quality of life.
But there was no moratorium when the problem was oil and gas.
Now we have the strangest one possible, in large measure because it doesn't hit the sacred sector.
Don Braid's column appears regularly in the Herald.
Twitter: @DonBraid