Article content
The Trans Mountain pipeline expansion faces another delay — nine months as they try to avoid digging a tunnel — but that's a minor news story these days.
The real question now is whether anything will ever flow through the bitumen pipeline.
Article content
A few years ago Trans Mountain was big news almost daily. Prime Minister Justin Trudeau's Liberals bought it to avoid collapse when Kinder Morgan backed out in the face of relentless obstruction from the British Columbia NDP.
Article content
Over time, the cost has risen to an eye-watering $30 billion.
The regret in Liberal-NDP Ottawa is palpable. They wish they'd never heard of the thing, let alone funded it.
So they don't talk about it much. Selling off chunks to First Nations is the cover strategy. Who can object to that?
But the parties are happy to attack Rich Kruger, the head of Suncor, a major bitumen shipper, when he dares to note that the company is still interested in making money.
The Liberals and NDP both blast him for saying Suncor has to re-focus on its core business, sending oil to market, while still remaining fully onside with the federal emissions target, net zero by 2050.
Suncor was a founder of the Pathways Alliance that commits the company and other major producers to the 2050 target.
They were praised for that in the past. Today, Kruger is condemned for suggesting that to meet the federal target, the company has to remain solvent.
It wasn't the wisest thing for Kruger to say during the summer of smoke. He evidently felt a need to reassure shareholders publicly.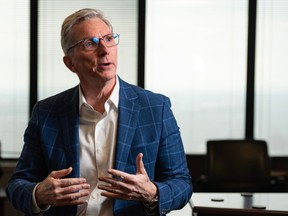 There's no surer way to enrage the federal NDP. MP Charlie Angus, the party's energy critic, called the comments "shocking" and "irresponsible."
Article content
While everybody is talking about the urgency of climate-change action, he continued, "we have Mr. Kruger talking about the urgency of making as much money as possible."
That wasn't Kruger's message, actually. But the response from Ottawa — including Environment Minister Steven Guilbeault — shows they will use every opening to harden the anti-oil rhetoric, almost by the week.
The instant vitriol is a sign of another dangerous trend: directly linking critics with wildfires and other climate-change events. They're starting to brand their enemies as criminals who personally cause disasters.
Trans Mountain pipeline faces nine-month delay over route dispute

Kruger: At Suncor, it's about both today and tomorrow

Federal NDP wants Suncor CEO to tell MPs why company moving away from focus on clean energy
And they never answer the key questions.
How can companies make the transition away from oil and gas without the money they get from oil and gas?
If profits are discouraged and suppressed, who pays for change, and how? Wouldn't the end victim be the Canadian taxpayer?
Article content
And by the way, how do you reconcile paying $30 billion for a pipeline whose sole purpose is to ship the product you most want to shut down?
Oil is booming right now and that means more federal tax revenue, which the Liberals desperately need as they run continuing deficits.
That is never recognized. Politicians like Guilbeault don't seem to accept that there's a continuing need for oil and gas tax money. They preach that green energy will quickly start generating its own replacement revenue.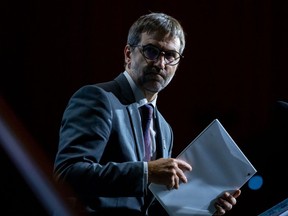 All the while, the Liberals constantly impose new targets. Coming soon is the big one — a hard cap on oil and gas emissions.
Five years ago, when they purchased Trans Mountain, the Liberals acknowledged with a grimace that bitumen sales to Asia could lower world emissions by replacing coal.
They have moved from that stance to demands that Alberta stop using cleaner natural gas to generate electricity by 2035.
How can they do that while someday cutting the ribbon on a pipeline that will triple bitumen shipments and require production to meet the demand?
Maybe they mothball the thing, book the loss and try to sell that as climate salvation?
This is a conundrum that may yet tear the Liberal caucus apart, end the governing deal with the NDP and help bring the Conservatives to power.
Most Albertans want serious action on climate change. But they also crave collaboration, sensible measures and due consideration for the economy.
They do not want to be led by intractable zealots.
Don Braid's column appears regularly in the Herald.
X: @DonBraid