Among Canadians surveyed, 64 per cent say inflation and the cost of living are the most worrisome problems they face. In Alberta, it's 69 per cent
Get the latest from Don Braid, Calgary Herald straight to your inbox
Article content
Albertans have enjoyed a big break on gasoline prices since Jan. 1, when the province stopped collecting 13 cents per litre in tax.
Our pump prices are the lowest in the country. A litre of regular cost about $1.27 in Calgary on Monday, compared to $1.35 in Toronto and $1.59 in Vancouver.
Article content
The question is whether this break will continue after its scheduled end on New Year's Day.
Article content
There's no decision yet from Alberta Finance, but a statement supplied Monday comes with a hopeful note.
"Alberta's government will have more to say on Alberta's fuel tax relief program by the end of the year."
The note trumpets this as "one way the government is keeping life affordable."
Ending the freeze would make life even less affordable, so they aren't likely to do it. The UCP might restore a few cents per litre but the full 13 cents isn't likely, at least for the first months of 2024.
These things matter more today than at any time in a generation. Canadians are incredibly stressed economically, according to a new survey from the Angus Reid Institute.
The pollster reports the most dire numbers since they began keeping track 30 years ago, during the great financial crisis.
Sixty-four per cent of people surveyed say inflation and the cost of living are the most worrisome problems they face.
The level of concern is even higher in Alberta, at 69 per cent. Only Saskatchewan (73 per cent) and Manitoba (74 per cent) show more worry.
Related Stories
'I live in instability': Survey shows one in four Calgarians can't meet basic financial needs

Citywide food drive takes place as 'Calgarians are feeling the crunch'
Article content
Everywhere in Canada, climate change has been pushed far down the radar, replaced by both cost of living and housing affordability as the top issues in people's minds.
Living costs top the charts in every province, even Quebec, where climate change remains significant at 35 per cent. (In Alberta, climate is the major issue for only 11 per cent.)
Everywhere there's tremendous stress over rising food expenses and interest rates. Forty-nine per cent of Canadians feel they're worse off than they were a year ago. That metric has risen 20 points since 2021.
Fifty-four per cent say it's difficult or very difficult to feed their household, 10 points higher than in 2021.
Inflation has tapered off somewhat, to 3.8 per cent a year. But that still means significant price increases. Isn't it odd how a price, once established, rarely goes back down to earlier levels?
Homeowners with mortgages to renew within the next year are surely Canada's most stressed-out group.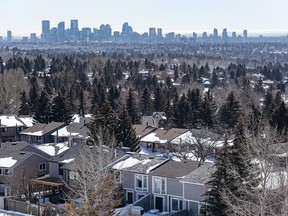 Eighty-three per cent of those with mortgages coming up soon are worried about higher costs. Many struggle to make payments even on current, low-interest terms that tempted them into large mortgages.
Article content
Thirty-two per cent of homeowners with no mortgage at all report some level of struggle and economic stress.
Calgary has a relatively strong housing market, but some of the reasons aren't so positive.
Fewer first-time buyers are house-hunting because they don't have the cash for a down payment. Ready purchasers tend to be those who've already sold a home in high-priced Toronto or Vancouver.
The same dynamic can apply within Alberta, according to people in real estate. Some will sell a Calgary home and move to a community with lower prices.
Countrywide, the level of economic stress is highest in the 35-to-54 age group, just when people are raising families and, hopefully, rising in their careers.
Sixty-two per cent of men in that category report significant struggle. Among women, it's 57 per cent.
These are huge problems from one end of Canada to the other. Alberta's focus on a distant, mythical provincial pension plan is an absurd distraction.
Don Braid's column appears regularly in the Herald
X: @DonBraid