The polls don't show any evidence that further hostilities with Alberta will help Trudeau or hurt Poilievre
Article content
Prime Minister Justin Trudeau's popularity has been tumbling for weeks. Now it's in a free-fall that threatens his leadership and the Liberal government itself.
Premier Danielle Smith's UCP, scenting blood, is preparing for an almighty battle this fall. It could finally invoke the sovereignty act. Strategists feel there would be wide majority support from the public.
Article content
Federal Environment Minister Steven Guilbeault has hardened his stance on demanding Alberta's electricity grid be net-zero emissions by 2035. Smith says this would be economically ruinous.
But an even more explosive issue looms. The Albertans suspect, claiming to have intelligence on this, that Ottawa will announce sometime in October a hard cap on oil and gas emissions.
Smith claims this would force oil and gas production cuts, which she refuses to accept.
All this is happening just as the joint Alberta-Ottawa working group on emissions policy is starting talks. Smith had asked for this and Ottawa agreed. Terms of reference have been drawn up.
But Alberta strategists are already angry at Guilbeault's lack of flexibility on the electricity target. Now, they feel an overall emissions cap on oil and gas would poison any chance of agreement and blow up the talks.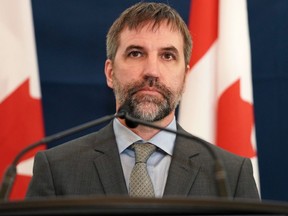 Their next step may be to invoke the sovereignty act in the legislature. That hasn't happened since the bill was passed, partly because the UCP didn't want to dilute the effect by using it for relatively minor grievances.
Article content
The most extreme use would be to declare Ottawa measures null and void in Alberta, refusing all co-operation with federal emissions policy and even law.
Alberta would announce and implement its own measures to undercut the federal measures in Alberta, while still taking action toward net-zero emissions by 2050, a target Smith has always accepted.
'Refrain from testing our government's or Albertans' resolve': Smith warns Ottawa over planned emissions cap

Varcoe: Premier warns of blackouts under feds' net-zero power plan, while billions of renewables hang in balance

Braid: Alberta's political world is deeply divided over net-zero electricity target
One background worry for the UCP is the effect this would have on federal Conservative Leader Pierre Poilievre's growing popularity.
The national Conservatives now lead the Liberals in voting intent by 12 points, 39 per cent to 27 per cent, according to a new poll from the Angus Reid Institute.
Asked who would be the best prime minister, 32 per cent pick Poilievre, while only 17 per cent stick with Trudeau. The PM does not have majority support even among people who voted Liberal in the last election.
Article content
Trudeau is in deep trouble on the key issues of affordability and housing costs. Forty-one per cent of respondents said Poilievre would be best for the economy. Only 21 per cent favour Trudeau.
Parliament opens Sept. 18 and Trudeau will surely take some action on these issues. He got a lot of heat in summer for a showy but largely meaningless cabinet shuffle that brought no progress on the major problems.
Trudeau might be tempted to revive his fortunes by engaging in all-out political battle with Alberta and also Saskatchewan, where hostility to the PM runs even deeper.
But the polls don't show any evidence that further hostilities with Alberta will help Trudeau or hurt Poilievre.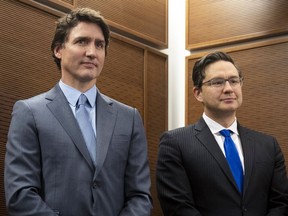 If Smith escalates to the sovereignty act, on the other hand, she will likely have considerable support, despite opposition from the NDP and many Albertans deeply concerned about climate change.
Smith won't be too worried about short-term political reaction. She's in office for nearly four more years. Trudeau might not be around for another four months, if his numbers keep plummeting.
Article content
Trudeau has long been expert at performing, not so much at performance. Now he has a narrow window to show he can reverse economic conditions that are hurting millions of Canadians.
Poilievre and his party go into a policy conference this weekend, hoping to emerge without controversy over social issues such as abortion.
Like Smith and the UCP, they've got Trudeau right where they want him, weakened and struggling.
Don Braid's column appears regularly in the Herald.
X: @DonBraid
---
Postmedia is creating a new mobile app that combines all of our newsrooms across Canada into one app with tons of new exciting features. We are looking for users to be part of a testing group to provide feedback and help improve the product. Users who are selected will have full, free access to all of our app content for one month. Sign up here!