Get the latest from Don Braid, Calgary Herald straight to your inbox
Article content
In the long history of Canada's Parliament, this has to be one of the most embarrassing, humiliating moments.
It also seems like another early death rattle of a careless federal government with the dimmest grasp of international affairs. Tuesday's resignation of Speaker Anthony Rota doesn't change that.
Article content
On Tuesday you could read all about the disaster in the New York Times, Britain's The Guardian, Le Monde of France, Der Spiegel in Germany, and in delighted reaction from Russia.
Article content
Rota — installed by the Liberals — introduced and praised a man who fought against the Russians in a vicious SS division during the Second World War.
When he uttered the words, you could almost see a brain cell or two activating, as if he's dimly aware that anybody in uniform who was fighting the Russians back then was likely to be a Nazi.
Prime Minister Justin Trudeau cheered and applauded this man, Yaroslav Hunka, 98. So did Ukrainian President Volodymyr Zelenskyy, who had just addressed Parliament.
Zelenskyy could not have known who he was applauding. He accepted Rota's statement that Hunka is a "Ukrainian hero and a Canadian hero."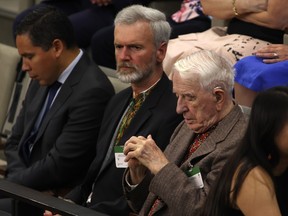 A visiting dignitary, especially a head of state, expects a hint of competence from his hosts. Zelenskyy got none. The Parliament of Canada not only debased itself, but deeply humiliated the Ukrainian leader.
The Russians constantly and wrongly accuse Ukraine of being a Nazi nation. From the start, President Vladimir Putin has tried to justify his brutal war as a battle against Nazism.
And here was Zelenskyy, the victim of Canadian blundering, applauding a soldier who fought for the Nazis. Putin could hardly be more delighted.
Article content
The Russians jumped all over it, calling the government careless about history and saying the episode bolsters their case about Ukraine being a Nazi regime.
Zelenskyy is Jewish, of course. Jews all over the word were observing Yom Kippur, the holiest day of the year, as Monday's Commons debate continued over whether Rota should resign or simply be left to liquify from embarrassment. Inevitably, he resigned.
The episode raises so many ugly memories and associations. That's surely why the Liberals wanted to expunge Rota's words from the record — a rare parliamentary measure.
This is typical of their attitude to history under Prime Minister Justin Trudeau. It's a political commodity to be massaged and shaped for their own reasons.
Rota apologized profusely and took all blame. He says he didn't know about Hunka's past.
But as Speaker who could invite people to the chamber, he should have known. As one member said, a quick Google search would have done it. Poland is seeking to extradite Hunka, for one thing.
Rota is a sophisticated man who speaks English, French, Italian and Spanish. Impressive, but all the more reason why he should have been aware of his North Bay constituent's record.
Article content
Giving special recognition to anybody from his riding was a cheesy political move, no matter what the person's quality. This was a national and international event, not an occasion for local vote hunting.
Some now blame Rota's staff. He insists he didn't inform anyone that Hunka was there.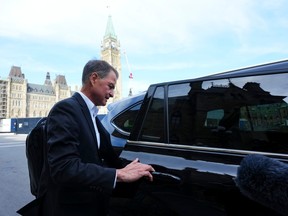 Experts in procedure say it would be astonishing, given the gravity of this event, if a Speaker did not inform the Prime Minister's Office of guests he invited and intended to recognize.

A Zelenskyy visit comes with heavy security concerns, obviously. All guests for the speech would or should have been screened for both security and personal background.
If the PMO knew the name, and didn't do the work, that makes the mistake potentially dangerous, and even more devastating for the government.
All this comes after the Prime Minister's accusation that the Indian government participated in the assassination of a Sikh separatist in Surrey B.C.
As nearly every commentator has noted, this is a very serious matter.
But Trudeau has not proven his case.
Related Stories
Speaker apologizes after man who fought for Nazis is given standing ovation by Parliament

Anthony Rota steps down as Speaker of the House following honouring man who fought for Nazi unit

Speaker Anthony Rota facing growing calls to resign for honouring man who fought for Nazis

Trudeau says Indian government linked to murder of Sikh leader in B.C.
Countries that have made such dire claims against a foreign regime, including Turkey and Britain, have backed up the allegations with video and other forensic evidence. Britain even held a public inquiry into Russian poisonings.
Trudeau's unproven allegation is just another example of the careless, sloppy handling of international matters that has made Canada an object of derision.
Speaker Rota was to host a garden party on Tuesday evening at his government-supplied farm in Kingsmere Quebec.
It is — or was — a grand life.
Don Braid's column appears regularly in the Herald.
X: @DonBraid