Premier Danielle Smith and the UCP have a very powerful interest in figuring out how to avoid any such catastrophe again
Get the latest from Don Braid, Calgary Herald straight to your inbox
Article content
Preston Manning's huge study of the COVID-19 response calls for strengthened individual rights, a skeptical view of mainstream science, and giving all authority over health measures to elected politicians.
The report from Manning's panel is detailed and complex, just what we'd expect from the former federal opposition leader, the ultimate policy wonk.
Article content
It talks about choices between democratic and "authoritarian" pandemic response, proposes measures to guarantee individual rights, suggests dozens of amendments to legislation.
In an interview, Manning highlighted the personal and economic cost to the province, including the largest GDP and employment drops since the Great Depression.
"Everybody did the best they could under very trying circumstances, but we have to figure out what can be done to make sure that this province never experiences an economic contraction like that again." He cited the harm to children and health professionals.
No other province has commissioned a report like this. But Alberta was home to the darkest suspicions and most active resistance to government closure orders and mandates. The pandemic still haunts us in ways that other provinces have moved beyond.
Last week B.C. Premier David Eby defended his chief medical officer, Dr. Bonnie Henry, as an exemplary guardian of public health.
Alberta's CMOH, Dr. Deena Hinshaw, was fired and later denied a lesser post in Alberta Indigenous health care.
Article content
And yet the two doctors had done much the same job, with similar responses and policies.
Also, no other province saw a premier run out of office in large part because of the government's pandemic response.
Premier Jason Kenney's caucus revolted against measures that infuriated rural constituents. They had no say in cabinet decisions over mandates, closure and distancing rules.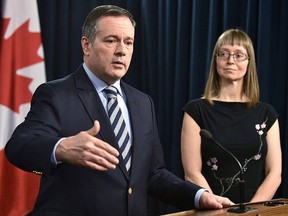 Manning says that in the future, the legislature and caucuses of all parties should be fully informed about the response to a pandemic and other emergencies.
Kenney quit after a weak vote of support from his party. Danielle Smith took over as premier eventually, but only after a campaign that played to those Albertans whose fear of government overreach did not fade.
And even then, the UCP barely won the election on May 29.
Smith and the UCP have a very powerful interest in figuring out how to avoid any such catastrophe again.
The panel didn't do an autopsy on the pandemic with attendant horror stories. Rather, they focus on what comes next.
Many points will be controversial. For one thing, the report opens the door to diverse scientific views on medicine and how a pandemic should be handled.
Article content
Related Stories
Manning panel report calls for 'better balance' between health and rights during future emergencies

Preston Manning: How Alberta should prepare for future public emergencies
"Relying on a single scientific narrative to guide the response to a public health emergency is, ironically, unscientific," the report says.
"Sciences progresses by considering a variety of hypotheses for explaining a particular phenomenon and only discards competing hypotheses when they have been disproven by rigorous experimentation and testing."
That touches right on the bitter conflict between the mainstream view of vaccines and remedies, and the opinions of some dissident doctors as well as COVID deniers.

Rights of expression were violated, the report says, by "the insistence of governments at all levels, with the compliance of most traditional media, that there was only one acceptable narrative explaining and justifying the response to the COVID-19 crisis, thereby disregarding and censoring other narratives, violated freedom of thought, belief, opinion and expression in a variety of ways."
Article content
The report proposes a provincial science officer whose job is to catalogue experts from all shades of thought and consult them when necessary.
It also calls for changes to law that would strengthen the education rights of parents and children. School closures would be much more difficult to implement.
NDP Leader Rachel Notley immediately condemned the study.
"If you read between the lines, this report has multiple efforts buried within it to limit the scope of scientists and medical professionals, and I think that that is bad news for Albertans," she said.
It would be nice to imagine all-party co-operation over response to a crisis like COVID-19. It might even happen — in some other province.
Don Braid's column appears regularly in the Herald
Twitter: @DonBraid