Article content
Alberta Health Services is anxiously searching for the cause of the E. coli outbreak that has sickened hundreds of children.
They might find it in a factor that wasn't considered during inspections of the Fueling Minds central kitchen.
Article content
Twelve inspection reports since July 2021 (a huge number for any facility) find plenty of violations, but never mention unsafe transportation of meals in vehicles with no refrigeration.
Article content
And then, AFTER the outbreak began and the kitchen was shut down, it suddenly appears in a report dated Sept. 5.
"Operator indicated that cold foods were being transported to other locations in excess of 90 minutes without temperature control. Appropriate equipment for keeping food cold during transportation was not available." says the report from AHS Environmental Public Health.
"Food must be maintained below 4C or above 60C during transport . . . food was not being handled in a manner that makes it safe to eat."
Fueling Minds shipped food from the kitchen to 11 daycares where many kids got E. coli.
The unsafe shipment is rated as a "critical" violation. And yet, it's absent from any of the five previous inspection reports for 2023 alone.
Had this practise been going on for some time? Did the inspectors simply fail to ask about shipping conditions? If they did know, why isn't it mentioned and corrected?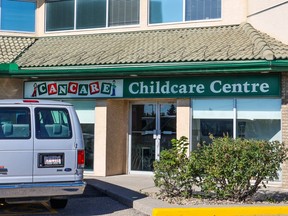 Some daycare chains do not use a central kitchen because of risk in shipping both hot and cold food. They prefer to keep a close eye on meals from the in-house kitchen to children's plates.
Article content
AHS has tested dozens of samples from the Fueling Minds kitchen and found no E. coli. But the contamination could have developed while meals were shipped to various daycares.
AHS, and Chief Medical Officer Dr. Mark Joffe, are certainly aware of the possibility.
"Work continues to identify the source of the outbreak," the latest release says.
"Additionally, the ministries of Health and Children and Family Services are conducting a review of all shared kitchens serving child-care facilities across Alberta."
Tougher rules both for daycares and inspectors will emerge from the outbreak. Premier Danielle Smith is waiting for a detailed AHS report.
No new E. coli cases as investigation into source of outbreak continues

Five new daycares in Calgary closed as E. coli outbreak spreads

More daycares shut as Alberta offers financial assistance payment for E. coli-impacted families
After that changes will come, although Smith isn't likely to bow to demands for a public inquiry.
Meanwhile, the search for E. coli is a huge and expensive operation.
"Our public-health team is reviewing the food histories for more than 1,150 children and 250 daycare staff," Joffe said at a news conference Tuesday.
Article content
"This includes both those who became ill as well as those who did not all, of whom were at the 11 affected daycare sites between August 15 and 31.
"By comparing the complete food history from both groups, and then combining that with what is known about how food items were prepared and distributed, the team can potentially identify commonalities and ultimately identify the likely source of this outbreak."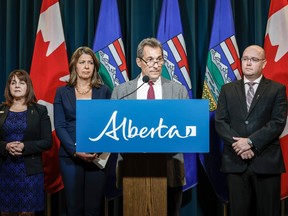 But Joffe acknowledged that the precise source may never be found.
"It is possible that we are never going to know the exact source of the outbreak, but we are doing our very best to narrow it down. And again that will inform future steps and future prevention."
Quite remarkable. E. coli has sickened 346 people, most of them children around the age of five. The contagion has spread beyond the original daycares through secondary infection.
Dozens have been hospitalized. Eight are still in hospital with hemolytic uremic syndrome. Two remain on dialysis.
And yet, Canada's biggest health authority still can't puzzle out exactly what happened.
The illness the victims have suffered is horrible. In some patients, especially those under five, vomiting and bloody diarrhea can escalate to hemolytic uremic syndrome. Most young patients recover but some can suffer permanent kidney damage.
The spread now appears to have halted, thanks in good measure to the all-out response by the health-care system.
But questions about AHS will echo for a long time.
Don Braid's column appears regularly in the Herald.
X: @DonBraid