City hauls in millions from high electricity prices while province dawdles
Article content
Regular Albertans are getting walloped by high electricity prices. Here in Calgary, city hall adds a layer of blatant profiteering with its appalling franchise fee.
This is a grim situation that hurts individuals and every business. It requires both provincial action and an about-face by the city.
Article content
The first problem is the Regulated Rate Option, a consumer choice with a lie for a name.
Article content
The RRO is in fact completely unregulated. And there's no option. If you're on the RRO and electricity prices go up, so does your bill. Right now, prices and bills are historically high.
Premier Danielle Smith has promised to reform this, including the duplicitous language. She suggests eliminating the so-called RRO entirely, so that almost everybody would be on fixed-rate contracts.
In her mandate letter to Affordability Minister Nathan Neudorf, the premier called on him to "address the cost of utilities for Albertans by exploring the potential phaseout of the regulated rate option for electricity and otherwise protecting consumers from spikes in electricity and natural gas prices."
In today's cost crisis, that's much more important to regular people than the high-level conflict over making the grid net-zero by 2035.
But a UCP pledge made before the May election is now part of the problem. They capped prices for those on the RRO, but it was merely a deferral.
People on the regulated rate — and only them — are now paying back $200 million over 21 months.
As consumers switch to fixed-rate contracts, those stuck on the RRO will pay proportionally more of that deferred cost.
Article content
Theoretically (just to show how absurd this is), if only one person is left on the RRO, they'd be billed for $200 million.
The government could fix this part of the larger problem by absorbing the cost and stopping the repayment. There's no mention of that in the letter to Neudorf.
Whatever happens, the whole system is stacked against those on RRO when prices are high. Many of those people can't get fixed-rate contracts because of poor credit ratings.
Great policy — hit people with financial problems the hardest.
All this applies right across the province. But there's an extra challenge for Calgary Enmax customers, and it's flat-out disgraceful.
The city is raking in millions from the high electricity prices for all consumers.
Postmedia's Chris Varcoe explored this in great detail in a column last week.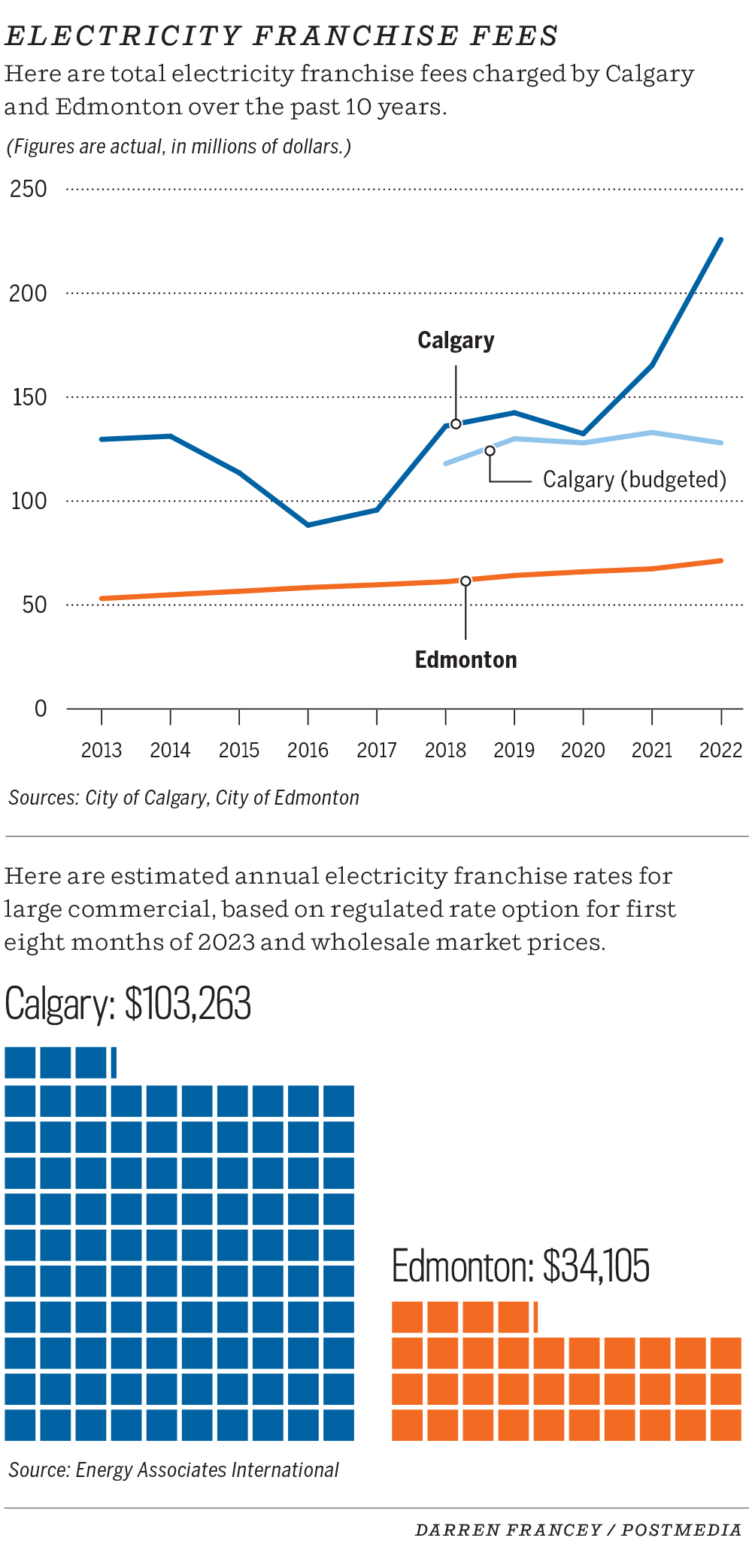 As prices go up, so does the franchise fee on your bill. That happens even if you're on a fixed-rate contract, because the fee is linked to electricity prices.
This hits families, companies, non-profits, industries — everybody who gets their local volts from Enmax.
Article content
WinSport CEO Barry Heck told Varcoe the organization's utility bill now totals $3.5 million. Of that, $400,000 goes to the city franchise fee, more than double the amount two years ago.
The franchise fee goes straight through Enmax to city hall. The grab could total more than $300 million this year, double the amount in previous years.
This is profiteering by the city in the midst of general inflation that affects everyone.
Gondek requesting changes to electricity access fees amid soaring energy costs

Varcoe: Power pain for Calgary consumers brings franchise fee bonanza for city coffers
The franchise fee is supposed to be a payment in place of property taxes and other charges. There's no justification for letting it rise to loan-shark levels.
The city says criticism is unfair. Other communities don't charge such high franchise fees but get more revenue from other charges; on natural gas, for instance.
There's always an excuse. But the franchise fee gimmick has raised resentment in Calgary for years.
At the very least, customers have to be shielded from wild spikes, possibly by delinking the franchise fee from the going price of electricity. This cost should stay the same from month to month.
The whole electricity system is heading into a time of uncertainty, as Ottawa demands net-zero emissions and Smith bluntly refuses to implement any such rules.
Proper consumer protection is going to be crucial. Let's have some.
Don Braid's column appears regularly in the Herald.
Twitter: @DonBraid