Cross-party support appears firm for this general line that Hamas must be condemned or completely destroyed
Get the latest from Don Braid, Calgary Herald straight to your inbox
Article content
For a rare and welcome moment in Canadian politics, there was no ambiguity, no division, no sliding around atrocity.
Hamas is justly branded as a clutch of heartless terrorists by the prime minister, the Opposition leader and many others.
Article content
With barbarous actions beyond humanity, Hamas has also unified Jews across the country and around the world.
The clarity of purpose is almost universal. This will be a long struggle, but it begins with evil that both strengthens Jewish resolve and cedes the moral high ground to Israel.
Article content
All over Canada there were gatherings like the Monday evening rally at Calgary's Beth Tzedec synagogue. More than 1,000 people heard supportive speeches from politicians. Every speaker condemned both the murderous attacks and the sickening celebrations in Canada's streets.
Calgary Heritage MP Shuvaloy Majumdar got loud applause for his excoriation of Hamas, Iran and their Canadian cheerleaders.
Majumdar represents former prime minister Stephen Harper's old riding. He's also been friends with Conservative Leader Pierre Poilievre since university days.
Alberta's culture minister, Tanya Fir, was quieter but equally fierce in her condemnation, as was Mayor Jyoti Gondek.
Only a couple of hours earlier in Ottawa, Prime Minister Justin Trudeau had set the tone.
Trudeau said: "The glorification of death and violence and terror has no place anywhere, including, especially here in Canada. So let me be very clear. Hamas terrorists aren't a resistance. They're not freedom fighters. They are terrorists and no one in Canada should be supporting them, much less be celebrating them."
Article content
Trudeau showed there will be no Liberal waffling to preserve political support in certain communities. Cross-party support appears firm for this general line that Hamas must be condemned or completely destroyed.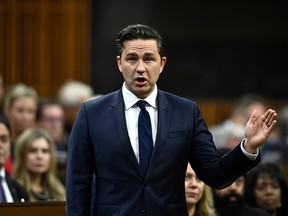 If Trudeau was strong at the event, Poilievre was downright ferocious about the need not just to back Israel, but to shatter both Hamas and Iran.
"Hamas does not speak for the Palestinian people," he said. "It does not speak for Muslims and it surely does not speak for Canadians and that is why I unreservedly condemn any and all who took part in the disgusting celebrations that we have seen on our streets."
"The incredible carnage that terrorist death cult has unleashed in the last 72 hours would be bad enough, were it not for the apparent pleasure and sadistic pride with which it was carried out.
"I say to those who might not perhaps have strong opinions about the Middle East: What kind of organization would carry out such hideous violence against such obviously innocent people, and do it in the most cruel and odious manner and then willingly publicize it for all the world to see?
Article content
"This is evil in its purest form, and that evil must be defeated."
Trudeau didn't touch on Iran's role, but Poilievre plunged right in.
"It is clear to me that the regime in Iran has been the greatest actor of evil and terrorism on the world stage and we must work day and night to defeat that regime." He called for criminalization of the Iran Revolutionary Guard Corps (IRGC).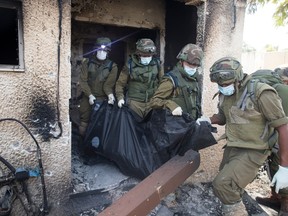 Many Jews are sympathetic to Palestinians and have been very unhappy with the actions of the current Israeli government. One is Rabbi Mark Glickman, of Calgary's Temple B'nai Tikvah.
"I, too, consider myself pro-Palestinian, and I, too, have been plenty critical of the occupation and the Netanyahu government," he wrote in an email to members of his temple board.
But the slaughter of innocents, he said, "is utterly unconscionable. It presents nothing short of an existential threat to the state of Israel, and we Jews should see it as horrifying and evil without qualification."
For those Canadians who publicly celebrate the rape, murder and beheading of innocents in Israel, a simple question:
Would you also enjoy watching it happen here at home? Because with friends like you, Hamas would be happy to oblige.
Don Braid's column appears regularly in the Herald.
X: @DonBraid