Control of the party apparatus is what's at stake here, with serious potential for another UCP upheaval
Get the latest from Don Braid, Calgary Herald straight to your inbox
Article content
The United Conservative Party's annual general meeting, to be held in Calgary Nov. 3-4, could turn into a coup by Take Back Alberta (TBA).
That's one reason Premier Danielle Smith is sounding so tough in her approach to Ottawa.
Article content
Smith threatens once again to use the sovereignty act, and throws a wildly impractical Alberta pension proposal into the mix, annoying many Albertans and much of the country but pleasing the diehard TBA types.
Article content
The government is spending $7.5 million for a publicity campaign to promote a plan that isn't formed, before public "engagement" even begins.
The is not the typical behaviour of newly elected governments. Usually they lay off the battles and settle in to some quiet governing.
But the average Albertan isn't the target here. It's the 3,000 to 4,000 people who will attend what could be the biggest annual meeting ever held by an Alberta government.
The rush of sign-ups for this year's UCP annual general meeting has shocked even the party. It's widely assumed that the majority have some affiliation to TBA, the reform group led by David Parker.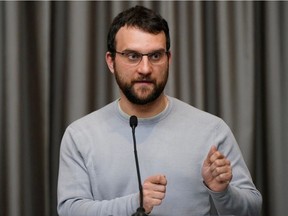 The ticket sales are so brisk that the executive had to move the event from the Grey Eagle Resort to the BMO Centre, with spillover to the Big Four building for voting.
By the time a cut-price deal ended two weeks ago, 2,926 people had paid $199 each to attend. And people are still signing up.
The last time the UCP changed plans for a meeting was in the wild rush to vote on Premier Jason Kenney's leadership in May 2022. The voting was shifted from a site in Red Deer to mail-in balloting.
Article content
We know how that worked out for Kenney. And now, the race to this regular annual meeting rings similar alarm bells.
Smith's leadership isn't at risk — not this year, anyway. There won't be a leadership review vote at the meeting.
Control of the party apparatus is what's at stake here, with serious potential for another upheaval.
Take Back Alberta, generally speaking, thinks the party grassroots should run the government. They see the party executive as a watchdog and power centre on its own.
This is entirely at odds with the traditional view that the party board is there to back and help the government.
Many positions on the 17-member executive are up for grabs this time. President Cynthia Moore won't run again, and only one "traditional" member is said to be running.
The board could be filled by Take Back Alberta candidates with few exceptions.
David Parker gave his typically bombastic view of how things are going on X, formerly Twitter: "Alberta's democracy will become a light for the rest of the world. This year between 4-5,000 Albertans will attend the UCP AGM.
"Next year it will be between 7,500-8,000. As our democracy begins to recover from decades of apathy, we will see the health of our society begin to improve."
Parker's idea of democracy is to install people who believe as he does, and kick out everyone else.
Article content
The next election for school board trustees doesn't come until October 2025, but he's already fierce about his goals.
"The Red Deer County Catholic School Board will be replaced in the next municipal election. Every single trustee will be removed from office, except Monique (LaGrange, the candidate who compared gay kids to flag-waving Nazis).
"Then, we will fire the Superintendent. This will happen in every school board across this province until this woke ideology is eradicated from any decision-making role in our schools.
"If the Minister of Education has a problem with this, we will remove him from office."
Premier Smith supports gay rights and voices sympathy for children who hear this bitter rhetoric. Powerful statements have also come from her Status of Women Minister, Tanya Fir, and Health Minister Adriana LaGrange.
This could bring ugly flare-ups if Parker's acolytes take over the board and try to impose Parker's views on the premier.
Related Stories
Take Back Alberta: What you need to know about 'pro-freedom' conservative group

Braid: Take Back Alberta could plunge UCP into another disastrous blow-up

Cracks appear in Take Back Alberta as CFO calls Parker's attacks 'disgusting'
Article content
Not everyone with TBA connections backs Parker's angry rhetoric. Some support the movement for helping them organize and get involved. TBA people often work co-operatively on UCP riding boards.
Marco Van Huigenbos quit as TBA's chief financial officer in June because he was "disgusted" by Parker's attacks on other conservatives, including Cynthia Moore.
Van Huigenbos still says Parker is a divisive self-promoter who's just trying to stay relevant. He adds that some TBA members are now pushing back against his tactics.
"There's a lot of things TBA stands for that I also stand for, but that doesn't mean I'm beholden to TBA."
And yet, Smith may soon face a party executive that presumes to run the government.
Don Braid's column appears regularly in the Herald.
X: @DonBraid