Article content
The Alberta NDP will not be pushed off its conviction that Alberta can achieve an electricity grid with net-zero emissions by 2035.
Alberta's Official Opposition is at odds with the UCP government, the Saskatchewan NDP and even with federal party leader Jagmeet Singh. The latter has gone mushy on the 2035 target, mindful of NDP divisions.
Article content
Leader Rachel Notley's party agrees with the federal Liberals on the timing but demands more clarity, especially on carbon capture funding.
Article content
That number — 2035 — is fast becoming a national line in the sand.
Stand on one side of the borderline and you're a climate-change denier in the pocket of big oil and gas. Stake your tent on the other side and you're a zealot who doesn't care about regular people.
The feds themselves might yet fire the ultimate fastball at Alberta, by refusing green-project money to provinces that don't formally sign on to 2035.
Premier Danielle Smith says that if the target is enforced, Alberta won't be part of the system at all.
That raises dizzying questions, including how the province could attract capital, and how the country will ever meet climate goals with Alberta outside the federal emissions regime.
Virtually everybody agrees on a general carbon-free goal by 2050, largely because it's still too far off to look like a real problem.
Just wait. Already the passions around 2035 are fierce on both sides. Smith says forcing the goal on Alberta will ruin the province's economy.
Legality of Ottawa's new 'net-zero' electricity ultimatums unclear, say constitutional scholars

Breakenridge: Ottawa started the fight that's brewing over clean energy rules

Ottawa admits 'net zero' electricity will raise rates; Guilbeault slammed for 'unrealistic' fossil fuels 'phase down'

Braid: Smith takes a tough stance against Ottawa's toothless electricity rules

'Will not be implemented': Alberta pushes back against Ottawa's new Clean Energy Regulations

Alberta minister says federal strings on electricity climate funding a 'threat'
The NDP hotly disputes this, holding firm to the belief that the provincial grid can be decarbonized by 2035, barring ugly surprises not yet known, including changes to federal policy.
Article content
The post-election NDP's new point person is Nagwan Al-Guneid, the critic for energy and climate. An expert in both conventional oil and gas and renewable energy, she won Calgary-Glenmore by 48 votes after two recounts.
Al-Guneid blasts the federal Liberals and the UCP for poor consultation.
"Both the provincial and federal governments have chosen to fight rather than collaborate and we believe it's the working people of Alberta that will suffer as a result," she said in a news release.
The NDP says the province ducked regional consultation for years. To that, Smith's office replies that ever since the premier took office the UCP has been heavily involved in talks.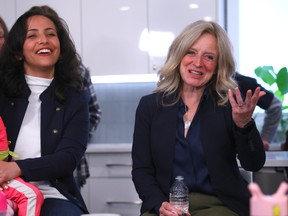 "We believe in a net-zero future, OK?" Al-Guneid said in an interview.
"The Alberta NDP support a net-zero goal (for electricity) by 2035. There needs to be the question of reliability, for sure . . . we need to ensure reliability and affordability for Alberta.
"We see that economic opportunity, we see where the world is headed. I think it can create thousands of jobs and it can attract billions of investment.
Article content
"What we need to do, and what this government needs to do, is to be at the table to negotiate that flexibility as well . . . we need to support that future, providing that it will (bring) affordability for Alberta families and that reliability of the grid.
"This is a government that has been fighting everybody under the sun. They're fighting even renewable energy companies right now. It's just unbelievable.
"We know that the world is moving toward that direction. This is the (U.S. President Joe) Biden administration's goal. This is a global goal. So for us it's how can you create the right policies that can attract these investments, because we know investors are looking for stable jurisdictions with clear policies to decarbonize."
In Alberta, more than other provinces, these two sides face each other with irreconcilable opinions and versions of reality.
And yet, to the average person, the complexities of the electricity grid are as obscure as ancient Greek.
Missing from the debate are solid facts about how this epochal change can be accomplished, and when, with what risk, and for how much.
Instead, we have a battle over a date.
Don Braid's column appears regularly in the Herald
Twitter: @DonBraid