The question, of course, is whether it does the average patient any good
Get the latest from Don Braid, Calgary Herald straight to your inbox
Article content
Premier Danielle Smith has fumed about AHS for months, complaining that it wasn't up for the pandemic and employs too many middle managers. She claimed the giant health agency doesn't know what it's doing.
Soon it will be doing much less. AHS will still control acute care in hospitals but will be stripped of the superboard authority that reaches into every corner of health care.
Article content
Three core health-care areas — primary care, continuing care, and mental health and addictions — will all have the same status as AHS. Smith said a better name for the shrunken giant would be Alberta Hospital Services.
The health system has been subjected to endless tinkering for decades, but this is the biggest change since May 18, 2008, when then-premier Ed Stelmach announced the merging of nine regional health authorities into one giant superboard.
Stelmach, now the board chair of northern provider Covenant Health, supported the latest move at a news conference Wednesday.
AHS was his grand response to the vexing problems of divided health authorities and flagging care.
I asked Stelmach why he believes the very unified structure he built should now be subdivided.
"The function changed from operating hospitals — the intention and the design in 2008 — to where they had this incredible role across Alberta, (with) fingers into everything from hospital construction to policy to budgeting," he said.
"I want to be very frank. The decision-making in this province in terms of budgets, infrastructure and policy is made by government, which means by elected people. And we drifted away from that."
Article content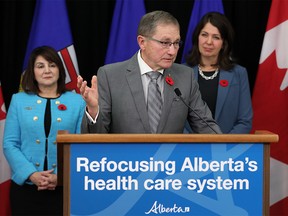 Smith said, "AHS will be one service provider reporting up to Acute Care . . . they're not going to be at the top of that pillar, and they're not going to be at the top of all of the pillars."
AHS, Covenant and doctor-run surgical clinics will all answer to this new overseer, which is directly linked to government. Other new bodies will govern continuing care, primary care, and mental health and addictions.
The politicians said this is not a return to regional health authorities, but the creation of new provincewide bodies.
Related Stories
Alberta breaking up AHS, creating new agencies in health care overhaul

Dismantling AHS: A summary of the Alberta government plan

Health-care upheaval: A history of changes to Alberta's system

Former cabinet minister to chair new AHS board in health-care overhaul
AHS also gets a whole new board chaired by Dr. Lyle Oberg, formerly a PC minister.
Oberg ran against Stelmach for the PC leadership in 2006 but finished down the list. He then threw his support to Stelmach, who made him finance minister.
In 2011, Oberg abandoned the PCs to join the Wildrose Party under Danielle Smith. He acted as a special adviser.
Article content
Smith was also one of the Calgary public school trustees he fired as education minister in 1999.
Wednesday's news conference was like a political reunion of longtime players with tangled histories but shared annoyance with AHS.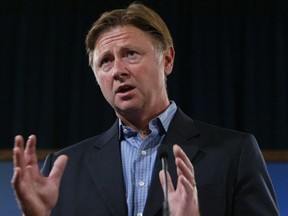 Three government deputy ministers will also sit on the seven-person AHS board to "assist" with transition. This isn't a gentle government takeover. They're stomping around AHS in winter boots.
The question, of course, is whether it does the average patient any good.
NDP Leader Rachel Notley says the trouble is just beginning.
"She (Smith) has actually created a whole bunch of silos, which are going to create a whole bunch of confusion and chaos when it comes to the experience of Albertans."
Patients with complex needs, Notley added, would have "health care provided by four different boards . . . and a very stripped down hospital, which may or may not be publicly delivered, depending on who won the contract for that particular hospital."
Notley suspects that AHS-run continuing care centres will be sold off to the private sector. Health Minister Adriana LaGrange vowed there will be no privatization or cuts to health funding.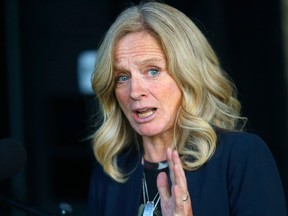 This complex changeover will take two years to complete. It's based on twin beliefs that AHS has grown too big, powerful and clumsy, and only government can rescue the system.
This is a huge project with plenty of space for unintended consequences.
I couldn't help thinking that someday 15 years from now, former Premier Danielle Smith will attend a news conference to back another upheaval in health care.
Don Braid's column appears regularly in the Herald
X: @DonBraid