Reviews and recommendations are unbiased and products are independently selected. Postmedia may earn an affiliate commission from purchases made through links on this page.
Article content
Eduardo Vilaro figures he was eight or nine years old when he first learned about "Evita".
Vilaro was born in Cuba but moved to New York at the age of six. Eva Peron, of course, is generally considered a controversial figure, but she wasn't to those in the Vilaro household.
Article content
"My mother taught me about her because she was a big fan of Evita," says Vilaro, in an interview from his home in New York. "She was such a glamorous woman that Latin women revered her."
Article content
The rags-to-riches story of Eva Peron has become well-worn lore in pop culture. It was a big musical by Andrew Lloyd Webber. Madonna played her in the film version. The Simpsons even did a parody.
So when Ballet Hispanico tackled the story for the New York company's first full-length ballet as part of the organization's 50th anniversary, it was to reclaim Peron's story and share the narrative through Hispanic and Latinx people. Dona Peron, which was choreographed by Annabelle Lopez Ochoa,  premiered in 2022 in New York and has since travelled the globe. Alberta Ballet will present Ballet Hispanico's performance in Calgary from Sept. 14 to 16 and Sept. 22 to 23 in Edmonton.
It has been generally well-received as a fresh take on a story that many people assume they already know.  Still, there are definite pros and cons to retelling a story that has settled so deeply into our shared pop-culture consciousness.
"Because she is so iconic, people have an idea of their own," says Vilaro, who is artistic director and CEO of Ballet Hispanico. "It's always difficult to rise up to everyone's expectations when they have particular expectations about what they are about to see. Then there is developing the story so it doesn't lead you to the same conclusions that have been led to before, to make it a bit more interesting. Those are very difficult. Then there's the expectations of the visuals. Evita dyed her hair blond when she became Juan Peron's wife. We don't have that iconic blond on stage. It works, but folks will still come up to you and say 'Why wasn't she blond?' There are iconic presentations of this narrative, and that's a con."
Article content
On the other hand, telling any narrative through dance tends to demand audiences look at it through fresh eyes.
"Dance is a corporeal language," Vilaro says. "So everyone has to sit and feel and pay attention and develop their own ways of looking at it. That's the beautiful thing about dance. It's not verbatim. There are indications through gestural movement and positioning of the structure, but it is amazing because you can be a lot more liberal and take more artistic risks."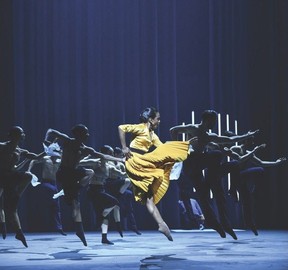 The ballet traces the full story of Eva Peron, who came from humble roots as the neglected, illegitimate daughter of a wealthy farmer to a successful dancehall performer and finally, as Argentina's first lady, where she was a controversial figure due to her activism for the working class. She died from cancer at age 33 in 1952, but her life provides a rich storyline that has kept the public interested, whether it be the rags-to-riches narrative or the rarity of a woman rising to power in the 1950s.
"Evita has a lot of mystery around her because she was both beloved and hated by different communities in Argentina," says Vilaro. "She was the bastard child of a wealthy landowner who rejected her. She left her family and made her way up. By the time she met (Juan Peron), she was already quite successful. She owned her own radio station, she was a radio personality, an actress. She elevated herself by marrying Juan Peron, but then the story started. For many people, she was the mastermind behind his presidency because she really worked with the poor people. The poor people loved her. In Argentina at the time, they were called the Descamisado, which means 'the shirtless one.' They were the workers."
Article content
But while Peron may have seemed larger-than-life, she was a real person. Vilaro says the team behind Dona Peron, led by Lopez Ochoa, created a complicated portrait.
"The story of Evita was produced by Andrew Lloyd Webber, by Madonna," he says. "This is 1694184831 a Latina woman creating a work about another Latina woman," he says. "The nuance is really powerful."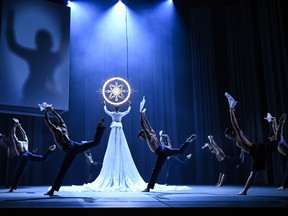 Founded in 1970, Ballet Hispanico is the largest Latinx/Latine/Hispanic cultural organization in the United States, providing a space "that initiates new inclusive cultural conversations and explores the intersectionality of Latine cultures."  
"The whole thing about reclaiming stories, it's not about the player," Vilaro says. "For me, I don't care if it was Madonna. I want to make sure that the storyteller, the people who are leading the work are part of that community because they can speak to that community. So, it is, for me, about how we place leadership to give a more nuanced approach. Because when you have someone speaking about another culture, what you get is a stereotypical representation."
While the broad strokes of Peron's story are not new, the production offers a new perspective. Like many companies, Alberta Ballet has always maintained a balance in its seasons between tried-and-true favourites and bold new works. The latter is what keeps the form moving forward, Vilaro says.
Article content
"I think there has been a call for the whole world to reframe some of these stories that are not socially relevant to who we are today and then also to knock down preconceived notions about people," says Vilaro. "It all those story ballets, either the women are crazy … they are not powerful. There is always a king or some male figure. Ballet in and of itself has a lot of issues. They are beautiful, I still love to go see all the classics when they are done.
"But we need new stories. These stories were made for royalty and a hierarchy of class and that's not who we are anymore. I love that (Alberta Ballet) is helping do this because I really think ballet companies need to move forward with stories of today that are a bit beyond the fantasy ballet world that we used to have. It's important. We just need to move with the times."
Dona Peron will be performed by Ballet Hispanico in Calgary from Sept. 14 to 16 at the Southern Alberta Jubilee Auditorium and Sept. 22 and 23 in Edmonton at the Northern Alberta Jubilee Auditorium. Visit albertaballet.com